Played on the excellent courts at the Metropolitan Resort & Beach Club, eight of the world's top 100 women players came face to face with some of the game's most promising up-and-comers for an intriguing week of tennis that kept the crowds on the edge of their seats throughout.
Some intriguing early round matches saw the big names upset as they found the young starters full of youthful energy and determination and it won't be long before many are seen on the bigger stages of the Grand Slams.
Top seed Emmanuelle Gagliardi, of Switzerland, fell by the way side on Day Three when she was overcome by Tunisian star Selima Sfar who herself fell at the next hurdle.
Third seed and recent Japan Open semi-finalist Aniko Kapros was upset in the opening round by eventual champion Jelena Jankovic.
The upsets continued throughout the tournament until the final saw little known Serbian Montenegro teenager Jankovic face the more experienced Henrieta Nagyova.
In a day of the underdog, Jankovic secured a straight sets 6-2, 7-5 win against Nagyova of Slovakia to clinch the 6th Al Habtoor Tennis Challenge title.
The 18-year-old Jankovic was a deserving winner in straight sets, and Nagyova - the former World No. 21 - was the first to sing her praises.
"She played really well and there was no way I could have beaten her with that form. Just when I thought I was getting back into the match she came up with some big shots to knock me down again," Nagyova said.
This was the first title of Jankovic'c professional career, and few will doubt that more will follow.
"This is the first one and it is definitely special. I hope there are many more to follow as I progress in my career. I know I can build on the form I have showed in Dubai this week," Jankovic beamed after receiving her crystal trophy from Sheikh Hasher Maktoum, Dubai Director of Information and Khalaf Al Habtoor, chairman of the Al Habtoor Group.
Jankovic was quick out of the blocks, breaking her opponent's serve in the second and fourth games to rush into a 4-0 lead.
Jankovic's pinpointed backhand returns were a strong point of her game, and proved too strong for Nagyova who was also carrying an injury. "She was quick on the ball and I was a bit handicapped as I did not want to aggravate my thigh, but that is no excuse. She was too strong for me on the day," Nagyova stated.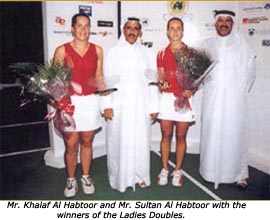 But despite the strapped thigh - she also played with this condition in Saturday's semifinals - Nagyova managed to break Jankovic twice in the fifth and seventh games to pull back a couple of games to trail 2-5.
Jankovic was not in a lenient mood though and secured the set by breaking Nagyoya for a third time to wrap it up 6-2 in under half an hour.
The second set was more evenly poised with Nagyova matching her younger opponent with a variety of play from the baseline. And as the set wore on, Nagyova showed the depth of her reserve as she broke Jankovic in the third game to lead 2-1. But the hard work was in vain as Jankovic struck back with a break in the very next game to draw level and then held serve to go clear 3-2.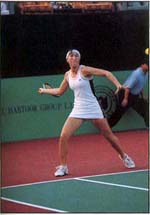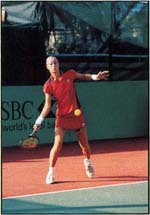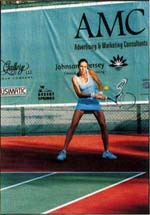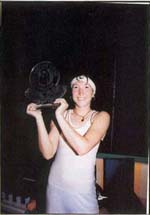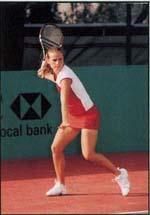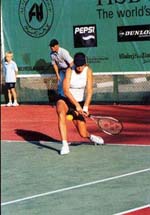 Both players battled in search of an elusive break. But that didn't materialize until the 12th game when a superb passing shot from Jankovic found the far corner of the court.

"I had my chances in the second set, but I did not take them," Nagyova conceded. "But she was in superb form tonight. She went in for the big rallies and made me run all over the court. That put me behind a bit."

But there was no denying Jankovic of her moment of glory as she waited in excitement for the presentation formalities to be over. "It's such a fantastic moment for me. I've had my ups and down. But this is definitely going to be a great start in my career for me."

But the most praise was reserved for the organisers who once again proved that this tournament is fast earning a strong reputation among the players on the Tour.
The new champion was understandably impressed by the reception and welcome she had received in Dubai.
She said: "It's such a fantastic event that I want to come for it next year as well. Everything is so great here in Dubai. I got a chance to go out and I have felt so safe and secure, the shopping is good and to top it all, I am going with more than $10,000 in my pocket!" beamed the new winner.
The tournament was in its sixth year and among the previous players to have taken part is Jelena Dokic who is now established as one of the best players in the world.
Blaming Arabs for injustices wrought upon them by Europeans is disingenuous and even dishonest on the part of Zionists. The Palestinians have suffered for the sins of people on another continent and it's time that wrongs were put right and history objectively re-written.