For all its undeniable allure, romance and excitement, the Egyptian capital is polluted and noisy. Everywhere you go the lively strains of the latest smash hits meld with a thousand car horns producing an almost inescapable cacophony.
But the only sounds reaching the ears of Cairo's boat people - residents of the city's houseboats or 'awamat' - are the songs of migrating birds, the 'shush' of palm trees undulating in the wind, the muezzins' call to prayer and the gentle lapping of the Nile against the sides of their floating homes.

"Once you live on the Nile, you will never return to the shore," says Ikhlas Helmy, who was born and bred in one of the oldest houseboats and now owns one of the smartest. "It's a world apart. Here we breathe fresh air, profit from our country's glorious weather... and, best of all, we never feel alone."

In 1950, there were 300 houseboats or 'awamat', while today there exists just a tenth of that number, and they are under threat from the Giza Municipality, which every so often attempts to turn the shoreline into a public walkway... and the houseboats into firewood.

Such bureaucratic meddling has had the effect of turning houseboat owners and residents into a battling community. They won the last round in the courts several years ago but are constantly braced for the next onslaught. In the meantime the riverside community - consisting of Egyptians, Saudis, Britons, French, Germans, Australians and Italians - has a real open door policy with everyone in and out of each other's homes.

Their case wasn't helped when two fatalities arose due to the sinking of a dilapidated boat, while a further couple were almost reduced to floating scrap when one was torn from its moorings following the collision of two large barges heading north. It, in turn, collided with its neighbour.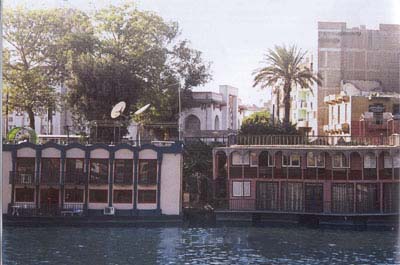 They would have been sunk, too, if it hadn't been for the efforts of a fisherman who lives on a rowing boat. He not only led the charge to keep the damaged houseboats stable, but also furiously rowed after one of the errant barges and fought with its crew to prevent it from leaving the scene before the coastguard's arrival.

Such negative aspects of riverside living were far from my mind during my impromptu visit to the amazing world of Madam Ikhlas. A gentle push on a rounded wooden door set in a wall on a busy thoroughfare brought me into Cairo's answer to The Secret Garden.

Behind me was a concrete jungle. Before me were steps cutting down through flowers, plants, lemon and guava trees as well as date palms. The scent of jasmine and hibiscus filled the air while dozens of cats preened themselves or were curled up all over the place, seemingly without a care in the world.

A couple of friendly dogs checked me out by sniffing my hands and demanded to be patted before I was led through a lovingly decorated sitting room its chairs occupied by some of the boat's 10 feline occupants, including an enormous Persian, an attention-demanding Siamese and an eyeless kitten, which had wandered in one day after a fight.

As though the presence of an uninvited guest - and a British one at that - was the most normal thing in the world, Ikhlas guided me onto the cushioned veranda before offering squash made with lemons gathered from her own trees.

There it was. The Nile in all its splendour stretching left and right as far as the eye could see. As we chatted a group of European tourists floated past waving madly, a wedding party celebrated on a small craft in the distance, while a luxurious Lebanese restaurant ship glided by. It was then that the awama began to gently rock from side to side.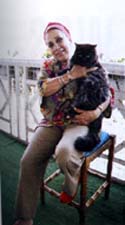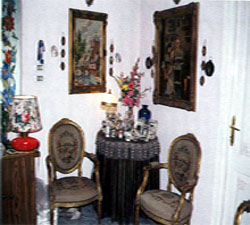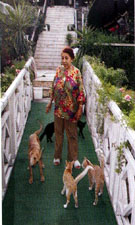 A cosy corner inside Ikhlas Helmy's awama with a table packed with photographic memories.
Ikhlas laughed and said: "The Nile is like an imperious king. When he is angry, the waves are high but when he is content, the water resembles a pool of oil."

Despite her obvious love of the water, upon her marriage to a wealthy socialite, Ikhlas reluctantly moved to an apartment on the posh island of Zamalek. "It was like a prison," she said, explaining: "My husband loved the Nile too but he wasn't prepared to live on it. After his death, I moved back."

Ikhlas, now in her late 50s, was stunning as a young woman as I ascertained from old photographs. She told me how there had once been a club for the sons of the aristocracy opposite the awama where she lived as a girl.

"Those naughty boys would hire rowing boats, jump in the water and pretend they had fallen in," she said. "At first, my father would help them on board and give them tea until he realised that all they wanted to do was get a better look at me."

One of the boys must have liked what he saw as several years later, now a captain, he called on her parents to ask for her hand. He was too late. Ikhlas was already spoken for.

But the history of the awamat or 'dahabiehs', as they are sometimes called, goes back even further than Ikhlas can remember. Most of them are moored in an area called Kit Kat, once the name of a nightclub frequented by King Farouk.

Early in the 20th century, they represented summer 'houses' for Turkish gentry or 'Pashawat' as well as bohemian retreats for such well-known celebrities as singer Farid Al-Atrach and actor Naguib Al-Rehani, not to mention an assortment of Oriental danseuse.

During World War II, British army officers sequestered Nile houseboats, while one became a bolthole for two German spies, hidden there by Count Laszlo Almasy whose life-story featured in the award-winning movie The English Patient.

The Days of Sadat, an Egyptian film, portrays Anwar Sadat conspiring with the spies against the British on their houseboat hideaway some 20 years before he became the country's leader.

Nobel Laureate Naguib Mahfouz uses an awama as a backdrop for his depiction of political rebel rousers passing around their shishas (water-pipes) while criticizing the government.

Rumour has it that King Farouk's mother Queen Nazli had her own houseboat 'Misr', moored off Zamalek where she would entertain away from prying eyes.

At the turn of last century, it was mandatory for houseboat owners to paint their vessels with gold paint, hence the alternative name 'Dahabieh' meaning 'golden'.

The golden days of the Nile houseboats may be long gone and their future is far from assured. If you would like your own experience of history before it's too late, then why not rent an awama during your next visit to Cairo.

Each one is different from the other. Some resemble bourgeois homes; others are grandly decorated with marble columns, while a few look as though they were plucked from New Orleans. A Saudi-owned houseboat has been modelled on Japanese lines, its wooden walls replaced by floor to ceiling windows.

Prices vary too according to the condition of the awama and its individual facilities. There are those, which boast air-conditioning and satellite television, and there are others relying on cooling breezes for refreshment and the spectacular sunsets for entertainment. You should be able to rent a nicely furnished houseboat with all mod cons for around US$1,000 per month. If just one floor will do, then US$500 should suffice.

Whereas this old Piscean envisaged only romance and adventure, my practical-minded husband anticipated storms and mosquitoes. And so, like Ikhlas once was, I am destined to remain behind four walls with the Nile and its magic forever just out of my reach.