After 15 years without a permanent home of its own, Dubai Men's College will soon be moving to a state-of-the-art, purpose-built campus at Dubai Academic City. Ben Smalley talks to college director Norman Gray about the history and aspirations of one of the UAE's leading educational institutes.
Higher and further education in Dubai is poised for a quantum leap with the introduction of Dubai Academic City set to provide a single location for post-secondary education in the emirate. Just as Dubai Internet City and Dubai Media City have provided a focus for creative nurture, Dubai Academic City will group up to 20 leading universities and colleges in the same area, allowing students and faculty members from different institutions to interact and learn from each other.
Dubai Men's College, part of the Higher Colleges of Technology, being constructed by Al Habtoor Engineering Enterprises, will be the first to move to the facility in Al Ruwayya on the Al Ain Road when its new, state-of-the-art campus is ready for occupation at the beginning of 2004.
For college director, Norman Gray, the move cannot come soon enough. Gray has worked at the college since it was established in 1988 and, having already been based at three 'temporary' locations, is looking forward to the extra facilities and space the move will offer his bright young students.
"We have moved to three different campuses in the 15 years I have been here," the amiable Canadian mathematics teacher explained. "We started in an old showroom next to Al Habtoor Motors on the Dubai-Sharjah Road, then we moved to an apartment building in Al Mamzar and now we have the old women's college, so we are looking forward to moving to a permanent facility."
Gray recalls with fondness the humble beginnings of the college, which was established along with the 10 other Higher Colleges of Technology in the UAE to provide practical, applied knowledge, and prepare local students for the modern workplace and labour market.
"We started with 84 students - and this year we have just under 1,900," he said, explaining how the college has grown substantially over the years. "The Higher Colleges were the brainchild of Sheikh Nahyan bin Mubarak Al Nahyan, the Minister of Higher Education and Scientific Research, who wanted to provide UAE nationals with career-orientated education.
"Previously, there was only the UAE University in Al Ain filling the need for post-secondary education, but it wasn't providing the workplace with hands-on technicians, technologists and para-professionals - and that's what we were established to do."
Under Gray's leadership, Dubai Men's College has evolved into one of the leading academic institutions in the UAE, with its programs in engineering, business, communications technology and health sciences being vastly oversubscribed every year.
"We have 85 percent of the students out of secondary schools wanting to come to Dubai Men's College. Of the choices they have available, we are the favourite. Eighty five percent is a very high number - certainly the highest in this country - so the college has a very strong reputation. This September, we had over 1,000 applicants for 345 places."
One of the main reasons for the exceptional popularity of the college is the success with which its graduates find jobs. According to Gray, each year's graduates are offered an average of three or four jobs each when they finish their studies - with demand from employers far outnumbering the supply of graduates from the college.
This is largely due to the college's approach in supplying the labour market with what it needs, as opposed to turning out students brimming with theoretical knowledge but no practical experience.
"We have had a number of boys here who have invented a number of different gadgets and gizmos, which they have developed because of the knowledge they have gained in classroom instruction," Gray explained. "Our job is to try and get them to apply the knowledge they have learnt to a project, so every student will build something or invent something during their time here.
"A good example of this is something a boy did last summer. He took one of the dune buggies built by the mechanical program a few years ago and put some motors and hydraulic control systems on it so he could start and control the buggy remotely just by pressing buttons on a laptop computer. That is just one of the ideas that one of our students has come forward with, and there are many ideas like that - these are very clever individuals."
Another initiative the college has introduced to produce graduates tailored for the job market is involving representatives from the public and private sectors in the planning of courses to ensure the skills taught are those employers actually seek.
"We have worked very closely with government, business and industry to put together what we call advisory committees," Gray explained. " We started that in 1989 and each program area comprises representatives from different parts of the program activity that we are instructing the young men in. They have been very successful, and the committees have worked very hard to ensure that what we teach here is what is needed out there."
In fact, the involvement of the committees and the desire from the public and private sectors to employ Dubai Men's College graduates has helped the college diversify its programs of study, with only financial constraints stopping it from expanding further.
"We have had many requests for programs that we have not been able to fulfill," Gray explained. " For example, Dubai Municipality has come to us asking for us to introduce quantity surveying, and the business and industrial communities are constantly saying can we have more, can we have more. We try our best to meet the requirements of the community, and the only thing holding us back really is the budget to increase the number of programs."
The popularity of Dubai Men's College graduates among employers is a source of real pride for Gray who recalls the prejudice local students faced from some quarters of the private sector when he first arrived in the UAE.
"When I first came here I was told by a lot of people in business and industry that there was no way local students would work - and that's just not true," he said. "These people are some of the hardest working individuals I have ever met. We have students here who are working in full-time jobs all day and then coming to school at night.
"In our first graduating year, one of the boys from this college graduated with the highest marks in the country from any student in the HCT - and this young man was married with two young children, had a full-time job with the Dubai Department of Immigration and Naturalisation and carried out a full-time program here at Dubai Men's College at the same time. He is one of many that carry that kind of workload, so thankfully that concept is gone now and our students are demonstrating that they can fit right into the workplace and do the job of anybody, whether it is welding, working at a computer, driving a machine, working in an office or running a bank."
Gray paid tribute to Sheikh Nahyan, who is also Chancellor of the Higher Colleges of Technology, for bringing together some of the finest teachers from around the world to lecture at the colleges.
"Over the years, the big changes I have witnessed have been growth, program development and the introduction of computers and technology, while the one consistent voice has been our leader, Sheikh Nahyan," he reflected. " He said to us from the very beginning to go out and hire the best people you can find wherever they are in the world, and that has produced an excellent environment for learning.
"At the same time, Sheikh Nahyan is very concerned that we maintain a high quality product, so he has international accrediting bodies coming in to make sure we are doing things right."
Part of that process involves keeping the faculty up-to-date with the latest developments in their fields of specialisation, with education for the teachers through professional development programs recognised as being equally necessary for the education of the students.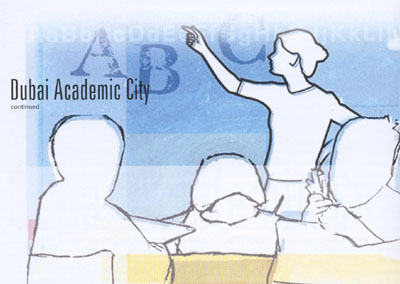 And just as Dubai Men's College students have found success in the classroom and job market, the dozens of gleaming trophies packing the trophy cabinet at their current campus in Deira is testament to their prowess in extra-curricular activities.
" Our boys have won sports day in competition against all the other colleges as well as universities for the past 11 years in a row," Gray explained. "We have done that with nothing more than a ping pong table because of the limited facilities we have here."
That, however, is soon to change with the new facilities the college will have at its new campus at Dubai Academic City.
"It has got four tennis courts, three squash courts, a small gymnasium and fitness type rooms, an Olympic-size swimming pool, a track and a place to play football, so the students will finally have a place where they can stay and enjoy activities which they haven't been able to do before."
However, it is not just the extra sports facilities that will benefit the students and college from the move. According to Gray, the whole learning environment that will be created at Dubai Academic City will be beneficial for all.
"It will give us the opportunity to grow and connect with other institutions as they come into the Academic City," he said. "I can see the Dubai Men's College being very instrumental in that development because we are hands-on, and because we know how to produce mechanical objects and manufacture. Hopefully we will be able to work with the other institutions, especially the academic ones, and come up with ways of integrating their learning theory with our applied learning, and that will certainly benefit the country from a productive point of view, and also from an interest point of view for the students - it is nice to see why you are really studying calculus and the product of some of the engineering classes here will demonstrate very easily what that's all about. So that is one of the big things I see in terms of the Academic City."
The other aspect of the city that Gray is particularly looking forward to is the opportunities it will offer for research and development, with support for new projects already forthcoming from within Dubai society.
"Major General Dhahi Khalfan, Chief of the Dubai Police Force, has come forward and met with us and asked us to identify talent within the school, and he is prepared to find us funding to support some of the research projects that the young men are involved in.
"He started that last year, so in our new campus there is a room for Dhahi Khalfan and his talent seeking team to try and get these young men with their ideas and say 'here is a place where you can work and develop some ideas.' We have some very bright, capable faculty here who, working with those kids, can produce a lot of good things."
Other facilities which the new Dubai Men's College campus will offer the students include an engineering block, a business studies block, a student services building, a library, workstations for the teachers, a multi-purpose hall complete with auditorium, a communication block for the information technology department, an airplane hanger for the aeronautical engineering department, and an administration block.
But it is the consolidation of so many centres of learning in one place that Gray believes will provide the impetus to further increase the quality of education in Dubai.
" I think it is the same as what the Dubai government has been able to do with Internet City, Media City and the forthcoming Health City - they are going to put a concentration of energy in one location which will just produce fantastic results," he said.