The passion of I T A L Y
in the heart of Dubai

by Sangeetha Swaroop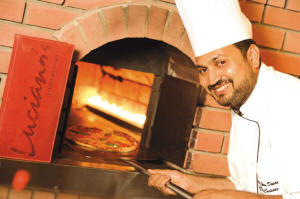 There is no one word to describe Italian cuisine; it is a combination of flavours and ingredients, and the taste and kind of food prepared differs as you travel north to south of the country. But for those who want to sample the delights of the Tuscan sun and delve into the myriad meat dishes of the north, while at the same time relishing its coastal fish fare too, there could be no better place to head to than Luciano's at the Al Habtoor Grand Resort & Spa in Dubai.

Located at Dubai Marina in Jumeirah, this casual Italian bistro, facing the poolside, offers a rich variety of food from pasta, pizza and risotto to the traditional seafood, meat and chicken dishes. With a treasure trove of photos adorning its walls, each with a different story to tell, and with its ceiling decorated with bottles of wine and bunches of grapes, the ambience inside is truly innovative and dreamlike. Here, one has the option of indoor or alfresco dining on the picturesque terraces – one that faces the pool and an upper terrace facing a water slide.

The mood is romantic, especially in the evenings as the last rays of the sun glimmer on the garden pool, and you catch the strain of Italian music in the background. But the success of a restaurant lies not solely in its ambience. The food too has to impress and here again, Luciano's delivers its best, for traditional Italian fare seldom tasted so good.

From the choicest antipasti to a hearty selection of soups and a range of homemade pizzas with almost 10 different types of sauces, Luciano's also offers a delectable variety of seafood and meat dishes. Its pasta and risotto range is more than enough to satisfy even the most finicky Italian cuisine aficionado. A prime favourite in the starters or antipasti section is Gamber Saltai, a prawn dish sautéed with garlic, parsley and olive oil, and served with rocket leaves and sun dried tomato pesto. Not to be missed is also Carpaccio di manzo con parmiggiano, a serving of thinly sliced raw beef tenderloin on mustard mayonnaise topped with rocket leaves, olive oil and parmesan shavings.

The choice in soups ranges from Mediterranean seafood soup to the mushroom soup and fresh vegetable soup. The seafood selection is bound to satisfy all fish lovers with its choice of lobster, prawn, hammour, salmon and a host of shellfishes on the menu. For instance, the Mixed Seafood Platter at Dhs 280 for two people with an assortment of hammour, prawn, squid, lobster and mussels, grilled and served with vegetables and lemon butter sauce is a gourmet's delight.

Not to be outdone are the selection on the meat menu where there is an assorted range of dishes serving chicken and baby chicken, beef fillet and beef sirloin, classical veal shank and veal escalope as well as lamb. Chicken and lamb dishes reign as the top favourites particularly; the grilled lamb chops infused with garlic, chilli, rosemary and balsamic reduction and served with fried onion rings, water cress and tomato salsa.

Of course, no Italian dining experience can be complete without a taste of pastas and pizzas and here too, Luciano's dishes up quite an abundant variety of traditional homemade dishes, with the freshest of ingredients and with a truly authentic Italian touch. From healthy spinach pasta with assorted steamed vegetables to homemade pasta with minced beef, or the special combination of mushroom ravioli with creamy pesto sauce and the Linguini pasta with prawns, tomato and cream, the choice here is endless.

A particular highlight is the Spaghetti alla gamberi or spaghetti with prawns, olive oil, chilli, garlic and parsley. In sauces, the all-time favourite continues to be the chilli-spiced rich tomato sauce popularly called Arrabbiata but with a range of almost 10 different freshly made sauces, there is something to cater to every taste bud.

In June, guests can enjoy a Live Cooking Pasta Promotion where you can choose your own pasta and sauce and witness it cooked right in front of your eyes.

A pizza oven in the restaurant ensures that guests can watch their pizza being done to perfection with the toppings of their choice. These freshly made pizza are available in small or normal size and the topping choices are aplenty – from tomato, mozzarella and basil pesto, onion, mushroom, eggplant, bell pepper, black olives and artichoke, shrimp, mussel, fish squid, mushroom, tomato, oregano, onion and green chilli, or anchovies, olives, beef salami and green capsicum etc. In the risotto range, it is the wild mushroom risotto that is the most popular.

Luscious desserts are the perfect complement to end the meal. The traditional Tiramisu Grande with mascarpone cream, dark chocolate and custard cream is highly recommended. Or if you choose, you can also indulge in an assorted Cheese Platter with a selection of authentic Italian Talegio, Pecorino, Gorgonzola and Parmesan cheese with savoury biscuits.

Luciano's is one of the many gems at Habtoor hotel's premium location the Habtoor Grand Resort & Spa; its informal, friendly atmosphere combines with its location at pool side, near the lonely gardens and only a short walk to the beach, to give a wonderful setting for a fabulous meal. And no doubt – their food if of the finest available in Dubai!
| | |
| --- | --- |
| | |