Al Habtoor Receives World Forum Award
Mr. Khalaf Al Habtoor, Chairman of Al Habtoor Group, was honoured by members of the British Parliament for his efforts towards building bridges between the Arab World and the West. The World Forum Award was presented to Mr. Khalaf Al Habtoor by four British MPs who were in Dubai to Speak at the even held on Peace-Building and Fostering Cultural Understanding, organized by the World Forum.














Al Habtoor Receives Her Excellency First Lady of Maldives
Khalaf Al Habtoor, Chairman of the Al Habtoor Group, has received HE Nasreena Gayoom, First Lady of the Republic of Maldives. Her Excellency was on a visit to the UAE in order to promote her Thalassaemia foundation in Maldives. Currently, there are more than 500 children in Maldives, suffering from the genetic disease. Said Mr. Al Habtoor: "I am very proud to welcoming Her Excellency to my office. What she told us about the Thalassaemia patients in the Maldives really touched me. Therefore I will make sure to extend all our support for her charity." At the end of her visit Madam Nasreena Gayoom presented Mr. Al Habtoor with a plaque, inviting him to visit her country.





Joint Venture between Al Habtoor Group & Higher Colleges of Technology
This joint venture between Al Habtoor Group and Higher Colleges of Technology CERT will develop and conduct a Training Program for junior and middle management personnel at the Al Habtoor Group LLC.


The aim of this Training Program is to develop the skills and knowledge of the junior and middle management personnel to be competent with open mind on dealing with today's business challenges. Like wise, to encourage opportunities for career advancement within the organization assuming for more challenging key positions as business experts in a rapidly evolving Dubai economy.


This programmed will help them meet highly professional business requirement in a very multi cultural business environment and instill life long learning skills. The various instructional modules and learning activities will help the trainees to strengthen and exercise their mental abilities and enhance practical skills which will make them more active participants in today's dynamic business world.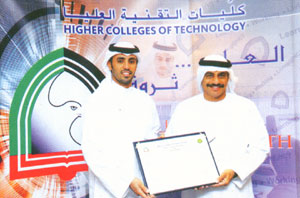 The program will consist of 12 modules that will cover various managerial skills and tasks i.e. Leadership Skills, Team Building, Communication and etc. for approximately one academic year.