New Wings in
A b u D h a b i


By Al Habtoor Engineering Corporate Affairs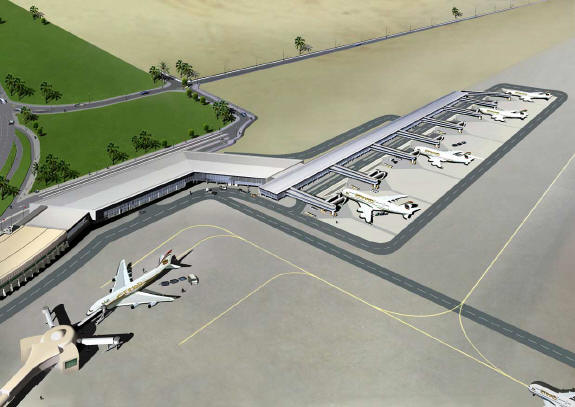 Perspective view of the Airport

Abu Dhabi unveiled several huge and progressive plans for 2007 and as a result Abu Dhabi International Airport is currently buzzing with activity. The building of the Etihad Interim Terminal has been entrusted to an Al Habtoor Engineering (HEE) and Murray & Roberts Joint Venture. HEE's expertise in airport construction projects, a result of its 11 year association with Dubai International Airport, proved to be wholly invaluable during the planning stages of the design. Referred to as construction site number 822, the Client is SCADIA (Supervision Committee for the Expansion of Abu Dhabi Airport). The Programme Manager is Parsons International Limited and the Resident Engineer is Morganti.

The project officially kicked off on the 14th of September 2006 and is now surging ahead with excavations and piling work in full flow.

The structure involves an extension to the existing airport and is exclusive to Etihad Airways. It will form a connection to the existing Terminal 1 facility where there will be a total of 9 aircraft docking bays, two of them custom designed for the enormous new Airbus A380.

This is a complex and large project and the potential for disaster is huge; even quite trivial mistakes could lead to serious difficulties. Discussing the design and structure, Mr. Raed Hammad, the project manager of site number 822 recounted, "I remember an amusing incident when a typing error occurred in the docking bay measurement figures and the numbers got reversed. So the length was stated as 5.7 metres instead of 7.5 metres. This was not discovered till we actually started planning and sensed something wrong. A closer look revealed the slip. Thankfully the situation was in control before it could have had any impact".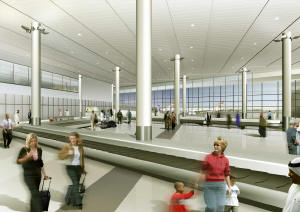 The project site is located to the North and West of the existing Terminal 1 and will be known as Terminal 3. The new facility will include First and Business Class Lounges, 25 check-in desks, approximately 3,000m2 of duty free space, restaurant and food courts, passenger screening checkpoints, customs, immigration, etc. The whole project is planned in phases and on three levels - Apron, Departures, and Arrivals.

Each of the 9 docking bays is a 36 metre long corridor. These massive structures are single pieces, manufactured in Germany and arriving in the UAE by ship. Transporting them from the docks to the airport is going to be a tough job. Imagine a 36 metre long truck on the road! It's a major challenge for HEE which they have solved by attaching wheels directly to the docking bay itself making it possible to wheel it all to site relatively easily.

Amazingly work is carried out right inside in the environs of an active airport. Each individual working at this site normally requires two security passes, one for Airside, and the other for Landside. Organising these official passes for the 2000 people expected at the project's peak poses a complex problem and so as a strategic move, in order to minimise both the logistics and any possible security issues, the whole airport fence was remade to ensure that the entire construction area is landside.

There are two other challenging areas to be dealt with. Firstly, the work is being carried on in a live, working airport which means security must never be compromised and passengers must never be inconvenienced by the construction itself. Secondly, there are complex automated systems and machinery including X-ray machines, immigration systems, baggage–handling systems and dozens of others which need to continue to work and then transition smoothly on completion. Fortunately these systems are essentially similar to those at Dubai Airport, which means HEE's experience makes a whole world of difference.

But there are some things in a lighter vein that have to be taken care of. So for example they have to keep the work areas extremely clean and free from any kind of foodstuffs, making cleaning a 24/7 chore. Because food attracts birds and birds are very bad news for aircraft. They get sucked into engines or smash into cockpits during take off or landing: not something any airline wants to deal with if they can avoid it!

And finally let's just think about the curtain wall that will run around the airport. It needs to be high and able to withstand the vibrations created by the noise of aircraft engines blasting away at full thrust. Actually, this is quite an engineering feat in itself.

HEE is up to the challenges and by the time the new terminal is up and running there will be another feather in the cap of the company who built so many of the UAE's landmark properties.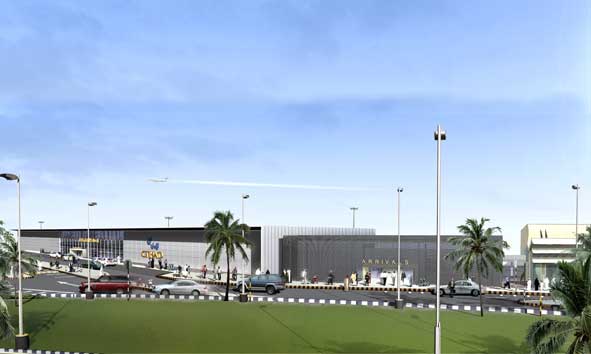 Perspective view of the Airport