AL HABTOOR
TOWER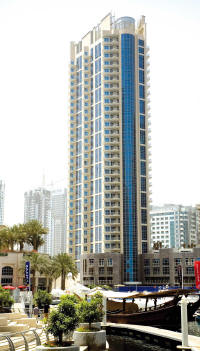 Mr. Khalaf Al Habtoor, Chairman of the Al Habtoor Group announced the expansion plans of the Group, which are in line with the vision of His Highness Sheikh Mohammed Bin Rashid Al Maktoum for Dubai.

Participating in the ever promising Realty property market of Dubai, AL Habtoor Group Real Estate has widened its portfolio by adding two new residential buildings during the current year. The latest acquisition is the strikingly distinguished building in the Emaar development Marina Walk that is called Al Habtoor Walk. It is located strategically and directly along the water front and the yachting berths, adjacent to the Dubai Marina Phase I, and shares the popular marina retail area which includes foods courts, shopping stalls, themed restaurants and supermarkets.

The unique tower development of 33 storeys has a strategic angle location whereby most of the residential units face the water front and also offers a breathtaking view of the Arabian Sea. The tower consists of 169 high quality residential units comprising of 1BR, 2BR, 3BR apartments in addition to penthouses and podium villas and are designed and oriented to offer luxurious life styles. The development also includes 5000 sq. ft. of retail space. There is a private way leading to Marina phase I development including this tower whereby residents and visitors will be able to have private access to the tower. Ample Parking area of 215 units would cater to the need of the tenants.

Said Khalaf Al Habtoor: "Al Habtoor Group strategy is to develop continuously, paralleling the continuous growth of Dubai according to HH Sheikh Mohammed's vision. The transparency of the plans of HH to invest huge budgets in the infrastructure of Dubai is a great result to all people – We strongly support the vision of HH Sheikh Mohammed and therefore we are encouraged to invest in more specialized work to prepare Dubai for worldwide future competition".