Oh, what a night! If at all sports buffs want something to talk about for the next few weeks, or even more, they can always revert to the night of all nights when Godolphin's Electrocutionist sent the current riveting through the large gathering of race fans at the Nad Al Sheba racecourse on the last weekend of March.
Tipped heavily by bookmakers as the firm favourite to win the race, Electrocutionist had nothing going in his favour till those very last seconds along the straight of the prestigious $6 million feature race. Two days before the running, he had been drawn to start the 2000 metres race from a disadvantageous Gate number one. The bookmakers backed Electrocutionist to the hilt narrowing down the odds and making him the 11/10 favourite to win. Jockey Frankie Dettori was ill at ease following the post position draw. But he did the next best thing any human in his place might not have easily done – he kept his faith in the animal – an illustrious five-year-old son of Red Ransom.
And what a way he delivered, handled by an astute Dettori, smacking the field of 10 other runners into submission to give the Godolphin Stables a win to cherish for a long, long time.
For most of the race, the field was very much open with the American challenger Brass Hat looking strong along with the Jeremy Noseda- trained Wilko as they nosed into the final turn. But Dettori had other plans as he suddenly guided Electrocutionist into an empty space for that final, enthralling burst of speed. "Till then, everything had gone wrong for us. We had thought about so many things, but they simply got so muddled two days before the race after we were drawn from Gate 1. This bad luck followed us even during the initial moments as he missed the kick," Dettori admitted later.
The Italian jockey had all reason to be apprehensive about his horse, incidentally bred and trained in his native Italy till he was bought over by Godolphin. Electrocutionist was making only his second career start on dirt, and this inexperience seemed to show when he was not the smartest one out at the start gate as he got caught against the rails behind four horses – three of whom were the feared American raiders and the fourth - one of two challengers from Japan.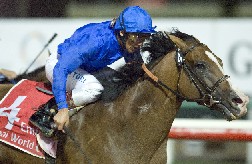 But in a split second, Dettori extracted his horse into a tiny bit of space on the wide outside as the Godolphin star found his rhythm to finish with a grand flourish ahead of Brass Hat and Wilko. "He's proved what a classy horse he is with that final burst. This is my 12th year in Dubai and for us to win here means so much for this country and its people," Dettori stated.
Electrocutionist's win was just the icing on the cake for Dubai. There were other things to gloat about as well with Madjani and Discreet Cat being the pick of the lot among horses from Dubai.
It was Madjani who set the ball rolling for Dubai horses in the opening Kahayla Classic as he demolished the field with a superb run under Richard Hills to hand owner Shaikh Hamdan Bin Rashid Al Maktoum, Deputy Ruler of Dubai and Minister of Finance and Industry, his fourth successive win in this premier race for Purebred Arabians. This was also the second consecutive Dubai Kahayla Classic win for the horse and owner. Trainer Gillian Duffield completed her hattrick as Djelmane and Hasna De Faust completed the UAE domination in this race.
A top quality field of international runners that had threatened the race withered away after Madjani's early burst. The international runners seemed out of place and looked woefully short of form in unfamiliar conditions. Perhaps, the biggest disappointments of these was the Jean Pierre Totain-trained Amperor Des Cedres after arriving with a strong reputation on the back of four successive wins, including two of dirt. The Dominique Akel-bred and trainer five-year-old finished second from last in the 11-horse field.
Another strong contender, French mare Djezica finished last while Arsene Rupin came in eighth. The only newcomer to salvage some sort of pride for the foreign contingent was Udjidor De Bozouls after a finish in sixth place.
The UAE Derby was the ideal stage for Discreet Cat to give Godolphin trainer Saeed Bin Suroor an indication that he's prepared to take on bigger challenges in the future. Touted as a possible prospect for Godolphin's Kentucky Derby dream, Discreet Cat with Dettori aboard annihilated his rivals to win the Derby with ease – a cool six lengths ahead of fellow stablemate Testimony. There was success for the Japanese as well as Flamme De Passion with Yutaka Take powered into third place ahead of the Kiaran McLaughlin-trained Invasor.
But the race and the moment belonged to the two horses from the Godolphin stables. English bookmakers William Hill responded immediately making Discreet Cat a 5/1 favourite for the Kentucky Derby.
However, His Highness Sheikh Mohammed Bin Rashid Al Maktoum, Vice-President and Prime Minister of the UAE and Ruler of Dubai, who is the driving force behind worldwide Godolphin stable, stayed cautious. "We'll still have to see how he comes out of the race, and then we will decide on whether he goes to the Kentucky Derby," he said.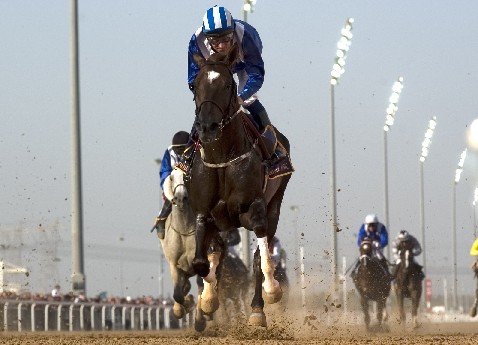 Simon Crisford, Godolphin's racing manager, went a step forward. "He's a horse that going places and we are really excited. It's very important to put a victory on the board, and it's lovely that it was this horse because he's the future. Electrocutionist is the present, but Discreet Cat is the future," Crisford beamed.
There were other winners as well. This, despite the fact that the large contingent of Japanese race enthusiasts watched in disbelief as their dirt champion Kane Hekili – literally 'Lord of Thunder' in Japanese – succumbed to the sheer pace and finishing power of Electrocutionist and the couple of American challengers on the final stretch.
Clearly the Japanese had come with the intent to conquer in Dubai… and they nearly did as they trooped off with two clean wins – Utopia taking the Godolphin Mile and Heart's Cry breezing away with the Dubai Sheema Classic. Those two wins were seen like a premonition of other good things yet to happen as the nippy squad of Japanese journos hinged a discreet warning smile while passing by. They had reason to do so as jockey Yutaka Take bolted off early in the Godolphin Mile to guide Utopia – a six-year-old son on Forty Niner to score the first upset of the night. Pre-race favourite Jack Sullivan did come up with a late run, but could only finish in third behind second placed Win River Win from Turkey.
Utopia's owner Makoto Kaneko was ecstatic after realizing a dream in their first concerted assault at the world's richest horse race. "I've never felt this good before," Kaneko admitted.
"I think it's worth coming all this way from Japan for just this moment," he beamed after receiving his purse of $600,000 from Khalid Baker of Jebel Ali International Hotels.
"He's powerful and the best miler here. We came here to showcase what our horses were capable of, and I think we have done a pretty good job," blurted jockey Take.
Further success awaited the raiders from Japan as Christophe Lemaire guided Heart's Cry to success and the top prize of $3 million in the Sheema Classic sponsored by Nakheel. Collier Hill, trained by Alan Swinbank came in second ahead of Mike de Kock's Falstaff.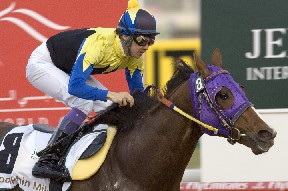 If at all the Americans and the English tasted any sort of success that came only during the later part of the race night. First, it was Proud Tower Too winning the Gulf News-sponsored Golden Shaheen Group One sprint for thoroughbreds over 1200 metres to give the Americans their only success, and then it was David Junior asking to be taken seriously by winning the Dubai Duty Free Group One for Thoroughbreds.
Historically, the Americans have dominated the Golden Shaheen sprint. This time it was no different as the top four finishers were all American horses led by Proud Tower Too and followed by Thor's Echo, Jet West and Captain Squire. It was a special sweet moment for jockey David Cohen, a one-time junior Olympian speedskater. "He's given me my first major Stakes win and now he's handed me with my first Group 1 win. You can't get any better than this," Cohen smiled satisfyingly.
The Dubai Duty Free race, a genteel precursor to the Dubai World Cup, belonged entirely to David Junior, a four-year colt trained by Brian Meehan. It was an upset of sorts for this young horse, the son of Pleasant Tap after his 10-furlong Champion Stakes win against older horses in Newmarket earlier this year.
All in all, the night belonged to Dubai and its people who exulted and broke into instant celebrations much before Electrocutionist crossed the line. But it also belonged to the Japanese, the Americans and the English… it belonged to all. And that's precisely what this race is meant to foster - a culmination of the best in the horse racing world. And that is exactly what it turned out to be… electrifying, by that one lone Electrocutionist.
Results:
Race 1 Dubai Kahayla Classic: 1. Madjani (2 minutes, 16.29 seconds); 2. Djelmane; 3. Hasna De Faust.
Race 2 Godolphin Mile: 1. Utopia (1 minute, 35.88 seconds); 2. Win River Wi; 3. Jack Sullivan.
Race 3 UAE Derby: 1. Discreet Cat (1 minute, 48.59 seconds); 2. Testimony; 3. Flamme De Passion.
Race 4 Dubai Golden Shaheen: 1. Proud Tower Too (1 minute, 09.86 seconds); 2. Thor's Echo; 3. Jet West.
Race 5 Dubai Sheema Classic: 1. Heart's Cry (2 minutes, 31.89 seconds); 2. Collier Hill; 3. Falstaff.
Race 6 Dubai Duty Free: 1. David Junior (1 minute, 49.65 seconds); 2. The Tin Man; 3. Seihali.
Race 7 Dubai World Cup: 1. Electrocutionist (1 minute, 45 seconds); 2. Brass Hat; 3. Wilko.
Fashion at the Races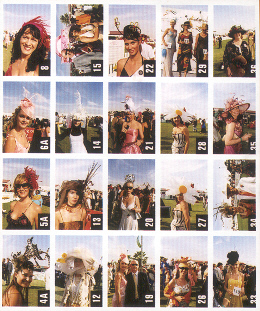 Box of facts
1. This was the fifth World Cup winner for Godolphin trainer Saeed Bin Suroor, the previous four being Almutawakel (1999), Dubai Millennium (2000), Street Cry (2002) and Moon Ballad (2003).
2. This was the third time that jockey Frankie Dettori was winning the Dubai World Cup. His two previous wins came on Dubai Millennium (2000) and Moon Ballad (2003).
3. Hailed as one of the best jockeys in the sport today, Frankie Dettori even has his own range of frozen pizzas, ice cream and men's after-shave.
4. Electrocutionist's win also broke a sort of jinx for the Dubai-based Godolphin Stables after American raiders such as Pleasantly Perfect (2004) and Roses In May (2005) had held sway for the past two years.
5. Electrocutionist became the fourth horse to win after starting from Gate No.1 on race night. The other three were Madjani (Dubai Kahayla Classic), Utopia (Godolphin Mile) and David Junior (Dubai Duty Free).
6. Madjani's win in the Dubai Kahayla Classic gave owner Shaikh Hamdan Bin Rashid Al Maktoum, Deputy Ruler of Dubai and Minister of Finance and Industry, his fourth successive triumph in this premier race for Purebred Arabians.
7. The Japanese, who had threatened to run away with the main race with the much-hyped Kane Hekili, did comparatively well – clinching two wins on the night, Utopia in the Godolphin Mile and Heart's Cry in the Dubai Sheema Classic.
8. During the 11-year history of the Dubai World, it has so far been a two-way battle between horses from Dubai and the United States – Dubai has won it six times while the US has won it the remaining five times.