Have you ever wondered what it must feel like to soak in the brilliance of diamonds, radiate in the sparkle of rubies and lose your senses in the overwhelming sensuality of emeralds and sapphires day in and day out? When this experience becomes part of your daily routine, year after year, will its irresistible enigma still hold charm? Or will its lustrous appeal fail to hold sway?
"Indeed not," says Abbas Mozafarian, a sixth generation jeweller of the illustrious Mozafarian family from Iran. "A jewel is closely linked to the heart and the creation of jewellery is an intensely emotional affair. It is a passion that grows within you, becomes stronger with each passing day, and once you experience its magic, it holds your heart captive."
In the world of jewellery design, there are virtually no limits, no boundaries to contain you, he adds. "It is a vast universe where the imagination roams free and creativity knows no bounds. At the end of it, when you behold that beautiful creation in your hands, the feeling it evokes is exquisite, one of joy, pleasure and sheer ecstasy."
Certainly, with every breath and in every word that he utters, Mozafarian's fascination for jewellery rings forth loud and clear. Hardly surprising when you consider that he is the scion of a family that for three centuries now, have been engaged in the fine art of creating jewellery. This rich tradition is already being carried forward by the seventh generation of the family - his two daughters Allaleh and Bahareh.
The Mozafarian family has a continuous and long established history and can be traced back to Neuchâtel, in Switzerland, where over 300 years ago, they manufactured clock towers and carriage clocks. When word of their expertise reached Persia in the early 19th century, the family was invited there under royal patronage to build clock towers in the market squares of major cities and royal palaces. A member of the family then met and fell in love with a Persian girl, converted to the Islamic faith, married and settled in Persia. It was here that they later diversified into the gold and silversmith trade.
The business has since expanded across the world and has branches in America, Canada, England, Germany, Italy, Iran and now Dubai. It sells its jewellery from around 200 stores across the world, with each one led by a descendant of the man who started it all.
Heritage is therefore a key word in understanding what the Mozafarian style is all about, acknowledges the veteran jeweller. "Our unique style and designs have evolved through years of knowledge and experience. It has been perfected over the centuries and we have been fortunate to imbibe this wealth of expertise and craftsmanship that today gives us a sense of proportion, volume and design vocabulary."
For three centuries, Mozafarian Jewellers has succeeded in combining traditionalism with innovation by way of continued research and renewal of ideas. The finest gemstones and precious metals have been often combined to create unique pieces that have endured for generations to come. Many of the jewellery pieces crafted in the early years, especially for several royal houses, can now be seen at museums in Europe, the US and Iran, he says.
Amongst the most notable of its clients are members of the royal family from Saudi Arabia and the UAE as well as presidents of the USA, including John F. Kennedy, Lyndon Johnson and Richard Nixon. Modern day clients include singer Dannii Minogue, socialite Tamara Beckwith and former EastEnders actress Patsy Palmer.
Jewellery is linked to a very specific process in terms of creation, to craftsmanship and manufacture, and so is not so whimsical as fashion can be, he says. "Jewellery design is always an intuitive process. It originates as a sensation that then moves on to becoming an idea, then a design, and eventually culminates in its final form. The design of a jewel comes from the heart but there are many points to take note of before you actually conceive of the idea."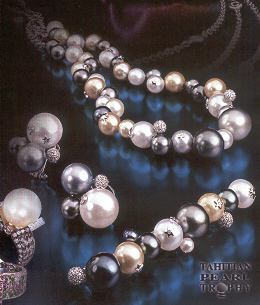 The client for whom the jewellery is being designed is given paramount importance. It is not only his/her personal style or preference of motifs or gemstones that are taken into consideration. But, according to Mozafarian, "We have to literally get into the skin of the clients, know their aspirations, characteristic traits, aspects of their unique identity, what makes them happy, etc. We also have to consider the age, culture and the colour of their skin and sometimes, even take into account under what light conditions the jewellery would be worn - whether it is for the day or night, will it be seen in natural or artificial light, etc."
Such attention to detail may seem rather far-fetched and excessive to most of us. But, says Mozafarian, "This keen interest is warranted because each jewellery is very much a personal piece. Unfortunately, people may more attention to the wedding dress and not to the jewellery although it is the latter that can be passed on from generation to generation and is perhaps the best token of a momentous occasion."
Be it classical or contemporary upbeat jewels loaded with emotional dynamism, or strong, sculptural and modern designs characterised by luxuriously large rings, silky, tactile gold meshes, and the subtle interplay of a colourful medley of precious gemstones, every piece of Mozafarian jewellery retains its trend-setting image through the ages, he says.
"Jewellery is about expressing individual feminity and personality. What we create are forms that mould to the body and move with its movements. Each piece is unique; there are no collections in our brand. Neither do we create a specific number of the same jewellery. Each new idea challenges the skillful mastery of our craftsmen whose precision, technique and geometry of form are put to the test to give the product a precise representation."
When it comes to unique and exquisite jewellery, value is not the criteria, believes Abbas Mozafarian. "Our philosophy rests on the simple foundation of creating bespoke masterpieces that can, in the long term, appreciate as pieces of art or become highly treasured as family heirlooms thus transforming itself into a good and wise investment. By creating such eloquent expressions of excellence, jewellery is elevated to a completely new level of art form."
Specialised in fine quality engagement and wedding jewellery, Mozafarian prides himself on being second to none in this field. "We make pieces that are really very personal and which fits the character and personality of the wearer," he says. However, while tailoring the jewellery to the individual, he also aims to make its designs as multi-functional as possible.
This is especially important in the case of wedding jewellery. Unlike a wedding gown that cannot be worn again for another occasion, Mozafarian wants his jewellery to be admired and enjoyed for several occasions to come. "Recently, we made a wedding necklace that can be worn in 14 different ways," he says. "For instance, it can be used as a tiara, or as a necklace and earrings, or as a brooch or bracelets and so on. In fact, every time you wear it, you cannot escape the feeling that it is a new piece of jewellery."
What Abbas Mozafarian brings to the world of haute joaillerie is a certain individuality, a marked difference that separates him from the commercial jewelers. It is not the numbers that fascinate him but the quality – both of raw materials and the creation of timeless pieces of fine jewellery. The brand, he says, is about very real excellence and undisputed craftsmanship, which is reflected in superb and technically innovative work forms.
As a descendant of one of the oldest family jewellers in the world, Mozafarian also seeks to keep the line of continuity running from one generation to the other. "We need to make sure that the business is conducted respectfully with trust and confidence and that the expectations of our clients are served well," he says. "As part of the older generation, it is my responsibility to ensure a conducive and attractive trade environment such that the new generation will want to continue in the same line of business."
64-year-old Abbas Mozafarian still remembers the day 50 years ago when, at the age of 14, his father entrusted him with his first and most important task. "My father appointed me to carry his vast collection of jewellery from Teheran to his important clients in Isfahan and adjoining areas," he recollects. "I was nervous and apprehensive: how could my father entrust me with such an enormous responsibility, I wondered. But my father said that if he hadn't had the confidence in me, he wouldn't have asked me to shoulder that risk. I successfully carried out what I was asked to do and returned home weeks later with three new clients!"
That was his initiation into the family business, a legacy he inherited from his father and one that he is deeply passionate about to this day. It is this self-same respect and admiration for this intriguing work that he has passed on to his daughters, who he trusts, will in due course carry the torch forward to the next generation.
"My two daughters are my greatest assets," he says fondly. "They are both artistic, patient, creative and have shown a sincere interest in learning the ropes of the business." While his elder daughter is currently based in London managing the Knightsbridge store there, the 25-year-old younger daughter Bahareh, has been handed over the reins of the newly opened outlet in Deira, Dubai. Says Bahareh, "I am part of the seventh generation in this business and have practically grown up with jewels and diamonds since the age of six. Though the business wasn't an immediate love affair, it began to blossom when at the age of 14, I started working part-time at Mozafarian. Until then I was set on becoming a lawyer."
Soon she realized that the business consumed her completely, just as it has with all previous generations and today, she is involved in designing jewellery, maintaining close ties with clients, and also managing the business part of the trade. "Any jewellery is a metaphoric representation of your character. Hence, you have to get the 'ingredients' right to make it a valuable asset that you can cherish forever," she says.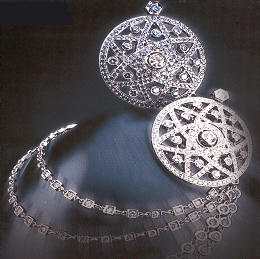 Though she personally prefers the young and trendy pieces in jewellery, there is a trend, especially in the Middle East for daring, bold pieces, she says. "This trend is catching on in Europe too and the appeal lies in creating fascinating motifs that become a conversation piece for the wearer."
An element of fun makes wearing jewellery all the more attractive, she says. "Colour is a very spontaneous fun element and people also love gimmicks, especially detachables that can be worn in various ways. What is essential is to not be inhibited by the rules of jewellery making but to experiment with infinite combinations of materials, colour and form. People are not afraid of colour or volume now. They look upon jewellery as a reflection of their personality and an expression of their innermost feelings."
Amongst the most "outrageous" requests she had was from a client who was so enamoured of the skull and bones insignia. "He wanted us to create a bracelet for him incorporating this design," she says. "It was an extremely complicated and unusual piece of jewellery set with baguette diamonds and which could also be worn in two different ways. The client was extremely happy with the end result and that led to several of his friends joining our list of esteemed clients."
But then creating complicated designs is nothing new for Mozafarian jewellers. They are also the creators of the most expensive jacket in the world. Crafted for a charity function at the request of De Beers, the innovative denim jacket is richly jewelled in diamonds and attracted considerable media attention at its unveiling ceremony. "It is a piece of living history in the annals of the fashion and jewellery industries," remarks Bahareh.
This event, attended by famous celebrities including Ivana Trump was held in June 2002. However, more than 40 years earlier in 1960, this same jewellery house was publicly commended for some of its most exquisite creations. This time it was the creation of several royal casks to commemorate 2,500 years of the Persian Empire that drew them to the limelight. The intricacy of work here was extremely detailed as it involved the soldering of several thousand pieces by hand. Incorporating nature motifs in gold and precious stones encasing the Bohemian crystal casks required such attention that it took almost seven years to be completed. "But unfortunately, this complicated technique of soldering died with the craftsman who painstakingly created it piece by piece," she says. "However, their value is priceless today as these are part of the museum collection."
Although Mozafarian has been dealing with the Arab world for more than 70 years and is highly regarded in Iran, this is the first time it has opened a store in Dubai. Says Bahareh, "We have one of the largest representations in the Middle East. The family deals with several royal houses in the region too. Some of our clients are also among the largest investors in Dubai who are buying property and setting up businesses here. They have been partly instrumental in our coming to Dubai and for our well-established clients, it gives the comfort of knowing that they can be served by the same family jewellers even in Dubai."
Indeed it is this implicit faith and trust that is required when buying jewellery, she says. "When you buy jewellery, it is essential to go to someone you can trust, someone with a good background, one who uses only certified gemstones and can give you a certification guarantee for your precious jewellery. Your jeweller should also be the one who consistently keeps to a high standard and one you can go to with closed eyes."
As thousands of satisfied clients will agree, Mozafarian Jewellers perfectly fit this description and is the reason why it continues to enchant and mesmerize both young and old, men and women, even after 300 long years.