Pretty impressive for a company founded fewer than 10 years ago in an Emirate of just over 1 million people – of whom around 80% are immigrants or guest workers. In 2005 the company posted profits of over AED4.7 billion, almost treble the 2004 level. In the first Quarter of 2006 they announced a 14% uplift in profits on the same period last year, wholly in line with analyst forecasts. And the local stock market reacted with disappointment.
But Dubai is not a 'normal' market and EMAAR is not a 'normal' company. On any given day EMAAR & Amlak (40% owned by EMAAR) between them represent 60-70% of both value and volume of the Dubai Market. They are both pretty volatile and lead where others later follow. Professional analysts have been saying for some time that EMAAR shares look cheap and should be trading at a fair value of Dh20-22. Towards the end of April they were standing at around Dh14.5 close to the 52 week low of Dh14.05.
It would be mind numbingly simple to fill the rest of this article with a list of EMAAR's more striking projects but that would defeat the point. The company does not need the advertising. But we should look at some of the innovations introduced, bearing in mind that where they led others have or will follow:
First to offer Freehold property in Dubai
Downtown Dubai, including the Dubai Mall (world's biggest) & Burj Dubai (world's tallest)
Arabian Ranches, around 10km2 of freehold properties in a community including a golf course, polo ground and riding club and retail outlets, all created from scratch in just a few short years.
Many other gated, managed communities including The Greens which had its 'rent-to-buy' scheme making it EMAAR's fastest selling development, and all built in what was until recently simply open desert.

Dubai Marina, one of the world's largest planned waterfront communities built around a vast man made marina in the rapidly developing 'New' Dubai area.
Recently the company announced it has teamed up with Giorgio Armani S.p.A to build and manage 10 Armani hotels and resorts across the world, including in the Burj Dubai tower of course.
International projects continue apace and include the King Abdullah Economic City development in Saudi Arabia, a project that will eventually provide employment for half a million people – apart from those of course involved in the construction itself. EMAAR has stretched into retail development as well now both in Dubai and abroad, including the previously mentioned Dubai Mall and developing around 100 malls in the MENA region as a whole.
The list could go on but these examples serve to show the extraordinary scale and diversity achieved in such a brief period. Moreover the company seems to have real substance and Vision, despite the fears of some external commentators that the whole edifice could come tumbling down at any time.
So we ask ourselves - how can they maintain it all?
The name could tell us much: "Entrepreneurial Management of Assets for Accelerated Returns on equity" (lifted from their Web site). This concept has shone through everything we see them do – every day. They could easily use it as a Mission Statement.
Apart from anything else the company has shown itself to be genuinely innovative; in creating new concepts, picking up and running with established ones and sweating the existing assets. Their strategy is well publicised and documented and there seems to be wide agreement in both the business community at large and among analysts that they are successfully implementing it.
We see a four pronged attack using their Dubai successes as a starting point:
A move away from a culture of simple cost control to one that it calls 'Total Productivity'. It means looking at items like responding to customer driven need rather than an internal drive for expansion per se. It means looking at added-value per employee rather than cost. It means focusing management on the areas with the greatest returns for the company gained by satisfying the most needs for the customer.
This is a brave step for a National company as it is counter-cultural in many ways. It is also rather different from what we see of US/Northern European business culture of quoted companies where the mindset is for shareholder value first and customer value second. EMAAR's reversal of this thinking could prove a smart move.
The company is using its brand to good effect. The Marketing and PR within the organisation uses the brand values – particularly the ideas of being World Class and Innovative and Fast Moving – to enhance the messaging for its products and services. It uses things like the drive for Emiratization within UAE to support its own marketing and thus attach belief in the growth of the Country to belief in the growth of EMAAR.
In a recent interview chairman Mohamed Ali Alabbar, told the International Herald Tribune "I am quite keen (on investments in luxury goods Brands around the world) and am looking at several organizations seriously" a move, like his partnership with Armani, which would enhance perceptions all round.
True to the acronym that is its name EMAAR works hard to ensure that the organisation uses its entrepreneurial skill and spirit to be "…different as well as better…". The recent announcement of a high tech Command and Control Centre for remote management of all its properties might be a good example of this. It shows a focus on serving the customer whilst at the same time using technology to good commercial effect and serving their own needs.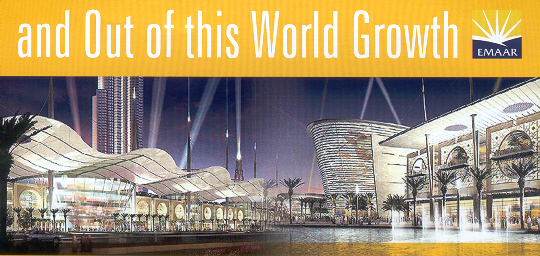 A senior source inside EMAAR recently made the point that over 80% of their operations will be overseas in less than 5 years. They have said that the process of internationalisation will be in discrete steps, leaps into new areas followed by consolidation and strengthening. But the speed of change and the speed of growth lives well up to the concept of Accelerated Returns so prominently espoused in their name. Management seems to have recognised the reality of eventual saturation in the local market. Regardless of innovation or creativity EMAAR's core business remains property development. It is easy to see that this has given the company huge basic strength and clever management, creative marketing and entrepreneurial spirit have combined to exploit that natural advantage the world over.
Growth and riches on the scale of EMAAR's also brings with it responsibilities and difficulties. We all see that much of the construction work in Dubai is carried out by low paid workers living in difficult conditions. Recent riots by workers for Al-Naboodah Laing O'Rourke, working on EMAAR's flagship Burj Dubai project, highlight some of social effects of Dubai's phenomenal growth. EMAAR to its credit was not the target of these recent attacks and works visibly to mitigate the worst of their results. However, as much as the positive marketing enhances their reputation, this kind of thing hurts them.
Again though, swift response by management and marketing cleared the air and the relentless march continues. And as they spread around the world we can recognise that not all markets are as friendly or as responsive as our local one.
If EMAAR can replicate the success of its growth in Dubai on a global scale, stick to its strategy and not repeat the mistakes of other global giants then truly they will be a World Class business managing Out-of-this-world growth – to the benefit of all of us living and working here in Dubai.