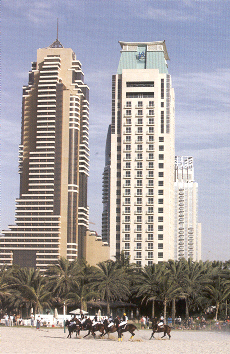 Panorama Vision at The Beach Polo Cup
Dubai 2006 Tournament.
The 3rd Beach Polo Cup, the 'Game of Kings', was held at the Habtoor Grand Resort & Spa. The tournament was sponsored by Audi, Stanford Group (Suisse), National Bank of Dubai and Bur Juman as team sponsors and Habtoor Engineering, as sponsor for the construction of the field and VIP stand.
The tournament also included several high profile events like the Christie's auction for the Dubai Autism Centre.
The prelude to the tournament was the "Night of the Players', an exclusive black tie event which officially started the '3rd Beach Polo Cup-Dubai 2006'. The backdrop to this event was the outstanding Gala Dinner, the Pal Zileri Fashion Show, an amazing Panorama Vision projection show, the official players' presentation and the charity auction by Christie's.
The official opening of the tournament was on Friday, the 7th of April, with the first 2 qualifying Polo matches. Day 2 started at 3:00 P.M. on the 8th of April, with a charity match between two children's teams, sponsored by Emirates Investments & Development P.S.C., followed by a match to determine the winners of the 3rd and the 4th place. The climax of this second polo day was be the final match to determine the winner.
The public was most welcome to watch the exciting matches from the beach at Habtoor Grand Resort & Spa. The Beach Polo Cup has stakes. The teams of Rashid Al Habtoor, Mohammed Al Habtoor, Tariq Albwardi and Kristian Petersson included international high goal players. The competition within these teams was showcasing the essence of traditional sport, which originated as a training game for cavalry units for royal guards or other elite troops.
| | | |
| --- | --- | --- |
| | | |
| Entertainment in progress during the | | Action at The Beach Polo Cup Dubai 2006 |
| 'Night of the Players' event | | Tournament. |