After the great success of Metropolitan 1st Polo Beach Cup in April 2004, we were all set to present the "The Metropolitan 2nd Beach Polo Cup" from 3-5 February 2005.
The Beach Polo Cup Dubai is now a regular annual sporting event - a 'must' for polo fans and aficionados around the world. We wish to introduce the amazing land of Dubai to our foreign guests and partners, as it is one of the most shining examples of modern Arabic lifestyle and culture in the Arab World. Polo, which is more than 2000 years old, is played in more than 77 countries around the world today.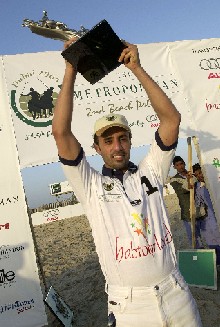 Polo has been termed the "Sport of Kings" or sometimes the "King of Sports". However, one doesn't have to be a king to be able to afford playing this game, which is recently growing in popularity.
The enjoyment of the playing can be achieved by owning only one horse or by having a whole sting of polo ponies. The challenge of the game is to combine highly skilled athletic ability and horsemanship with the effort of super trained mounts (polo ponies).
The Metropolitan Polo Beach Cup in Dubai has become a major attraction for the city and the UAE and the inaugural competition last year was the testing ground for ensuring the future success.
The response for this competition has been tremendous with outstation teams from the UK, Switzerland and Germany requesting the organizers to accommodate them.
This year's competitors were:
Teams & Players:
| | | |
| --- | --- | --- |
| Habtoorland | Handicap | Nationality |
| Team Captain: | | |
| Mohammed Al Habtoor | 1 | UAE |
| Abdullah Bin Dismal | 1 | UAE |
| Johnny Good | 6 | England |
| | | |
| --- | --- | --- |
| Audi | Handicap | Nationality |
| Team Captain: | | |
| Rashid Al Habtoor | 1 | UAE |
| Kristian Peterson | 1 | Sweden |
| Jason Dixon | 6 | England |
| | | |
| --- | --- | --- |
| Emaar | Handicap | Nationality |
| Team Captain: | | |
| Edward Kennedy | 3 | Ireland |
| Mohammed Al Humairi | 2 | UAE |
| Jack Kidd | 5 | England |
| | | |
| --- | --- | --- |
| Engel & Volkers | Handicap | Nationality |
| Team Captain: | | |
| Christian Voelkers | 1 | Germany |
| Satesh Seemar | 1 | India |
| Robert Thame | 5 | England |
The Al Habtoor brothers, Rashid and Mohammad, were in awesome form on the first day of playing, as they led their teams to emphatic wins to set a meeting in the final of the 2nd Metropolitan Beach Polo.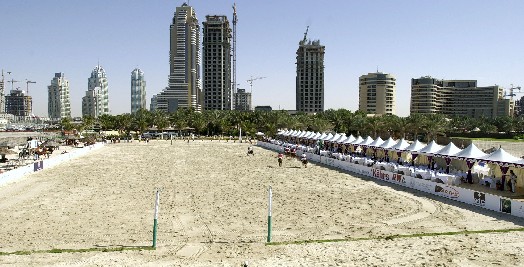 Playing for the Audi team, Rashid scored four of his team's goals to lead them to a 7-4 1/2 victory against the Engel & Voelkers team.
Younger brother Mohammad was the dominating factor in the second match as he found the goal thrice to help the Habtoorland team to a 5-3 victory against Emaar.
At the final of the second Metropolitan Beach Polo Cup, Habtoorland, led by Mohammad Al Habtoor, retained the title with a 7-5 1/2 victory against Audi.
Playing for the Al Habtoor team last year, Mohammad Al Habtoor had won the inaugural title with a 5 1/2 to 3 victory against the Mitsubishi team led by older brother Rashid Al Habtoor.
"Winning both the titles in as many years of this unique competition is a great feeling. I had reckoned they would have been much stronger as they have two very good players in their side," said Mohammad after winning his second Cup.
Though the Audi team started with a 1/2 handicap, Mohammad got his name immediately on the scoreboard with a fine offside forehand shot.The Habtoorland skipper struck a second time within one minute to put the lead at 2 to 1/2.
Abdullah Bin Dasmal swelled the lead further for Habtoorland in the opening moments of the second chukka, but two swift strikes from English professional Jason Dixon saw the Habtoorland lead being cut down (3 to 2 1/2).
The third chukka was an engrossing one with Mohammad Al Habtoor once again finding the goal in quick succession on a couple of occasions to take his tally to four.
However, brother Rashid Al Habtoor rose to the occasion and chipped in with a goal of his own to put the score at 5 to 3 1/2 in favour of the Habtoorland team.
The fourth and final chukka was the most exciting one with the Audi team coming up with one last-gasp attempt to reduce the margin.
But their plans were severely hampered when Abdullah Bin Dasmal recovered sufficiently from a face-on collision with a horse to score his first goal and his team's sixth.
England pro Jonny Good got his name too on the board as Habtoorland stayed 7 to 3 1/2 ahead.
However, the match was far from over as Jason Dixon scored two goals in quick succession to inject some last-minute excitement, but a bit too late.
"They played well and so did we. But the wind was strong and we were unlucky. The conditions were tough and unpredictable and Habtoorland fully deserved their victory." admitted Rashid Al Habtoor.
The Audi Team: Rashid Al Habtoor, Jason Dixon, Kristian Peterson
Rashid Al Habtoor presenting flowers to his daughter
Johnny Good, Jack Kidd & Mohammed Al Habtoor
Earlier, Emaar rode on a hat-trick from professional Jack Kidd to get past a fighting Engel & Volkers team to clinch the third spot.
Engel & Volkers could not hold onto their 2-0 handicap advantage as Kidd's three goals were supplemented by a brace from Edward Kennedy and Mohammad Al Muhairi.
Robert Thame scored twice and Sateesh Seemar found the goal once for Engel & Volkers.