When you have bought your luxury villa on The Palm and need that ultimate status symbol to set yourself apart from the Beckhams and Owens next door, look no further than the Stingray – your own personal submarine.
With a starting price of US$37,000, the one and two-man subs are being manufactured by Jebel Ali-based Palm Submarines to appeal to the rich and famous who have snapped up holiday homes on the world's largest man-made islands.
The company, which was formed by the Dubai Ports, Customs and Free Zone Corporation (PCFC) following the acquisition of US-based Seahorse Submarines, plans to build 1,000 of the mini-subs over the next five years from a 50,000 square feet manufacturing facility in the Jebel Ali Freezone.
The company's CEO, Herve Jaubert, who also founded Seahorse Submarines, believes personal submarines will soon replace yachts as the 'ultimate must-have toy' and envisages dozens of Stingrays moored at the bottom of the gardens of homes on The Palm, as well as other luxury resorts around the world.
"I believe the time will come when rich people will have their own submarines, just as they have yachts now," he says. "People might get bored with a boat because it is pretty much always the same, but with a submarine it is always an adventure to actually dive under the water.
"If you are living on one of The Palm islands, having a personal, affordable, recreational submarine will be a great thing. You can use it all the time as the weather is beautiful, and it is always interesting and always different."
The Stingray can dive to a depth of 130 feet and has a top underwater speed of 3 mp/h, which makes it ideal for exploring the artificial reefs and wrecks that have been sunk around The Palm to attract fish and other marine life to the area. And, like a jet-ski, the Stingray can be loaded onto a trailer and doesn't need a 'mother ship' or any sort of support vessel to operate.
"Until now all the manufacturers and designers of submersibles have focussed on going deep," says Mr Jaubert. "But I have never believed there was a market for that - the market is in shallow water submersibles. People don't want to go 300m down where it is dark and cold - they want to dive in 50 feet of water because that is where you have the richest marine life and it is safe. It is also less expensive to build shallow water subs and there are less regulatory requirements involved."
Palm Submarines currently has seven products in its range – including the one and two-man Stingrays and a larger submarine aimed at the leisure market, whereby tourists will be able to take underwater tours in a 'submersible yacht' capable of carrying 20 passengers.
"There is a tremendous potential in this market," Mr Jaubert says. "I envisage some sort of franchising operation being established whereby submarines operate from different resorts offering one-hour guided tours, which would include 35 minutes under the water.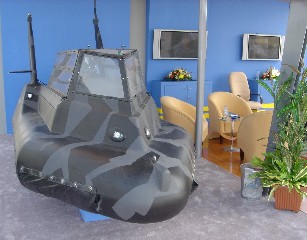 "Over the past 10 years, the number of people scuba diving has levelled off. With the design of the submersible yacht we are bringing a new adventure that will increase the number of scuba divers because the concept now is to dive with the boat.
"Until now you put your gear on and jump in the water and then you climb back into the boat afterwards. With the submersible yacht you are in your seat and you go down with the boat and then you move around. There are so many people who want to go under the water, but they don't want to go through the scuba diving training and certification so they will take rides in submarines instead because it is easier to go underwater in a submarine than in scuba gear."
According to Palm Submarines' project manager, Sanil Mohd. Subair, it was the development of the Atlantis resort on The Palm, Jumeirah which prompted the Dubai Ports, Customs and Free Zone Corporation to acquire Seahorse Submarines and bring its submarine business to Dubai.
"The Atlantis project needed submarines because they are going to develop a big underwater habitat, so we looked at Seahorse Submarines and decided to develop that business further as we saw a huge potential," he says. "Right now we are setting up a huge 50,000 square feet manufacturing facility and are also developing a separate training and testing facility."
The company has also brought in Captain Don Walsh, one of the legends of the submarine industry, to act as an adviser and develop the company's training programmes to licence new submarine pilots.
Captain Walsh, along with Jacques Piccard, set the world deep-diving record - 35,810 feet (seven miles) - in 1960 when they reached the bottom of the Challenger Deep in the Pacific Ocean's Marianas Trench in an underwater vessel called the Trieste. To date the record has never been beaten, and no person has plunged to within 10,000 feet of it.
According to Mr Jaubert, the dynamic nature of the way business is done in Dubai has opened up a world of new possibilities, with Palm Submarines' first two vessels having already been built at a temporary manufacturing facility in Jebel Ali.
"The submarine business is difficult because you have obstacles," he explains. "When you do something new, you always have to face conservatives - people who don't know and you have to explain it to them. You have to convince them, but here we have been able to move fast. What we have achieved in the last two months would have taken at least 6-12 months in any other country."
The establishment of Palm Submarines has also enabled the development of the product range previously offered by Seahorse Submarines, with the new company targeting military, security and commercial customers, as well as the leisure market.
As a former Navy Commander with 15 years experience in the design, development and use of Military Tactical Underwater Craft with the French Special Forces, Mr Jaubert has a unique insight into the specialised requirements of military customers.
"It's a great business opportunity, and I believe there is a tremendous market for our products," he says. "The way I built those submarines for recreational purposes makes them unique in the market for military applications, particularly as they are silent and have stealth capabilities.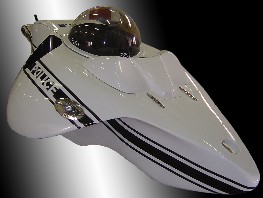 "They are undetectable because of the way they are built and the way you use them. It is very difficult to detect a vessel in shallow water because of all the other obstacles on the bottom of the sea. Equally, you are protected from ships with sonar because they don't have access to the shallow water where you are operating."
Among the military applications the Stingray can be used for is port patrol - checking for underwater threats to warships docking in harbours - which, Mr Jaubert says, will enable one submarine pilot to do the job of 15 divers.
Another of the military products being developed by Palm Submarines is the Swimmer Delivery Vehicle (SDV), which can accommodate up to eight divers for missions requiring stealth and speed. The SDV can submerge in seconds, and reaches speeds of 25 knots on the surface and six knots underwater using a hybrid petrol/electric propulsion system. The SDV is light enough to be trailered and beached, making it an ideal vehicle for swimmer deployment, inspection, assault and intelligence monitoring.
The company also manufactures the Scuba Jet - a hands-free, low profile diver propulsion vehicle in a self-contained backpack configuration. Form-fitting to a diver's back, the Scuba Jet provides 90 minutes of propulsion at three knots using miniature water rocket propulsion nozzles and state-of-the art chromium-lithium, maintenance free battery packs.
However, the star of the company's fleet of cutting edge military submarines is the 20m long Intruder Submersible Patrol Vessel (SPV). Configured for up to 10 swimmers and six crew, the Intruder can submerge in less than a minute and has a top surface speed of 25 knots. Its innovative technology includes a telescopic periscope and a water rocket propulsion system 40% more efficient than conventional propellers.
"The submarines can also be used by the police or security companies to make sure people are safe," Mr Jaubert says. "To give you an example, a few months ago parts of Florida were devastated by a hurricane and the police cordoned off an area where some rich people's mansions were damaged in order to keep thieves and looters out. But divers made it through the water to reach those houses, so this sort of situation is a reality and we want to make sure something like that doesn't happen here.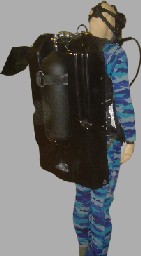 "It's also a very powerful deterrent because if it is known that security services or the police are using submersibles to patrol a real estate project like The Palm it is unlikely people will try."
On the commercial side, the sub could also prove useful to the developers of The Palm and other man-made islands to monitor and survey their construction and the integrity of their structures, while it can also be used to inspect oilrigs and the hulls of ships.
The company has ambitious plans to make Dubai the leading centre for the development of shallow water submersibles, not only for the local and regional market, but throughout the world.
"Research and development is an ongoing task," Mr Jaubert says. "We want to be ahead of anybody else to keep a strong position in the market and, for that we will be producing a new model every two years. The export potential is huge and, right now, I don't see any serious competition. Our ultimate aims are to have a leading position in the manufacture of small and shallow water submarines, and be a profitable company."