The Mughal age is famous for its many-faceted cultural developments. The Timurids had a great cultural tradition behind them. Their ancestral kingdom at Samarkand was the meeting ground of the cultures of Central and West Asia. The Mughals brought with them Muslim cultural traditions from Turko-Iranian areas, which inspired the growth of the Indo-Muslim culture.
The lady was of a high birth - she was the grand daughter of Mirza Ghiyas Beg (the father of Empress Nur Jahan), the Prime Minister of the fourth Mughal Emperor Jahangir, and the daughter of Khawja Abul-Hassan, known in the court of Jahangir as Yamin-ud-Doulah Asaf Khan- a man of dignified appearance, respected for his sound judgment. And he was ambitious too, so it came as no surprise that he was appointed by Jahangir as a Prime Minister after the death of Mirza Ghiyas. Thus, Arjumand Bano Begum who later came to be known as Mumtaz Mahal was the daughter of a noble parentage. Mumtaz was born in the year 1594. When she reached the age of learning, her family took great efforts to give her a proper education and teach her the graces of the court. With her natural beauty, they hoped that she would one day be famous like her aunt Nur Jahan and acquire a high position in the court of the Emperor of India.
When Mumtaz completed her education and she reached the age of marriage, the fame of her beauty spread beyond the confines of the harem, and her accomplishments became the talk of circles in high society. When he was sixteen, Prince Khurram (the future Emperor Shah Jahan) was strolling in the Royal Meena Bazaar when he saw the beautiful fifteen-year-old daughter of the Prime Minister. Taken by her beauty, he applied to his father, the Emperor, the very next day and asked for and was granted permission to marry her. It was love at first sight. However, a marriage between Khurram and Arjumand was not as easy as one might think, for in seventeenth century Indian courts, marriages of love were almost unheard of. Royal marriages were made for political considerations, to cement military coition, to strengthen family ties, or for other alliances. So, a year later, Prince Khurram was married to a Persian princess.
Because Moslem law allowed every man to have four wives, marriage to Arjumand was not lost even though Prince Khurram had already committed to his first wife. So, five years later when the Emperor's astrologers calculated that the time was correct for a marriage between them, the long awaited wedding took place at the house of Mirza Ghiyas. It was a huge affair even by royal standards. As the procession made its way to Arjumnad's house, musicians, dancers, and acrobats entertained the crowds. Officials of state wore robes embroidered with spun gold on silk. Slaves shooed flies away, coolies carried torches, and long robed dervishes said their prayer beads. The Emperor of India attended the wedding in person and had the pleasure of tying a pearl necklace to the bridegroom's turban with his own royal hands. In order to show his great esteem for Arjumand, Jahangir bestowed the highest of honours on his new daughter-in-law, a new name. She was now Mumtaz Mahal or "Chosen One of the Palace". After the wedding, the prince and Mumtaz were spending together most of their time. She soon became a political adviser to her husband and was instrumental in supporting widows, orphans, and poor families.
Shah Jahan's passionate attachment to Mumtaz Mahal made the couple inseparable companions, both at home and abroad and her wise counsel had been of immense help to Shah Jahan, who consulted her in all political issues. Both of them had carried the affairs of administration pleasantly until the year 1619. Until then they had enjoyed the support of Empress Nur Jahan, which influence in the court ensured that the couple led a happy married life. In the meantime, the daughter of Nur Jahan from her first husband, Sher Afghan Khan, got married to Prince Shahryar, the younger brother of Shah Jahan, who was Emperor Jahangir's youngest son by one of his other wives. The Empress who had always been a powerful factor in the State, forsaking Shah Jahan, now espoused the case of her son-in-law, to help him succeed the throne after Jahangir. Accordingly, she had started using her wily skills to distance Jahangir from Shah Jahan.
Her efforts triumphed. She managed to convince the willing monarch, ever ready to do her bidding, to chastise his dear son. Shah Jahan tried his best to regain the trust and love of his angry father, but his efforts were in vain. The split between the father and the son grew wider by the day to the point of no return. Jahangir dispatched a strong force under Prince Parvez and Mahabat Khan to bring him to heel. At that time, Shah Jahan who was camping at Burhanpur looked for safety in flight. He became a refugee in the court of a Deccan King and then in Bengal. Jahangir's displeasure lasted for eight years. During this time, Shah Jahan's days were spent in distress, anxiety, and unrest. It is said that adversity tries friends. All his companions who had sworn to defend his life with their own forsook him and fled. This state of existence continued until 1627 when Jahangir, who had long been suffering from Asthma, passed away. Shah Jehan came to the throne after a bloody war of succession. When Jehangir died, only two of his sons, Shahryar and Shah Jehan were alive. Shahryar, who was also Nur Jehan's son-in-law, was seriously sick at the time. Despite this, Nur Jehan sought vainly to have him ascend to the throne. However, Shah Jehan, with the aid of his father-in-law, was able to seize power.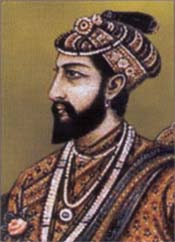 Shah Jehan's coronation was celebrated throughout the Empire. Men of letters, holy men, nobles, and high-ranking officials attended the ceremony. As per custom, Shah Jahan distributed robes of honor to those attending the ceremony. After attending to the duties of the State, Shah Jahan hurried to the harem, where his wife Mumtaz Mahal, now an Empress, had hosted a brilliant reception in his honor. Trays full of gems and gold were distributed to the poor on this occasion. The joy of the happy couple knew no bounds on this occasion, which had ended their long-sufferings. Shah Jahan presented his queen two lakhs in gold and six lakhs in silver, along with a Jagir that yielded ten lakhs every year. For good measure, he added an annual grant of fifty lakhs worth of jewelry to be given on the first coronation anniversary. Two years later, he would increase it again by another two lakhs.
Shah Jehan was an ambitious ruler like his grandfather, Akbar. He chose honest people to be his governors and commanders in the army. He warned them to be fair in their dealing with the people. He is known in history as Shahinshah-i-Adil, or the "Just Emperor". He worked long hours and kept an eye on every detail of administration of the Empire. He made the roads safe for travelers, severely punishing looters and robbers. He developed agriculture and improved trade with foreign countries. Shah Jehan made it a tradition to distribute to the poor several times his weight in gold, silver and other valuables twice a year. The result was that people became rich and the state revenue increased manifold.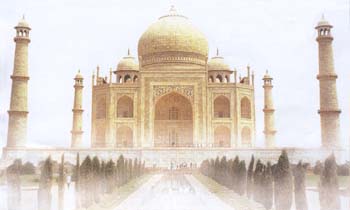 With the accession of Shah Jehan to the throne, came a flowering of architecture both in Agra and Delhi. The profusion of white marble buildings raised during the period of Shah Jehan, led one scholar to characterise it as the reign of marble. He was a great patrons of the arts, and Mughal painting and architecture, blending Persian and Indian traditions, reached their zenith at this time.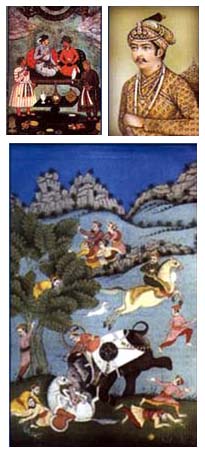 During her husband's reign, Mumtaz Mahal took an active part in administering the kingdom. In turn, Shah Jahan would consult her on all the important matters relating to his government. He entrusted her with his royal seal. During those times, the royal seal was an object of greatest care among Muslim rulers. History records the fact that the seal was entrusted always to a person of unquestionable honesty and absolute loyalty. For, a document stamped with it commanded immediate obedience. This duty was later delegated to her father Yamin-ud-Doulah on her request.
Mumtaz Mahal was tenderhearted by nature. The weak and the helpless found in her a sympathetic listener to their problems. Widows, orphans, and the poor benefited from her bounty. Her purse became the means for the indigent to get their daughters married in a decent manner. Her mercy rescued many criminals from being executed and reinstating others to their lost rank and dignity due to royal displeasure.
Shah Jehan adored his wife and built a magnificent suite of rooms for her in the palace and brought her lavish gifts. He even took her along with him on his military campaigns. It was on one of these campaigns that Mumtaz, pregnant with their fourteenth child, accompanied Shan Jahan in the fall of 1630. In the spring of 1631, Mumtaz Mahal died giving birth to their 14th child, a baby girl. Her heartbroken husband spent approximately two decades, and much of the money in the royal treasury, fulfilling his wife's dying wish by building a monument to their love.
Following Mumtaz Mahal's death, Shah Jahan locked himself in his rooms for eight days. When he emerged he was no longer the same man who had gained the throne four years earlier. He mourned her for almost two years. When her body was brought from Burhanpur, where she died, to Agra, the seat of rule for the Mughal Empire, she was laid to rest in a temporary crypt in a garden along the banks of the Jumna River. The foundation of her mausoleum was laid in 1631, and the work was completed in 1653.
For the construction of this marvellous piece of architecture, Shah Jahan invited to his court the best talent from different parts of the world. Architects and artisans were summoned to the palace in Agra from fabled lands as far as Baghdad and the Ottoman courts of Turkey: garden designers from Kashmir, calligraphers from Sheraz, stonecutters, sculptors, inlay artisans, dome designers and masons from Bukhara, Constantinople and Samarkand. There were daily consultations; there were considerations and compromises. Above all, there was devotion to the memory of Mumtaz Mahal.
It is believed that Master Isa Afandi from Turkey was charged with designing the building. Muhammad Khan from Shiraz and Abdul Ghaffar from Multan were appointed as calligraphers. Qadir Zaman Khan from Arabia was made in charge of art and interiors of the building. In short, the services of the most skilled people of the age were secured for constructing this grand monument. Each of them would be paid a handsome monthly salary until the completion of their work. The laborers and workers working under them, numbered 20,000 men. It took them twenty years to complete the entire Taj Mahal.
To satisfy Shah Jahan's artistic obsession, vast quantities of white marble were mined from the quarries in Rajasthan; red sandstone was carted from Delhi. Precious stones were brought by caravan from all corners of the empire and beyond: jasper from the Punjab, carnelian from Baghdad, turquoise from Tibet; malachite, jade and crystal from Turkestan; pearls, diamonds, emeralds, sapphires ....over forty types of gems in all.
A ten-mile long ramp was built through Agra so materials could be dragged to the top of the dome at the construction site. So great was the scope of the project that the city of Mumtazabad grew up around the grounds to house the twenty thousand workers who would labor over twenty years to build this monument.
An immense brick scaffold was erected to support the assembly of the dome, which entailed much labor and heavy expenditure. It was said that this structure alone cost more than the entire work. According to the legend, when the Taj neared completion, Shah Jahan was informed that it would take five more years just to dismantle it. He responded by decreeing that anyone who helped remove the bricks could keep them, and the job was completed overnight.
The Taj Mahal's design combined Hindu, Persian, Turkish, and Buddhist elements in such a way that they were synthesized into something completely new. Today, the Taj Mahal has become one of the great visual clichés of our time. Although we marvel at its beauty and the story behind its construction, its facade is so familiar to us that we have forgotten that the Taj Mahal is a completely original work, totally unique for its time.
In September 1657, Shah Jehan fell ill. The physicians were not hopeful about his recovery. He even made his last will and testament. As soon as the news of his illness reached his four sons, Dara Shikoh, Shuja, Aurangzeb and Murad, they all started making preparations to capture the throne. Aurangzeb who succeeded in his efforts, kept his aged father imprisoned until his death, allowing one of his sisters to look after him. Shah Jehan died in 1666. He was laid to rest beside his beloved wife, Mumtaz Mahal.
Today, the Taj Mahal is considered one of the wonders of the world. It stands amid acres of gardens on the banks of the Yamuna River in Agra. The most famous part of the monument is the tomb of Mumtaz Mahal with its white marble dome, but the 42-acre complex also includes mosques, minarets and other buildings.
It has been suggested that Shah Jahan never intended to be entombed with his wife, but planned to build a second, black marble Taj to serve as his mausoleum. However, many scholars doubt this story and believe the emperor did indeed wish to be buried near Mumtaz Mahal.