As Dubai Marina takes shape in the fashionable Jumeirah area of the city, Al Habtoor Engineering Enterprises is making its mark on the prestigious development through the construction of Al Seef Tower – a towering new residential complex. Ben Smalley reports.
Dubai Marina has fast become one of the most sought after addresses in the region as local residents and investors hurry to buy homes in the unique 'city within a city.'
The vast project covers 50 million square feet, with luxury residential and leisure facilities covering 2.89 square kilometres – making the marina one of the Gulf's largest building projects.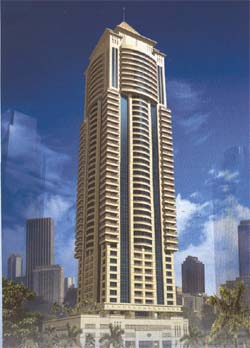 Once complete, the residential resort community will comprise a whole range of spectacular skyscrapers, built around an 11km man-made waterfront, and will be home to around 50,000 people.
One of the many stunning residential towers constituting the marina development is Al Seef Tower, which is being built by Al Habtoor Engineering Enterprises on behalf of Global Real Estate Developers – a subsidiary company of Dubai Islamic Bank, designed and under the supervision of M/S Design Architecture Bureau (DAR).
The 43-storey building will tower 215 metres into the sky and comprise two and three bedroom apartments and penthouses, as well as extensive leisure and entertainment facilities, when complete.
According to project director Suheil Al Rayes, who has executed landmark construction projects in the UAE since 1984, time remains a critical factor for virtually all projects executed in Dubai: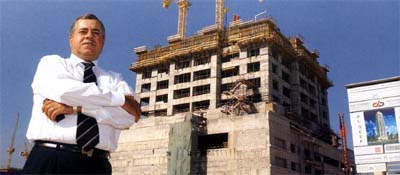 "Al Seef Tower is of unrivalled architectural and structural design and usually a project of this nature generally takes at least two and a half years, but we have a contract programme to complete it in 21 months," he explained. "This keeps you under extreme pressure every hour – and there is no room for error or to relax."
The first major milestone was cleared on July 17 with the pouring of the raft foundation at the site opposite the Le Meridien Mina Seyahi Hotel – this was made more significant by the fact that the job involved the largest single pour raft foundation in the UAE.
A total of 8330 cubic metres of concrete was delivered in 999 truck loads by M/S Unimix at a rate of 210 cubic metres per hour, and involved 1200 Al Habtoor Engineering Enterprises employees who undertook the largest single foundation pour within a 48 hour period.

The next significant milestone was the completion of the complicated third floor, which includes a swimming pool and uses two different grades of concrete in the structure. This then paved the way for the next hurdle – the construction of the fourth floor, which contains the all-important transfer girdle that essentially supports the rest of the building above.
Considering the complexity of the engineering design and execution, Suheil and his team decided to prepare for this crucial stage by creating a mock-up slab in order to avoid any unforeseen problems and obtain the approval of the consultant and clarification of critical details well in advance of the actual installation of such a major girder beam.
"Because of the tight programme, and with no time for a second attempt, the site team decided to assemble a mock-up of a part of the girder to be able to analyse if and what problems may be faced during the actual construction," Suheil explained.
"Potential problems were identified, such as congestion in the reinforcing steel cage restricting the flow of concrete and. Subsequently, the original design was refined further by DAR's engineers to ensure ease of construction and to iron out problems, identified earlier during the mock up stage."
The successful completion of one of the largest transfer girders in the GCC area stands out as a testament to the joint effort by both teams, of DAR and Al Habtoor Engineering Enterprises. DAR's team provided excellent design, technical support and help. All this was complimented by the extensive expertise, know how and skills of Al Habtoor Engineering engineers, executing and completing the 1450 cubic meter 'project within a project' without a hitch.
Suheil, who has worked for Al Habtoor Engineering Enterprises for 13 years, anticipates another tough challenge at the 36th floor – at a height of 136 metres – where a cantilever is required to be constructed. Planning for this stage is already well underway to avoid any delays by choosing the most suitable formwork design for this critical part of the project.
"A high-rise is not like a conventional job because the working area is limited – you can't work on higher floors until the ones underneath are complete," he explained.
Al Seef Tower is one of four residential and hotel towers that Al Habtoor Engineering Enterprises has been contracted to build within the Dubai Marina development, which Suheil believes is a testament to the unrivalled reputation the company has within the construction industry in the UAE.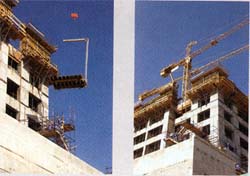 "It is important that Al Habtoor is present wherever there is a major development in Dubai," he said. "In fact, it would be a surprise to anybody who comes to an area where massive construction is taking place if Al Habtoor Engineering Enterprises was not involved."
Suheil should know – he was worked on many of the prestigious projects which the company has been involved with in the country, including Creek Tower and the Metropolitan Palace Hotel in Deira, the Al Habtoor Residence and the Holiday Centre on Sheikh Zayed Road, and the Armed Forces Club and a number of towers in Abu Dhabi.
Established in 1970, with a couple of small projects not exceeding 150,000 Dirhams in value and a workforce of no more than 100 people, Al Habtoor Engineering Enterprises (HEE) has been at the forefront of the development of Dubai and has made a significant contribution to the city's growth through the construction of landmark buildings - ranging from the world's first seven star hotel, the Burj Al Arab, to hospitals and other social amenities.
The development of Dubai has gone hand-in-hand with the development of Al Habtoor Engineering Enterprises, which has played a major role in many of the city's accomplishments
There has also been a major expansion overseas. Al Habtoor Engineering Enterprises has had a presence in Jordan since 1982, where it has undertaken many projects of sizeable magnitude; in Bahrain, where the company has undertaken the construction of the Gulf University, and currently is working in Egypt. In general, the primary look is at the regional market, which includes the Gulf countries, Egypt, Sudan, Syria, Lebanon and Jordan.
Since its first days, back in 1970, the company has relied on the basic principles of quality and professionalism as it continues to contribute to the development of Dubai and the United Arab Emirates. Al Habtoor Engineering Enterprises is proud to have been the founding organization of the Al Habtoor Group and it is looking forward with optimism and dedication to what the future will bring.
Upsurge in Aggregate Market/CMC sells new 1000TPH Crushing Plants
With the recent upsurge in the aggregate market due to enhanced local consumption as well as export requirements, a marked increase for the new crushing plants has been noticed.
With a number of potential enquiries in hand, CMC recently installed and commissioned a huge 1000 Ton/per hour CEDARAPIDS & HAZEMAG Crushing & Screening Plant with M/s. National Quarries in Fujairah. This comprises of a 5460 Primary Jaw Crusher and MVP550 Secondary Cone Crusher with 2 X HAZEMAG APKM 1320 Tertiary Horizontal Shaft Impact Crushers and Dust Suppression environment friendly system.
Second similar crusher (capacity 1000 Ton/per hour) is on its way to be installed and commissioned with M/s. Union Trading Co. (Fujairah). This is expected to be delivered in the third week of January 2004 and would go into full scale production by July 2004. This crusher comprises of the big Cedarapids Primary 5460 Jaw Crusher with 2 X 1516 Cedarapids Horizontal Shaft Secondary Impact Crusher followed by 2 X CANICA-JAQUES C-105 Vertical Shaft Impact Crushers.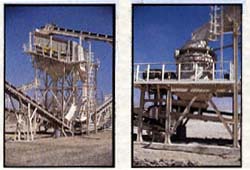 In addition to above, a 600TPH Mobile Cedarapids Crushing Plant also has been delivered to Fujairah site to M/s. Naser AI Sayer of Kuwait and presently is in the process of commissioning. One Hazemag APKM 1320 to M/s. Al Jaber and two APKM 1320 to M/s. Western Bainoonah Crusher are on way. There are some more potential enquiries for both, Cedarapids & Hazernag Plants, which are believed to be materialized early next year.
Both Cedarapids and Hazemag are the most respected names in Crushing Industry and are have been manufacturing their machines for the past 70-80 years. In our UAE market, our customers are well educated and well aware of the crushing equipments and with the proven record and ability of these machines, backed up with full support of CMC engineers and technicians along with high availability of spare parts, customers have full confidence in these plants, which are playing their important role to the maximum satisfaction of all concerned in the construction industry.