Dubai is looking to diversify its economy through the introduction of high-tech manufacturing as a new economic sector. Ben Smalley reports on the vision and realities of Dubai Silicon Oasis - billed as the world's most integrated technology park for the semiconductor and microelectronic industry.
Dubai's bid to be at the forefront of the technological revolution in the region is being enhanced through the creation of Dubai Silicon Oasis - a science and technology-based industrial park, which aims to attract the cutting edge semiconductor and microelectronics industry to the emirate.
The project is designed to compliment existing developments such as Dubai Internet City and Dubai Media City, which have already placed the emirate at the forefront of the new digital economy in the Middle East, while also helping Dubai further diversify its economy in the face of dwindling oil reserves by introducing high-tech design and manufacturing as an economic sector for the first time.
Dubai Crown Prince and UAE Defence Minister, General Sheikh Mohammed bin Rashid Al Maktoum, explained how Dubai Silicon Oasis, which has been established under the auspices of the Dubai Airport Free Zone Authority, fits the strategic vision for Dubai when he announced the project in October 2002.
"Since the signs of international changes became apparent, we have moved to create a solid foundation in the new economy, and we have looked in all directions, wanting to position ourselves at the forefront of the emerging economies," Sheikh Mohammed said.
"The accomplishments we have realised over the past few years have put our country amongst the first countries that use IT and telecommunications. Dubai has become the region's hub for new technology, which boosts our confidence in our vision for the future, confirming the soundness of our path and encouraging us to go forward."
Dubai Silicon Oasis will be located on a 600-hectare (six million square metre) site in Nad Al Sheba to the south east of the city, and will be based on three business pillars involving the design, manufacture, assembly and distribution of advanced electronic products.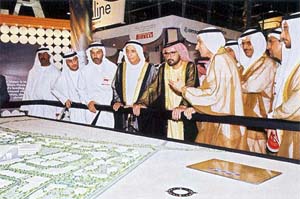 Dr Salem Abuzeid, Chief Marketing Officer of DSO, explains: "The first segment will be the intellectual property (IP) creation and design of integrated circuits and hardware. The second will be microelectronics and semiconductor fabrication facilities and chip manufacturing plants, and the third will be liquid crystal display (LCD) plants - the manufacturing plants which make the flat panels for monitors, laptops and televisions."
However, persuading leading microchip and electronics manufacturers to invest several billion dollars in a new plant in a country that has no history of high-tech manufacturing is a tall order, which is why Dubai Silicon Oasis initially intends to target the design and engineering sectors of the industry to first establish its credentials.
"The lack of industry in Dubai is one of the biggest challenges that we need to overcome," Dr Abuzeid acknowledges, although he says the response from sectors of the microelectronics industry has been encouraging regardless.
"At the moment, there is definitely more interest in the engineering and design capabilities than there is in constructing a high-tech manufacturing plant because the investment associated with each one is completely different.
"Everybody is cautious, especially when you are dealing with an industry like semiconductors, which is pretty cyclical. People are reluctant to make an investment even in good times because of the size of the investment. Therefore to make an investment and be the first in a location which does not have a history of semiconductor or electronics manufacturing, makes people even more reluctant, but they are still interested because they recognise the opportunity for growth in the region - the projected growth for IT in the Middle East and Indian Subcontinent is projected to be the highest capital compound annual growth rate over the next 5-7 years - so they are watching that very closely."
Dubai Silicon Oasis, which is headed by Sheikh Ahmed bin Saeed Al Maktoum as Chairman and Dr Mohammed Al Zarouni as CEO, is being steered by a high-profile advisory board which includes George Scalise, President of the Semiconductor Industry Association; and Dr Jurgen Knorr, former CEO and Group President of Siemens Semiconductor Group.
"The advisory board plays a key role in guiding the strategic direction of Dubai Silicon Oasis and allow us to focus our priorities where they think we need to be," Dr Abuzeid says. "It has been very instrumental in changing the priorities of Dubai Silicon Oasis based on what the board sees going on in the industry, and their own past experience, to make sure we are able to achieve our objectives in the systematic deployment of the project.
"We don't have to go directly into building an LCD plant or semiconductor plant for $1-2 billion. Instead, we are focusing on an area that is less capital intensive, where we can take advantage of the resources and talent that's already in the area - and that is the engineering and design activities of the industry."
Offering the tax free benefits of a free zone is not enough to attract a whole new industry to Dubai, which is why Dubai Silicon Oasis goes further than a typical industrial park by also offering a range of business support services, education and research and development (R&D) facilities within its framework, as well as offering other economic incentives.
"There is nothing like it anywhere in the world, where you have all the electronic supply chain under one roof," Dr Abuzeid says. "There is definitely a cost advantage from the standpoint that the larger the user base, the lower the cost will be to the supply base - and there's also a definite 'time to market' advantage where ideas are translated into a product all within the same area and vicinity.
"But we have to be a little bit different from just an infrastructure provider - the difference between us and other free zones is that we are an economic development organisation, not an infrastructure/real estate development organisation. If you look at the role of an economic development organisation it is fundamentally different - its role is to promote, to facilitate and support the needs of the clients or customers that it is trying to attract.
"That goes well beyond providing infrastructure and may consist of, in the case of design companies or engineering companies, providing a design infrastructure as well as financial, legal and administrative services. It could also consist of venture capital funding to enable small companies to go to critical mass - that's what Singapore has done and what Silicon Valley has done. So the role of our organisation, as it applies to the industry we are trying to attract, will be fundamentally different from just providing an infrastructure."
Developing home grown talent to support the industry, rather than merely relying upon imported expertise, is also critical to the success of the project, as companies will be reluctant to invest if there is no local workforce or talent pool to draw from.
"Working with all the universities in the UAE, and beyond, is a very essential component of the programme we have in place," Dr Abuzeid says. " We want to work with, and strengthen, the education programme to support the needs of the industry, and then beyond that we want to also create our own institution for graduate programmes and higher education in specialised fields in electronics and semiconductors.
"If we are able to accomplish that in the next three to five years we will have done pretty well, and we believe that will be a very strong foundation for the larger players to then come in and build semiconductor, electronic and LCD manufacturing plants, because once they see the pool of home grown resources available, and once they see that there is a success story, it will make it easier for them to commit."
A masterplan to determine the infrastructure requirements, land use and urban design concepts of Dubai Silicon Oasis was recently completed by CH2M Hill of the US following the positive outcome of a feasibility study carried out by Intellect, a South Korean firm, and the first stage of development is scheduled to be completed by the end of next year.
"The project is broken into four phases which we believe will take about 20 years to complete," Dr Abuzeid explains "Over the next 3-5 years, our main focus will be on developing design infrastructure that simplifies the design process and addresses all customer issues in order to attract companies engaged in design.
"We anticipate by the end of 2005 we will have the administrative buildings completed and we will have our design and training centre ready for tenants or clients to move in - fully staffed, fully furnished and fully equipped with the infrastructure for design - and that is really an area where we think we can bring a competitive advantage and differentiation from other areas of the world where they do design."
While acknowledging that building an advanced sector like the electronics industry from scratch will take time and a long-term commitment, Dr Abuzeid says Dubai stands to reap the benefits that Dubai Silicon Oasis will bring in terms of direct foreign investment, job creation, the increased participation of multinational corporations in the emirate, as well as new start-up companies.
"When successfully completed, we anticipate Dubai Silicon Oasis will contribute about 10 per cent of Dubai's GDP, based on the estimates that we have done and based on the mix of companies that we hope to attract," he says.
"It will also create thousands of highly skilled engineering and professional jobs, provide employment opportunities for UAE nationals, as well as creating an environment for innovation and creativity - we hope that new ideas will be translated into new companies and businesses which will emerge out of a technology-based community that allows people to excel."