Deep in the playing fields of the Middle East over the next few months, there will be some rare mammals lurking that have descended from the disappearing breed of the superhuman variety.
Hunted to near extinction, these finely tuned specimens are only usually encountered once in a generation and are normally found in their natural habitats of Europe and America. However, the dawn of 2004 will spark some healthy new migratory patterns that will see the sporting world's most sought after individuals all perform in this region in the space of just two months.
And the good news for the region's hunters of sporting excellence is that they can fix their sites on this prime prey with ease like no other region in the world.
Never before has the Middle East seen such an influx of sporting riches in such a short space of time. The hunt for Tiger will happen at the same time as a "Fed Ex" delivery comes in five different languages, closely followed by the fastest man on four wheels, not to mention a visit from Venus and the man with a golden boot.
Tiger Woods will headline the much-heralded Dubai Desert Classic from March 3-7 at the Emirates Golf Club and his second visit to the region is expected to be just as eventful as his debut here in 2001.
While Woods has dominated golf for the past seven years, Wimbledon champion Roger Federer - aka the Federer Express - is all set to do the same in tennis and the multi-lingual Swiss star is already a firm Middle East favourite following his win at the Dubai Duty Free Men's Open last year.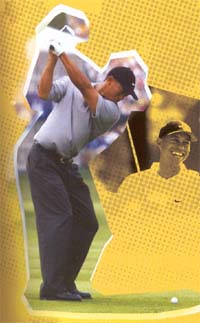 And while world class tennis and golf have become annual fixtures in Dubai and Qatar over the past decade, the most eagerly anticipated sporting event ever to reach these shores will take place in Bahrain.
Michael Schumacher will lead the Formula One circus riding into town on April 4 and never before has the region been so caught up in the buzz of a sporting event.
But the superhuman sports star venturing to the Middle East is not only of the male variety. Venus Williams will be headlining the Dubai Duty Free Women's Open from February 23-28.
And if that's not enough, one of the greatest footballers in modern times, Gabriel Batistuta, can be watched week-in week-out plying his trade in the Qatar First Division.
The pending arrival of these mega stars has lit up a region which is no stranger to hosting world class events, but the inclusion of sport's premium draws has added extra spice to this year's calendar.
"The Middle East is no longer viewed as a black hole of sport," said one leading Middle East sports promoter. "In fact far from it. The region now hosts some of the best sporting events to be found anywhere and the fact that these big names will all be competing here in such a short space of time underlines the region's reputation.
"It used to be difficult to convince the big stars to come here but now it is the other way around. The big stars actually want to come here and play now. Word of mouth has played a key role. Sports men and women get the best treatment here and want to return year after year and they influence others to come and compete here too."

Tiger Woods has quite simply become a phenomenon. Despite 2003 being considered as a disappointment for the 27 year-old, he still picked up more prize money than any other golfer and was named as the American Tour's top player for the fifth time. A great achievement for a player who began the year on the sidelines with a knee operation.
At 22, Federer has drawn comparisons to a young Andre Agassi due to his flamboyance on court and trademark ponytail, and he followed his success in the Dubai Duty Free Men's Open last year with the biggest trophy of them all at Wimbledon. He also went on to claim five other titles including the season ending Tennis Masters Cup. His achievements earned him the Swiss Sportsman of the Year award as well as over US$4 million in prize money.
Ferrari cars are not uncommon in the Middle East but no-one can drive one quite like the marvelous Schumacher - despite what some playboys might tell you!
The German has dominated the sport and is now motor racing's most famous name since Alain Prost. Bahrain will be a welcome introduction to the 2004 calendar and the $100-million dollar track in the south of the island will attract over 100,000 'petrol heads' from across the world.
Williams, along with her sister Serena, has quite simply changed the face of women's tennis. From a sport of grace and tranquility, the game is now welcoming a new generation of players with power and pace and the 23 year-old is set to make a big impact this year after injury restricted her 2003 appearances.
Al Arabi in Qatar may be a long way from the San Siro in Italy, but it is the new home to former Inter Milan hero Batistuta who has opted to end his illustrious football career in the more gentle surroundings of the Qatar First Division.
While the tax-free $4 million contract may have been the clinching factor to his move to the Middle East, few can deny that Batistuta is quite simply a footballing God and the fact that fans from the region can see this icon play on its local grounds is a chance not to be missed.
The New Year will undoubtedly launch a new era for sport across the region, which is set to go on from strength to strength.

The Big Five

Name: Tiger Woods
Age: 27
Nationality: American
Sport: Golf
Achievements: The best way to sum it up... 52 titles and prize money of $48 million in seven years - nice work if you can get it!
When and where: Dubai, March 3-7. Dubai Desert Classic

Name: Roger Federer
Age: 22
Nationality: Swiss
Sport: ATP Tennis
Achievements: Seven titles in 2003, including Wimbledon, have earned him the reputation of being the new Andre Agassi. The shining star to emerge out of the new breed of players, and a mature off-court manner that has made him the sport's hottest property since the flamboyant star from Las Vegas.
When and where: Dubai, March 1-7. Dubai Duty Free Men's Open

Name: Michael Schumacher
Age: 34
Nationality: German
Sport: F1 Motor Racing
Achievements: The most successful Formula One driver in history and one of sports' most recognisable faces. 2003 saw him pick up a sixth drivers' title - the first man to achieve this. His 2004 contract with Ferrari is reputed to be worth over $30 million.
When and where: Bahrain, April 4. Bahrain Grand Prix

Name: Venus Williams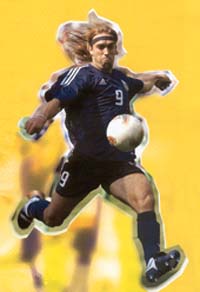 Age: 23
Nationality: American
Sport: WTA Tennis
Achievements: Recently signed the biggest ever sportswear contract for a woman with Reebok. Winner of 29 singles titles, including four Grand Slams, and career prize money approaching $14 million.h
When and where: Dubai, February 23-28. Dubai Duty Free Women's Open

Name: Gabriel Batistuta
Age: 34
Nationality: Argentinean
Sport: Footballh
Achievements: One of the greatest players of the past decade, breaking scoring records in his native Argentina and Italy where he has become a living legend. A $4 million contract was incentive enough to persuade him to finish his career in Qatar.
When and where: Qatar, January 1-April 30. Qatar First Division


Q&A with the biggest catch of them all!!
Do you get a sense when you're in the tournament you're the only variable? When you're playing well, nobody else can beat you?
Tiger Woods: I don't get a sense of that, no. I don't think people actually understand how difficult this sport is. This sport is very difficult and it's very fickle. You can play well and you can lose. That's just the nature of this sport. You get some breaks that are bad, things just don't happen your way, but you're playing well, and subsequently you don't win. I've played well and not won, the other guy hasn't played well and beaten me for some reason. That's the nature of the sport. Just because I'm playing well doesn't guarantee I'm going to win a tournament.
For a number of years you've been a professional, you've kept pace with Jack Nicklaus' pace in the Majors. Do you consider Jack Nicklaus your only rival, because you don't seem to have any contemporary rivals?
As far as Jack being my only rival, I'm not playing against him. Jack quit playing major championships, some of them, a few years back. And these are the guys I've got to try to beat somehow. It's not like I'm winning every one - I have lost. And I don't think anyone realises how tough it is to win a major championship. You've got to really hit the ball well. And you've got to grind it out and make a lot of putts. You've got to really be committed to what you're doing out there. It's not easy to win. But I've been able to do it somehow.
When you were growing up, you studied Jack's records, and that's what you wanted. Was it in your mind that, "If I can beat Jack's record, I can get a lot more, too"?
I looked at the fact that he was able to do it for such a long period of time. To be that successful, for that long, I think that's what every athlete wants to be able to do, and he was able to do it.
I looked at how he was able to do it; well, he was consistent. That's one of the reasons I didn't change my game in the middle of '97. I started changing my swing and struggled all of '98, but came together in 1999 just because I wanted to be more consistent. You can't win tournaments unless you are up there a lot.
If you are up there week-in, week-out with your chances to win, you'll win. You're not going to win every one, but you'll win. That's what Jack was able to do better than anyone who has ever played the game.
Do you think about where you might fit in on the history of this game some day, and do things like Nicklaus' greatest records come into your mind?
It would be nice to win as many majors as Jack did. That would be great. And 23, if it doesn't happen, it doesn't happen. I think the thing I keep saying to myself every year is that I want to become a better player at the end of the year than I was at the beginning of the year. And if I can keep doing that year after year for the rest of my career, I'll have a pretty good career.
Has advanced technology made a big difference in how you are scoring and your wins in general?
To be honest, I'm not hitting the ball any further than I did in '97. If anything I'm hitting just a touch shorter because I've dialed my swing back, kept it more in play. I have the ability to hit the ball as far as I did in '97, but I don't. I don't swing at it that hard anymore. I'd like to keep the ball in play and maneuver it around and try different shots.
I think the biggest change for me has been the golf ball. It's now so much better in the wind than it was even in '97 and it's going to keep getting better. That's just the way it is. But I haven't fully taken advantage of the new technology. I haven't gone to graphite. I haven't lengthened any of my shafts. And I still play steel. So nothing has really changed in my bag. I just really have improved my technique.
Is the calendar Grand Slam something you want to accomplish?
I've won four major titles in a row and no one has ever done that, not four professional majors. You can call it what you want but when I was at home, I had all four trophies on my mantle, and no other person can say that. And no one else in the world had them but me. That was a very special time in my life and hopefully I can do it again.
Your parents obviously play a big role in your success ?
It means a lot to me when my mom and dad are there to share in this with me. Because you can't do it alone, you just can't, and to have the support like I've been able to have...it's always nice to be able to know that any time you go home, everything is going to be all right.
What do you remember about your last visit to Dubai?
It was a wonderful experience and I've been looking forward to coming back ever since. Mark O'Meara and Thomas Bjorn had told me so many great things about the people over there, the hospitality, the organisation and the Emirates Golf Course that I just had to go and see for myself.
I certainly wasn't disappointed and it was good to see golf alive and very, very well in the UAE. I even had the wonderful honour of HH Sheikh Mohammed naming a racehorse after me so I have very fond memories of Dubai.
The crowds were also very polite, courteous and knowledgeable and I found the course to be in wonderful condition. The fairways were perfect, the greens ran true and smooth and it was a little bit different to what I'm used to playing on.
A lot of people talk about the weather in Dubai but when the Desert Classic is held the temperature is very similar to South California where I grew up so it feels kind of like home to me. I also know I broke the Classic's 36-hole record but records at the halfway stage mean nothing to me. It means nothing if you don't go on and win the tournament. Unfortunately for me, that's what happened but I am 100% determined to go back to Dubai and do better.