As Dubai continues to expand at a rapid pace, the latest chapter in the city's incredible success story is starting to unfold with the creation of Dubai Waterfront - an entire new city-within-a-city spanning 81 million square metres between the Jebel Ali Hotel and the Abu Dhabi border.
The massive project, which is bigger than Manhattan in size, was announced earlier this year by Dubai Crown Prince and UAE Defence Minister, HH General Sheikh Mohammed bin Rashid Al Maktoum, who said Dubai Waterfront is destined to become an international landmark on the last remaining coastal waterfront of the emirate.
"Dubai Waterfront centres around water, something we consider perpetually valuable and precious," Sheikh Mohammed said. "It is an unprecedented advancement and a world-class addition to Dubai, one which will create long term growth and investment for the UAE and the wider region."
Dubai Waterfront forms the first phase of a larger project, the Arabian Canal - a 75 km development envisioned by Sheikh Mohammed – and forms the primary entrance and 'gateway' to the canal, which will ultimately provide further long-term waterfront investment opportunities.
The whole Dubai Waterfront site has been master planned by Nakheel, which has already begun selling plots to select investors and property developers in its first phase, Madinat Al Arab - a thriving urban downtown metropolis, which will include one of the world's tallest buildings, Al Burj, and forms the 'heart and soul' of the development.
Khaled Issa Al Huraimel, general manager of the Madinat Al Arab component of Dubai Waterfront, said the project has already caught the attention of investors, with the whole of phase one snapped up within five days of going on sale in mid-July.
"The demand was much higher than we could actually supply," he explained. "At this stage we are only selling land, with Dh 13 billion worth of plots sold in five days to select investors and major developers, mostly from the UAE and GCC.
"Basically, we have released a proportion of the prime land in phase one as it is all sea facing. We will be releasing the other phases for sale later on in the year, and early next year."
Once complete, Dubai Waterfront is expected to become home to up to 750,000 people and will be a completely self-sustained city, complete with shops, offices, residences, schools, mosques, parks, hospitals, police stations, resorts, a marina, public beaches and golf courses.
"The first phase has residential, resort, commercial and retail components, so it is mixed-use with different densities - from 10-storey buildings up to 50-plus," Mr Al Huraimel said. "The first phase also has a harbour, a marina and Al Burj, which will be located facing the harbour in Madinat Al Arab."
Dubai's real estate sector has boomed since it was announced that expatriates can now own freehold property in the emirate, but Dubai Waterfront holds extra appeal for investors.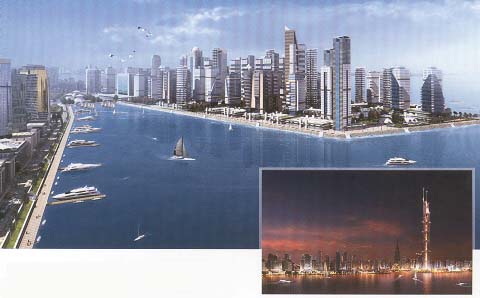 "This is the last natural waterfront in Dubai," Mr Al Huraimel explained. "It is one of the last opportunities to own natural land facing the sea."
Nakheel employed a consortium of the world's best architects, planners and urban developers to ensure the project becomes an international landmark. Utilising mostly empty land, the site is essentially a blank canvas for one of the world's largest waterfront developments.
"We are creating a new city in Dubai and have the opportunity to lay down the infrastructure from day one – to have it properly planned and create one of the world's best cities to live in, to work in, and to visit," Mr Al Huraimel said. "We have worked with many leading architects, with people from the marine side, and from the transportation side, so everything was fully co-ordinated in producing the master plan.
"Sometimes projects are launched at the concept stage and the detail comes later on. The difference with Dubai Waterfront is that we have been master planning this for the past two years and had the detail available to investors right from day one of the launch. They were very impressed by the amount of information and detail made available at such an early stage, which is another of the reasons why demand has been so high.
"For example, we have done proper planning in terms of the placement and height of buildings to maximise the sea view, and you are looking at 500,000-750,000 people living in the Dubai Waterfront, so we had to look very carefully at the traffic and road system. We will be introducing a one-way system to ease the traffic flow, which I don't think has been done in Dubai before."
The construction of a new international airport at Jebel Ali, the forthcoming opening of The Palm Jebel Ali, and now the Dubai Waterfront project, means a whole new dimension is being added to the emirate of Dubai. Consequently, Mr Al Huraimel does not believe it will be a hard sell to encourage people to live 35km to the south west of the existing city.
"That's what people used to say a few years ago when projects started happening around the Dubai Media City and Dubai Internet City area," he said. "But you can see business is moving forward and the city is expanding to meet the demand of what is expected in Dubai. If you look at the population growth and tourist increases there is not enough supply in the market, so we are looking at meeting that supply later on."
The whole Dubai Waterfront project is expected to take around 10 years to complete, but Madinat Al Arab should be ready in 3-5 years with Nakheel providing the infrastructure, in the form of serviced land, to developers, as well as constructing its own projects within the development, such as Al Burj.
"Madinat Al Arab will be anchored by Al Burj, one of the world's tallest buildings, that will spiral towards the sky forming a centrepiece that embodies the ambition, vision and magnitude of the development," Mr Al Huraimel said. "Al Burj is not just one of the towers in Madinat Al Arab - it will be an iconic building for Dubai and the Dubai Waterfront."