Mention the words 'Boot Camp' and most people conjure up images of army soldiers enduring the most gruelling physical training. It may come as a surprise then that the concept is becoming increasingly popular in Dubai as people look for different ways of keeping fit and healthy.
Fitness consultant Venancio D'Souza came up with the idea after becoming disillusioned with the typical fitness competitions taking place in the UAE, and wanted to introduce something fun that encouraged people to exercise.
"When you say fitness challenge or fitness competition, a lot of people shy away from it, thinking they are not fit enough to take part," he said. "It also sounds like hard work – there's no fun in it. The people who enter fitness competitions are very serious about it and want to win, and it tends to be the same people taking part and the same people winning all the time."
Venancio should know. He has been UAE fitness champion for the past six years, as well as winning the Middle East Championships last year.
"I wanted to do something different and fun which people of all ages and abilities could take part in – and came up with the idea of a fitness Boot Camp."
Comprising nine disciplines over the course of a day, the competition pits teams of four against each other in a wide variety of activities. From timed soccer and basketball drills to sack races and three-legged races, the emphasis is on teamwork, skill, speed, strength and stamina.
"It's not just about how fit you are, or how strong you are - you have to think about it," the 37 year-old Indian said. "You have to plan each event as a team."
Venancio has held two boot camps so far – one at the Dubai World Trade Centre Apartments Club and the second at the Pharoah's Club at Wafi City, which attracted 100 competitors.
"It was very well attended," he said. "We had 25 teams, so it was probably one of the largest lifestyle and fitness events that has ever been held in Dubai. The youngest competitor was six years-old and the oldest was about 58, so it was very mixed. And, because it is a team competition, it is a good team-building exercise and we had a number of entries from companies, including the eventual winners from Nestle.
"We got a very good response from the competitors and people enjoyed it – that was my goal: to create a fun fitness event which people enjoyed. We are planning to do another one in December, possibly at the Dubai Country Club. The actual disciplines will change in each boot camp, but the fun element will always be there - and, again, the concept is for people to get together and exercise a bit."
Venancio said people's busy lives means a lot are not getting the exercise they need, which is why he wanted to introduce an enjoyable programme of activities which people would enjoy.
"You don't have to be a super-fit athlete to take part - the level of fitness needed to take part in the boot camp is a little above lazy," he said. "If you can get up and walk you will be able to do all the disciplines. A lot of people are not exercising anymore, but just getting out and doing something, even a little bit, makes a difference."
During his 11 years in the UAE, Venancio spent four years in Abu Dhabi before becoming a fitness consultant and personal trainer in Dubai, as well as teaching fitness classes and Tae-bo.
"I think exercise is very important," he said. "It's like driving a car - people want to drive the best car and your body shouldn't be any different. You want to look and perform like a Porsche and that's where fitness kicks in. If you give yourself 20 minutes of exercise a day that's enough. Just a little bit of exercise will help you live your life a lot better.
"Your whole well-being and outlook is different whatever training you are doing. If you don't train your body, then your mind is not sharp – there's a link between the two."
He hopes to see fitness Boot Camps spreading to all the gyms, health clubs and even schools in Dubai as a means of getting people together and exercising.
"I am taking it to different health clubs now, but I would like to see the different clubs pitch in with their own versions," he said. "I have already had a couple of the clubs asking me to come down and do them there, so I am sure the Boot Camp concept will grow a lot.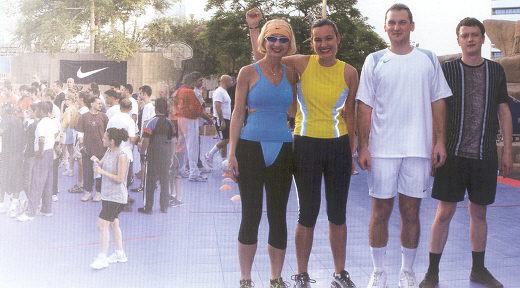 "But, for now, I am just trying to get people to come together and do something for themselves and their health. And if people enjoy it then they will do it again and become fitter."
Details about future Boot Camp events taking place in Dubai will be posted on Venancio's website: www.withenergy.com.
Typical 'Boot Camp' Events
1) Soccer Skills
Team members take turns to dribble a football around cones before shooting the ball into a small goal. Teams have to score as many goals as possible in three minutes.
2) Basketball Skills
As above, but with a basketball.
3) Skateboard Relay
Two members of the team sit back-to-back on a skateboard and push themselves to the other end of the course. The other two members then do the same – all against the clock.
4) Sack Race
Relay race jumping in a giant sack with each team member covering the course against the clock.
5) 'Shark Relay'
Team members have to climb onto an inflatable shark and hop or run to the other end of the course.
6) Three-legged race
The team members are joined together and have to run the length of the course.
7) Mini-fitness Course
Team members have to complete steps, star jumps, squats and other exercises before handing over to the next team-mate who does the same – all against the clock.
8) Wheelbarrow Race
Pick-up your team mate by the ankles and they run on their hands along the course. The other members of the team then do the same – again against the clock.
9) Buddy Run
Pick up your team-mate and run the course with them on your back before handing over to the next members of the team – again against the clock.