The Middle East and North Africa region has one of the fastest growing populations in the world. According to figures supplied by the Population Reference Bureau in Washington, USA, in 2001 over a third of the region's population was under 15 years of age. This is a trend which is here to stay.
According to a Dubai Knowledge Village representative, this population structure creates a huge demand for higher education in the region.
At present the demand for higher education is still far greater than the supply. This shows that there is a niche in the region, which the UAE has set out to tap into by creating the infrastructure necessary for developing, sharing and applying knowledge. The inauguration of Dubai Knowledge Village in October 2003, is a major step forward in the strategy to develop Dubai as the destination for education in the Middle East.
While Knowledge Village is expected to supply the emirate of Dubai with its future workforce in many different fields, guaranteeing the country's continuous sustainable development, its significance goes beyond the emirate's borders and even beyond the UAE federal borders. Knowledge Village is open to international students and has set out the ambitious goals of bridging the talent gap in the region and positioning the Middle East as a centre of excellence for learning and innovation.
Knowledge Village is part of The Dubai Technology and Media Free Zone, which was set up in 2000 as a self-funded, autonomous organization empowered by the government of Dubai. This offers substantial business incentives to the institutions operating out of Knowledge Village such as 100 per cent ownership and exemptions from corporate, customs and personal tax as well as full repatriation of capital and profits.
Adding to its value proposition, the free zone offers the latest IT and communications infrastructure with IP telephony as well as advanced security and hosting services and satellite communication services.
Knowledge Village was designed to complement the Free Zone's other two clusters: Dubai Internet City and Dubai Media City by providing the facilities to train the clusters' would-be workforce, which is heavily focused in the media, communications and IT sectors.
At present, Knowledge Village is the home to some 200 companies. These include international universities, online academic institutions and e-learning providers, as well as research and development centres and testing, innovation and professional training centres. The current campus of the state-of-the-art facility is currently fully occupied.
Currently fostering 15 universities from the UK, Ireland, Australia, India, Iran, Pakistan, Belgium and Russia, Knowledge Village is set to grow further in 2006 when it will expand to include the first stage of its mega campus, Dubai Knowledge Universities. A company spokesperson said the number of universities represented is expected to double by 2010.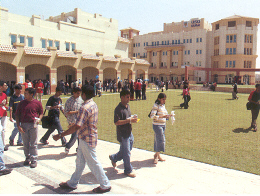 Students looking for quality international education have a wide choice of degrees and courses at Knowledge Village-based institutions. These include university diplomas in management, IT, engineering, commerce, fashion technology, medical sciences and biotechnology. At present the following universities operate out of Dubai Knowledge Village: The British University in Dubai, Heriot Watt University Dubai and Middlesex University from the UK, University of Wollongong in Dubai and University of Southern Queensland in Dubai from Australia, Birla Institute of Technology and Science, Manipal University, Mahatma Gandhi University and SP Jain Center of Management from India, Royal College of Surgeons and Dublin Business School from Ireland, Islamic Azad University from Iran, Shaheed Zulhkar Ali Bhutto Institute of Science and Technology from Pakistan, European University College Brussels from Belgium and Saint Petersburg State University from Russia.
Would-be students are given quick and easy access to all represented universities through the Knowledge Village website, which can provide more information on the types of degrees at each partner institution. While students must pay tuition fees, there are almost 100 scholarships up for grabs each year. Scholarships are given mainly on academic merit.
Special efforts are made to ensure that students, especially those who are new and / or coming from abroad, acclimatise to the new environment. At the beginning of each academic year, Knowledge Village organises an open day for international students and a week of welcome for new students, a move which helps them get vital knowledge of the educational process they are about to experience.
Besides world-class education, students can reply on help when it comes to putting their knowledge to practice. Knowledge Village boasts a Department of Student Services and Programmes, which is utilising its links with Dubai Media City and Dubai Internet City when sourcing internship and job opportunities for students and graduates. Knowledge Village offers students formalised internship opportunities in companies at the free zone such as global heavy-weights Siemens, MasterCard, HSBC and Hewlett-Packard.
Knowledge Village also provides training for people with special needs to whom it caters to via the Tamkeen non-profit training centre for the visually impaired. Tamkeen was inaugurated in May 2004 and aims to empower visually impaired people in the country by helping them optimize their independence and contribute to the UAE workforce.
Providing training, support and counseling services, Tamkeen is an initiative of His Highness General Sheikh Mohammed Bin Rashid Al Maktoum, Crown Prince of Dubai and UAE Defense Minister. It is also supported by Knowledge Village, the British Council, and biz-ability. Since it first opened its doors, Tamkeen has seen around 25 students graduate from its special training course, which aims to create meaningful job opportunities for visually impaired people in the country.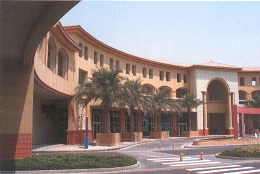 The success of Dubai Knowledge Village comes to show the beneficial effects that free zone areas have had on Dubai's economy. The creation of such zones has been a major step in efforts to diversify the emirate's economy and build a sustainable future. At present there are 15 free zones in the UAE, the majority of which are based in Dubai. Following is a short list of the new projects coming up.
Dubai Aid City : An integrated community that caters to the local, regional and international, relief aid community, this project will utilize Dubai's strategic proximity to the Africa and South East Asia regions. From distribution and storage facility to relief aid technical emergency centers, Dubai Aid city will act as a dynamic community bridging the gap between donors, relief aid suppliers and organizations within the humanitarian value chain.
Dubai Silicon Oasis : represents Dubai's first attempt to become a global IT industry player.
Dubai Carpet FZ: To be built in Deira, Dubai, this will be a focal point for the emirate's hand-made carpet sector.
Mohammad Bin Rashid Technology Park: Located south of Sheikh Zayed Road, in the Jebel Ali area, the Technology Park is designed to serve as the hub of technology companies in the Middle East, Central Asia and Africa.
Dubai Auto Parts City FZ : aims to boost auto part re-exports from Dubai
Dubai Textile Village FZ: Located in Awir, this project is expected to be completed by October 2005 and is designed to give a boost to the emirate's textile manufacturing sector.
Heavy Equipment & Trucks FZ: Aiming to increase re-exports of trucks and heavy equipment, this new zone will feature administrative and licensing offices, banks, customs and a Chamber of Commerce office.
Dubai Flower Centre FZ: boasts a strategic location within the state-of-the-art Dubai International Airport, this facility will give a fresh boost to the region's horticulture industry.
Dubai Studio City FZ: Situated within the Dubailand mega-project, this facility will offer a complete infrastructure solution for the film, TV and music production industries. Production companies and support service providers offering production and post-production facilities and animation studios are expected to set up shop within this project.
Dubai Outsource Zone FZ: An initiative of Dubai Internet City, this is the first 'free zone' in the world dedicated to outsourcing.
DuBiotech FZ: a science and business park dedicated to the biotech industry.