By Linda S. Heard
Afghans have historically received a rough deal. When the Soviets were in town, there were more than one million deaths, and millions more maimed or rendered homeless. Soviet soldiers have been accused of torching entire villages and dousing Afghans with gasoline before lighting a match.
Afghans barely had the chance to celebrate the departing Soviet armies when the Northern Alliance ostensibly took charge and the country was hurtled into a period of internecine strife turning cities into rubble. Then came the Taliban with their obscene oppression of women and girls, public floggings and amputations.
But have the U.S. cavalry and their smartened up Northern Alliance buddies, disingenuously wearing democracy's flag, behaved any better?
Not much according to Duncan Campbell and Suzanne Goldenberg of the Guardian newspaper, Human Rights Watch and the award-winning Irish filmmaker Jamie Doran. For many Afghans 'Operation Enduring Freedom' has been their worst nightmare.
Violent Abuse And Humiliation
In an article dated June 23, 2004, Campbell and Goldenberg report on violent abuses and sexual humiliation taking place in "America's secret network of Afghan jails". They write of the anguish of 47-year-old former police officer Syed Nabi Siddiqi who was arrested by the coalition forces last year. Siddiqi recounted how "American soldiers stripped him naked, photographed him, set dogs on him and told him his wife was a prostitute".
The article reads: "An in-depth investigation by the Guardian, including interviews with former Bagram prisoners, senior U.S. military sources and human rights monitors in Afghanistan, has uncovered widespread evidence of detainees facing beatings, sexual humiliation and being kept for long periods in painful positions.
"Detainees, none of whom were ever charged with any offence, told of American soldiers throwing stones at them…and being stripped naked in front of large groups of interrogators. One detainee said that, in order to be released after nearly two years, he had to sign a document stating that he had been captured in battle when, in fact, he was arrested while driving his taxi with four passengers in it."
"They said this is America…if a soldier orders you to take off your clothes, you must obey" goes the article's bold headline.
Noor Aghah, a 35-year-old father of four, who was detained in both Bagram and Gardez said that he was forced to drink 12 bottles of water and was not allowed to go to the toilet. He describes how he and others were handcuffed and forced to kneel in a "narrow open space between two high walls with direct sun coming down on them for 10 hours during the day".
A report by Human Rights Watch published earlier this year accuses the U.S of holding detainees indefinitely in a "legal black hole" without any checks and balances and of endangering the lives of civilians by using helicopter gun-ships in heavily populated residential areas. It complains of "cowboy-like" tactics having been used against people "who generally turn out to be law-abiding citizens" including the use of hand-grenades to blow open doors instead of knocking.
Said Brad Adams, Human Rights Watch Executive Director Asia Division: "The United States is setting a terrible example in Afghanistan on detention practices…Civilians are being held in a legal black hole with no tribunals, no legal counsel, no family visits and no basic legal protections".
Convoy of Death
Disturbing reports about the fate of up to 3,000 alleged Taliban fighters at the hands of Northern Alliance warlord General Abdul Rashid Dostum with the complicity of the U.S., have been circulating since December 20, 2001 but to date no official investigation has been authorized.
Allegations, which began as hushed rumours, have now been fleshed out by the stomach-churning first-hand accounts of three British detainees, released from Guantanamo's Camp Delta earlier this year. The findings of pathologists commissioned by the United Nations to unearth mass graves, and a gruesome documentary, produced and directed by Jamie Doran have lent credibility to their stories.

The deaths reportedly took place between Qala-I-Zeini fortress, Sherberghan prison and the desert sands of Dasht-I-Leili during a four-day period. Doran says U.S. personnel were complicit in war crimes but the Pentagon has denied that American soldiers were even in the vicinity or that the U.S. army had any knowledge that such a massacre had taken place.
"We can now reveal the Pentagon was lying," the Irish filmmaker asserts.
Witnesses have confirmed that there were around 150 Americans at Sherberghan at the time of the shocking incident and Doran says a picture taken on December 1, 2001 "confirms the U.S. presence".
Afghan Massacre: The Convoy of Death is the name of Doran's one-hour long documentary, which graphically catalogues the massacre of up to 3,000 men – presumed to have been fighting for the Taliban – some of whom surrendered after the Siege of Kunduz, once they had received assurances they would be safe.
According to Doran's documentary, others had been handed over to the Northern Alliance simply because they spoke Pashto. Villagers were shown being threatened by Dostum himself to yield up Taliban suspects or else. Doran didn't realize it at the time he made his film but three out of the 3,000 captured were British school friends from the West Midlands' town of Tipton, who became known as the Tipton Three.
The Convoy of Death reveals eyewitness testimony concerning the way in which detainees were crammed into airless containers and left to suffocate as temperatures soared. When the prisoners cried out that they could not breathe, their guards fired at the containers indiscriminately killing and wounding detainees in the process.
One of these soldiers told Doran: I hit the container with bullets to make holes for ventilation. Some of them were killed. I noticed that blood was running from the containers…"
In the film, survivors talk of licking the sweat off dead bodies and biting others so as to obtain moisture in any form, accounts that were later corroborated by the British detainees.
Another of Dostum's paramilitaries describes the scene when the containers were first opened at Sherberghan prison. "I shall never forget the smell as long as I live. It was a smell to make you forget all other smells you have ever experienced in your life".
Many of the Pakistanis, Chechans, Arabs, Afghans and others who managed to survive the horrendous four-day ordeal were allegedly eventually taken to Sherberghan Prison from where they were transported to the desert along with the corpses of their fellow prisoners and shot down in cold blood.
A witness in Doran's film said: "All the sick and injured were transferred to my trucks and we brought them to the area we are in now. They took them to different sections and they shot them."
Drivers showed Doran and his crew where they were ordered to take the bodies. Initially the committed Irishman was hesitant in publicizing the location, fearful that evidence would be tampered with in an effort to cover up the crimes.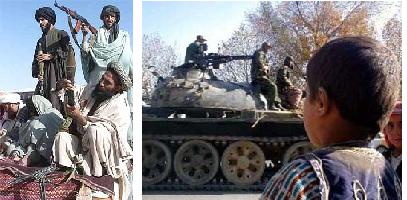 When one of the drivers was asked how many Americans soldiers had been at the scene, he answered "lots of them…maybe 30 or 40".
Like the Pentagon, Dostum has refuted the allegations, claiming that only 3,000 to 4,000 fighters had surrendered at Kundoz and they were accounted for. However, one of his own generals appears in Doran's film, saying that he personally counted over 7,000 before handing them over to his men for transportation to Sherberghan.
So are the bodies of the missing 3,000 to be found under the Dasht-I-Leili sands? Forensic anthropologist William Haglund indicated to Britain's Observer newspaper that they might be. He describes how he had exhumed 15 bodies from their resting place near Sherberghan for the purpose of carrying out autopsies.
His conclusion was "they died from suffocation" in keeping with the claims of the Tipton Three and Doran's eyewitness reports. Haglund suggests the 15 might well represent the tip of the iceberg.
If these reports are not true then any enquiry would surely clear the air and add to the coalition's credibility, given that whoever is accused of such atrocities would have been subject to its command and control structure. Its continued silence only fans the accusatory flames.
If American soldiers or intelligence officers were, indeed, complicit in the murder of thousands of prisoners or were found to be silent observers, then they should surely be charged accordingly. If not, then one must wonder why the Pentagon isn't eager to clear its name.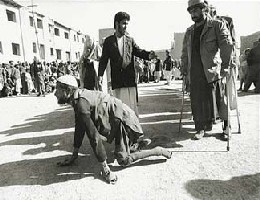 Doran maintains that all the eyewitnesses in his Convoy of Death are willing to cooperate with any investigation so long as their personal safety is guaranteed. If those vulnerable individuals are courageous enough to speak out and even, in some instances, willing to confess to their own horrendous misdeeds, then the coalition should have the gumption to break its wall of silence and get at the truth, as painful as that might be. Sadly two out of the four witnesses are now dead.
Unfortunately, this wall of silence also extends to the U.S. media. While the documentary has been broadcast globally on various television networks and viewed by members of the European Parliament, as well as by various human rights groups, it has been completely ignored by mainstream American newspapers and networks.
New York Times articles have dealt extensively with accounts by the Tipton Three of abuses they and others allegedly experienced in Guantanamo, as these are widespread and common knowledge, but all the papers' articles have excluded the three's harrowing reports of Northern Alliance brutalities in Afghanistan, including the Convoy of Death.
The 'Convoy of Death' is unlikely ever to be investigated as the Pentagon refuses to launch an enquiry. A spokesman for the State Department told Doran that the U.S. would only consider a probe of the possible Afghan involvement in the alleged slaughter, but would not subject its own troops to scrutiny.
Despite this U.S. government policy of impunity for its own, and its attempts to exempt its own soldiers from the jurisdiction of the International Court, the current treatment of prisoners in Afghanistan is, nevertheless, attracting attention after the ugly revelations concerning Iraq's Abu Ghraib.
Democrat Senator Patrick Leahy, who is a member of the Senate Subcommittee on Foreign Relations, has campaigned against the prison abuses. He told the Guardian that the abuses in Afghanistan were just as bad as those perpetrated at Abu Ghraib, "but because there were no photographs – at least, to our present knowledge – they have not received enough attention.
"Prisoners in Afghanistan were subjected to cruel and degrading treatment, and some died from it. These abuses were part of a wider pattern stemming from a White House attitude that 'anything goes' in the war against terrorism, even if it crosses the line of illegality. Not only should these incidents be thoroughly investigated and the perpetrators punished, but we need rules to prevent it from happening again", he said.
Afghan Massacre: The Convoy of Death, produced and directed by Jamie Doran can be viewed at http://www.informationclearinghouse.info/article3267.htm Al Shindagah magazine is not responsible for the content of external websites.