"We should free the woman, so that her children won't grow up to become slaves. And we should remove the veil of illusions from her eyes, so that by looking into them, her husband, brother and son will discover that there is a great meaning to life."

These words are by the renowned poet and author, who was among the first Arab literary figures to embellish feminine intellectuality.
Born in Nazareth, Palestine, in 1886, to a Lebanese father and Palestinian mother, May (Marry) Zeyadeh lived in a world where women were hammered by patriarchy and male chauvinism.
May studied in Lebanon where she finished her secondary studies.

In 1907, she left Nazareth to Cairo with her parents to study Italian and German.

During her stay in Egypt, May's father, Elias Zakhour Zeyadeh-who advocated women education-became the chief editor of Al Mahrousa newspaper. It was a golden opportunity for the young intellectual to publish articles, which she chose to write under a nickname.
In 1911, May wrote her first poetry collection in French titled, "Fleurs de Reve", (Flowers of a dream), and later translated several poems from the same collection to Arabic and published them in the Egyptian magazine Al Hilal, under the name Isis Cobia.
In the same year May published her second poetry collection, "Aidah Dairy". She remained to write under different pen names until her mother proposed the name "May", using the first and last letter from her "Marry", her original name.

In 1914, she joined the Egyptian University where she studied history, philosophy and modern sciences, graduating in 1917.

Her salon outshone the more important aspects of her achievement. It remained active for approximately 20 years (1911-1931), during which time May's house, where it was held, was the magne, to which the greatest writers and intellectuals of that era were drawn. Among her regular guests were Abbas Mahmoud Al Aqad, Antwan Al Jmayel, owner of Al Zouhour magazine, the famous Egyptian intellectual Taha Hussein, Nile poet Hafez Ibrahim and Prince of Arab poets Ahmed Shawqi, and many others.
Her letters to many of her writer friends and acquaintances became equally famous, and her extended pen friendship with the writer Gibran Khalil Gibran [author of "The Prophet"] gave rise to speculation that a love affair had blossomed. Her letters to Abbas Mahmoud El-Aqqad were also much discussed. Some critics with ill intentions reached unjustified conclusions – claiming that she virtually had affairs with everyone she had corresponded. However, such allegations were proved – during her life or after she passed away - to be false, motivated mainly by envy and hostility to the women emancipation movement.
May was indeed a pioneer of the prose poem, even though she did not split her paragraphs into lines of poetry or write in a poetic format as such. Her book, Dhulumat wa Ashi'a (Darkness and Rays), bears testimony to her skill in poetic composition. Indeed, in a late record she compiled of her writings, she referred to this collection as a series of "poems in prose". Poetry was undoubtedly the genre she favoured above all others. She lived her entire life with a poet's emotions and approach.
Zeyadeh, a coy girl, had a great infatuation with nature, music and books. True romantic, Zeyadah's literary style is characterized by fusing emotion with fantasy and romanticism with objectivity. But all this artistry and innovation were meshed with solitude and misery.
In the books published during her lifetime, i.e. until 1926, May appeared as a strong representative of Arabic romanticism. The noticeable influence of the European Romantics, especially the French, on her work dates back to her school-days and is already apparent in her first collection of poems, dedicated to Alfonse Lamartine. The 'Romantic break with the past' - as expressed by Sabry Hafez - is marked by a sentimental, melancholic style; a highly emotional and metaphorical language; and topics like social oppression, tormenting love and contemplations of nature as a solace and a refuge. Generally an expression of a painfully felt yet strongly desired change, the romantic literature of May Zeyadeh and many of her contemporaries again reflects loss and search for identity and integration.
In May's later works - as far as they are known until now - the romantic character becomes less pronounced. Her numerous editorials in the major Egyptian daily al-Ahram, largely ignored for a long time until Joseph Zaydan recently included some of them in his collection, show a woman of letters who courageously took a stand against European colonial politics and defended the freedom of the press and other basic democratic rights.
As an activist, May wrote two books about women at a time when feminine identity was slandered by social modes. "Aisha Al Taymoreih", published in 1924, was one of the famous Egyptian female poets (1840-1902) who belonged to an aristocratic family in Egypt. Al Taymoreih was a torch of vigor at a time of much illiteracy and oppression among women. May was an admirer of the Egyptian poet whose character was of true determination and liberalism.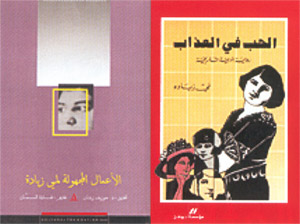 May's second book, "Bahethet Al Badiah", published in 1920, depicted the character of a charismatic Egyptian feminist called Malak Nasef (1886-1918), nicknamed as Bahthet Al Badieh. Nasef called for the emancipation of women in a society governed by stereotypes and male solidarity.
With the death of her parents and Gibran in the early thirties, May Zeyadeh found herself once more confined to the limits of social conventions, which she seemed to have successfully begun escaping before. Without family backing, she lacked the respectable basis for continuing her salon. When she fell into a temporary depression around 1935, her relatives had her legally declared incompetent and committed her to a hospital for mental diseases in Beirut. A handful of remaining friends, one of them the famous mahjar literate Amin al-Rihani, finally obtained her release with the help of a press campaign in leading Lebanese journals like al-Makshuf. Only after having proved her mental competence with a public lecture at the American University of Beirut was she allowed to return to Cairo in 1939, where she lived in more or less complete isolation. During those last years of her life, May Zeyadeh did not stop writing.
May did not recover from the shock of being charged with insanity, although she tried to resume her former literary activity. As works and letters from this period show, she developed a strong inclination towards mysticism and tended to compare her fate with that of the blind Abbasid poet al-Ma'arri.
Posthumously, May Zeyadeh regained the honours denied to her at the end of her life. Elegies, funeral orations and memories of contemporaries were published, streets in Alexandria and Beirut were named after her.
Zeydah left more than 15 books of poetry, literature and translations. More than anything else, she left behind a legacy of women liberators who believed that with knowledge and art, women could finally win their eternal battle for equality and recognition. After more than half a century has passed since her death in 1941, May did not fall into oblivion. Numerous biographical studies of May Zeyadeh have appeared during the past five decades, some trying to analyze her rise and fall from the heights of celebrity to complete isolation. Some allege – but most deny - that she had many love affairs with various guests of her salon, while her correspondence with Gibran Khalil Gibran in New York, which extended over two decades, though the two never met, are still subject of various studies about the true nature of her bond to this famous writer.
However, most important literary figures agree unanimously that May Zeyadeh 's contributed greatly to women emancipation and modernization of Arabic literature during the most crucial period of Arab renaissance, a period of extensive social and cultural change in which her salon served as a forum for the intellectual avant-garde of Egypt and beyond.

Although all her works were supposedly published under the title Al-Mu'allafat al-Kamila (Complete Works), new works, letters and other writings continue to be discovered here and there. The most significant discovery of such works, Nusus Kharij al-Majmu'a (Texts Outside the Collection), published in Beirut in 1993, by Antoine Muhsin al-Qawwal included a good part of May's "forgotten literature". In 1996, Joseph Zaydan, Professor of Arabic Literature at the Ohio State University, followed with another huge series of texts under the title of Al-A'mal al-majhula li-May Zeyadeh (The Unknown Works of May Zeyadeh), found by chance among the dusty treasures of Dar al-Kutub (Public Library) in Cairo and published by the Cultural Foundation in Abu Dhabi. A few months later, the third and till now last collection came out in Cairo as part of a book by the Egyptian critic Ahmad Husayn al-Tamawi with the controversial title Layla basima fi hayat May (A Crucial Night in the Life of May).
The various collections of May Zeyadeh 's unknown works which have appeared in quick succession during the last few years differ in form and editorial intent. Yet each has contributed to making available almost two hundred essays, articles and speeches, short stories, theatre plays, and prose poems of this pioneer female writer other than those included in the original 'complete edition.' These new sources have created a completely different situation relative to the academic assessment of this leading figure of al-nahda, one, which will revitalize a stagnant public discussion. After decades in which May Zeyadeh was mainly used as identification and projection surface for highly divergent aspirations and either idealized as a muse or condemned as a courtesan, an important step has been taken towards seriously analyzing her literary and intellectual achievements.
In fact, the end of this pioneer female writer and salonnière cannot be judged just as an individual case, as it is mostly done. Surely not by accident it coincided with the final stage of the Arabic nahda (Renaissance). With the early twenties, the literary criticism of traditional norms and conditions became more and more political. The romantic literature gave way to an increasingly realistic discourse.
Futile search for integration was another typical characteristic of this period and not just the fate of May Zeyadeh. During the early thirties, leading Egyptian intellectuals went through a stage of marked disorientation and resignation. Faced with the breakdown of democratic systems in Spain, Italy, and Germany, the depression and Western culture criticism, the nahda (renaissance) movement with its liberal-secular concepts, strongly modeled on European examples, lost its credibility.