Dubai's bid to become a major international financial centre is rapidly taking shape through the establishment of the Dubai International Financial Centre. Ben Smalley reports on the emirate's bid to bring Wall Street to the UAE.
The drive to diverge Dubai's economy in the face of dwindling oil reserves has been one of the region's biggest success stories in modern times – from tourism, media, Internet technology and healthcare – the emirate's Rulers have identified areas for development and investment which have established the city as the most innovative and proactive business centre in the entire Middle East.
Never content to rest on its laurels, Dubai is pushing ahead with its next major project – the establishment of a world-class financial centre to plug the gap between the major financial centres of Europe, such as London and Frankfurt, and those in the Far East: Singapore, Tokyo and Hong Kong.
The Dubai International Financial Centre (DIFC) aspires to become the global jurisdiction of choice for financial institutions by bringing world-class regulatory processes and market mechanisms to a vast region comprising the GCC, the Indian subcontinent, the northern Gulf, the Caspian states, the Levant, north and east Africa.
The initial phase of the Dubai Financial District, the real estate component of DIFC, is being constructed on land adjacent to the Emirates Towers, with the DIFC headquarters building - called 'The Gate' - due to be completed in July 2004.
Naser Nabulsi, Chief Executive Officer of DIFC, said: "We are making good progress and I expect the building to be completed on schedule. It has taken a huge amount of effort on behalf of the architects, contractors, Dubai authorities, and my DIFC colleagues, to get us to this point so quickly.
"The Gate will be a national landmark and is symbolic both in name and design, because it embodies the vision that drives the DIFC: to position Dubai as the regional gateway for the flow of capital and investment into and out of the region."
The Gate will be the signature building of Dubai's financial 'city within a city' and its iconic design was the subject of an international competition won by US architect Gensler in September 2002. Described as a massive processional archway, it will be fifteen stories high comprising 46,000 square metres of prime office space with retail outlets on the ground level and a three-storey basement car park for approximately 1,500 cars. The DIFC's executive offices will be located on the top two levels, which will occupy approximately 7,000 square metres, and the proposed Dubai Regional Exchange will also be headquartered in the building, occupying approximately 2,000 square metres on two floors.
According to Nabulsi, DIFC will initially focus on five areas of activity in the financial industry: Asset Management, Islamic Finance, Insurance & Reinsurance, Backoffice Operations and the establishment of a Regional Financial Exchange to foster a cross-border, efficient and liquid capital market.
"In addition, to proactively attracting key players in its five areas of focus, DIFC will also be open to other sectors of institutional finance and will be the best regional location for the international business units of commercial banks, investment banks, wholesale financial institutions and fund management firms," he added.
" DIFC will also host professional service providers critical to the development of the regional financial sector such as credit rating agencies, professional service firms, law firms and information service providers."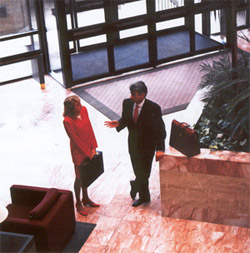 The development of the centre received a massive boost in July when the UAE Cabinet approved a Federal Decree allowing its full establishment. Under the UAE constitution, the Cabinet decision now needs to be ratified by the Supreme Council of the Federation.
Phillip Thorpe, Chief Executive Officer of the DIFC's Regulatory Authority, said: "The Federal Decree is an unprecedented constitutional innovation because it will allow the Dubai International Financial Centre a remarkable degree of sovereignty. This will give the DIFC a unique position in the global economy - comparable to centres outside the UAE - and one that is designed to make it a magnet to attract business from the world's leading banks and financial institutions."
The Federal Decree is a 'generic' decree, allowing Financial Free Zones to be established in the UAE. Thus, as well as approval by the UAE Supreme Council, the DIFC also needs a specific decree to establish it as a Financial Free Zone, which is the next step towards its full establishment and becoming operational.
"The DIFC will also require the enactment of its Regulatory Law and Company Law before it has the basis to grant operating licenses to financial institutions," Thorpe explained. " The Regulatory Law and the Companies Law are now complete and approximately a dozen further laws are now in the final stages of preparation and will be introduced over the next few months."
Already more than 30 of the world's biggest financial institutions have expressed an interest in setting up in DIFC. Four have put in applications for operating licenses - even before the process has been put in place - and many more are now expected to follow suit.
Thorpe said: "The entire legal and regulatory framework for an international financial centre has never before been created from scratch - and never at such speed. We have been free to draw on the best practice of all the world's major financial centres - and to avoid their drawbacks.
"The result is that the DIFC legal and regulatory environment will offer financial institutions the transparency, certainty and ease of use that they require - and will also give confidence to other jurisdictions and international bodies that the DIFC will be an entirely trustworthy addition to their ranks."
DIFC has drawn upon some of the financial world's biggest players to ensure the project meets the stringent legal and regulatory requirements required for an international financial centre, including the appointment of Lynton Jones as chairman of the Dubai Regional Financial Exchange.
Jones, 59, is one of the most experienced financial exchange professionals in Europe, having run exchanges specialising in equities, derivatives and energy products, as well as having particular expertise in the creation of new ventures, such as NASDAQ's European operation and Jiway, the pan-European electronic stock market aimed at retail investors, and in managing change at established exchanges - notably the London Stock Exchange and the International Petroleum Exchange.
Relishing the challenges ahead, Jones said: "The great attraction of becoming chairman of the proposed Dubai Regional Financial Exchange is the opportunity to build from scratch a very new and innovative kind of financial market. This will be totally electronic and will not be restricted to just one kind of product. Instead it may, for example, include derivatives as well as equities, bonds and other products.
"We will complement other markets in the region and by growing a regional market, we would expect them to grow as well. My immediate tasks when I begin in September are to draw up a development blueprint to put to the DIFC board, to open discussions with potential partners and then to start hiring staff for the Regional Financial Exchange."
One of the most innovative features of the new Exchange will be its ability to trade a variety of instruments - derivatives as well as equities and bonds - instead of the single product or family of products in which most exchanges specialise.
The other major distinguishing feature is the fact that all its governing laws and regulations will already be familiar to the major international banks and financial institutions. This is because they are deliberately based on existing legislation governing jurisdictions such as the City of London - and have even been drafted in English to be instantly accessible.
As part of its marketing efforts, DIFC has turned to Hollywood by bringing in Ridley Scott Associates - who made such blockbuster films as Gladiator, Blade Runner and Black Hawk Down - to produce a promotional film to convey the excitement of launching a regional financial centre capable of taking on Wall Street and London - and equaling them in quality, if not in size.
Using stunning special effects and state-of-the art computer generated imagery, the unique film will show universally recognised icons of the great financial cities of the world converging on Dubai. Taxi cabs from NewYork, London, Hong Kong and Tokyo will be seen cruising through the heart of Dubai, signifying DIFC's ambition to stand alongside these centres as a world-class financial hub.
The next step is to prepare for a global marketing campaign later in the year that will highlight the potential of the UAE and the region to the world's leading financial institutions.
Nabulsi said: "The DIFC now has a real sense of momentum. We have UAE Cabinet approval for the main Federal Decree, we have a high caliber team in place, and each week brings a major new development.
"By the time the UAE hosts the IMF/World Bank annual conference in Dubai in September, we will have in place all the main building blocks for our region's first International Financial Centre equal in quality to the world's best. It will be a proud moment.
"No International Financial Centre of this stature has ever been launched so speedily. By taking this bold step, the UAE has empowered us to create a world-class regional exchange that will generate wealth and jobs, not just for the federation but for the wider region."
According to Naser Nabulsi, Chief Executive Officer of DIFC, the centre will initially focus on five areas of activity in the financial industry: Asset Management, Islamic Finance, Insurance & Reinsurance, Backoffice Operations and the establishment of a Regional Financial Exchange to foster a cross-border, efficient and liquid capital market.
Here, he provides a breakdown of each of the activities and what DIFC intends to offer each sector:
Asset Management - More than a trillion dollars of wealth is generated from the region. Many regional corporations and regional retail banks need specialist asset management services to manage this wealth. Dubai aims to build on its core offerings and create the right environment and the right incentive structure to attract professional institutional asset managers to set up a base in DIFC in order to offer their services to those regional corporations and banks that are in need of convenient, professional and competitive asset management services closer to home.
Islamic Finance - A multi-billion dollar global market exists for Islamic finance products and services, yet this sector is still very much under developed. The sector is fragmented and suffers from a lack of adequate products to satisfy the rapidly increasing demand and the increasing sophistication of investors. There is also no shortage of Islamic finance compliant infrastructure development projects in the region requiring billions of dollars of funding. Dubai aims to become a centre for product innovation and development for Islamic investors, where more infrastructure development projects and regional financing needs are funded through new Islamic finance instruments.
Insurance - The insurance industry in the region has significant development potential. DIFC offers a hub for insurance and re-insurance companies in which will allow them to expand their scale of operation and their distribution capability by setting up their regional insurance, captive management, and credit insurance operations in a single administrative base at DIFC. In particular, DIFC aims to become the regional centre for re-insurance and for innovative insurance product development, such as Islamic compliant policies.
Backoffice Operations - Financial services back-office operations and outsourcing have been a continued trend in developed economies. With its world-class IT infrastructure and access to the huge regional pool of human resources, Dubai is ideally positioned to become a location of choice for global back-office operations of banks and other financial institutions. In partnership with the Dubai Internet City, DIFC offers a very competitive and attractive value proposition to both large and small banks that would increase their operational effectiveness and efficiency while reducing their costs.