The 'Hour of Power' is only taught in a handful of places around the world, including Dubai. Ben Smalley speaks to fitness instructor and former champion bodybuilder Ali Syed about the need to exercise and what has been dubbed the 'Fitness Class From Hell.'
Most of us do not exercise anywhere near as much as we should, but if you are serious about getting fit then the 'Hour of Power' could be the solution if you are looking to battle the bulge and build up your strength and stamina.
Dubai is one of few places in the world where the 'total body' fitness class is taught, and this aerobics class with a difference is proving equally popular with both, men and women, of all ages and nationalities.
The Hour of Power was devised in London in 1985 by Yugoslavian fitness guru Dragan Radovic, who considered conventional aerobics classes to be completely lower body dominated, and that any upper body involvement in the routines was either only for aesthetic purposes or simply unchallenging.
Seeking to add an upper-body dimension and make his mark in the field of aerobics, Dragan incorporated dumbbells into a simple aerobic routine and very soon the logic behind his approach to 'total fitness' caught on.
Since those early days the Hour of Power has been refined and developed, but the principles formulated 17 years ago still form the cornerstone of today's classes - that 'only when a balance between upper and lower body fitness is achieved is one truly fit.'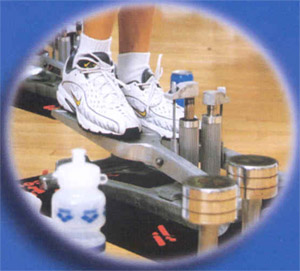 The Hour of Power is said to be the only aerobic fitness class that uses all the major muscles of the upper body and lower body in a simple but effective manner. In the early 1990's in California, it acquired the nickname 'The Class From Hell' because of its difficulty, but the level of difficulty depends entirely upon the weight of dumbbell used.
"You can take this class regardless of your current fitness level or age," says 32 year-old instructor Ali Syed, who has the franchise for the Hour of Power in the UAE. "The oldest person in my class is 61, and as long as you listen to your body and don't over do things you will be fine."
The biggest difference between the Hour of Power and typical aerobics classes is its attention to 'upper body fitness.' Most people associate fitness with cardiovascular exercises relating to the legs and lower body - such as running, walking, cycling and stepping - and rarely to the muscles of the upper body.
The philosophy of the Hour of Power is that by learning to utilise the cardio-vascular capacity of the upper body, not only can we bring the body into balance, but we can also begin to develop a far more efficient method of training than conventional aerobics programmes provide.
"We have a total of 650 muscles in our bodies, but aerobics only uses around 150 of them," Ali explains. "The Hour of Power is basically a total body workout and, after a class, there aren't any muscles left which you haven't exercised."
The class starts with a 10-minute warm-up (to make sure you don't pull any muscles and hurt yourself), before moving on to a series of squats and the use of hydraulic steppers and dumbbells to exercise every muscle in the body in a one-hour high intensity workout.
"The thing these days is that people say they don't have time to exercise," Ali laments. "I have a number of clients who do this class three times a week and no other exercise, yet they have awesome fitness levels and are in great shape. You can burn between 2,000 and 3,000 calories in this one-hour class so it is also good for weight loss – and if you do the class properly, you will start to see the difference in 10 classes.
"There are 168 hours in a week and if you spend three of those hours keeping fit it will make all the difference. Some people say 'I am too busy and don't have the time,' but that is no excuse. It doesn't matter how wealthy you are, the most valuable thing you can have is your health. Every single person on this earth has 25 extra hours somewhere – whether watching television, surching the Internet or sitting chatting after lunch or dinner – they can't say I don't have three hours spare."
The benefits of staying fit and healthy are well documented, but it is the overwhelming sense of well-being which fit people most enjoy.
"People change bodywise - physically and mentally - and even their lifestyle changes," Ali says. "They find themselves with a lot more energy, rather than feeling tired all the time. We have people who work from 8 am until 8 pm and then come to the class, which is very demanding, and afterwards they still feel great - as if they could start their day all over again.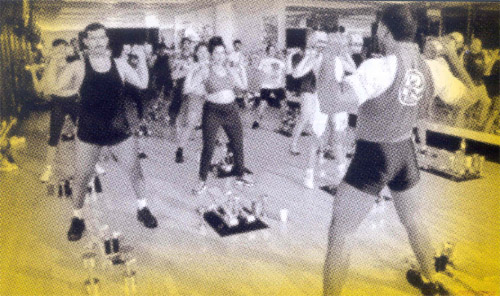 "There are people who think that health clubs are only for sporty people, but that's not true. If you spend three hours a week in a health club tha is enough"
Ali Syed, Former Champion Body Builder
"It doesn't upset me when I see overweight, unhealthy people walking the streets but sometimes I feel the urge to go up to them and tell them to come and talk to me so I can share my knowledge – you can't force someone to take exercise, and if you try and make it compulsory and push someone it will never happen - the person has to want to do it.
"Education is the most important thing when it comes to exercise and fitness. There are people who think that health clubs are only for sporty people, but that's not true. If you spend three hours a week in a health club that is enough. If you do 25-40 minutes of cardiovascular exercise, like using rowing, treadmill or stepper machines, in a one-hour session three times a week you will develop a healthy heart.
"But people tend to spend too much time on cardiovascular exercises and completely ignore strength training. From the age of 28 we lose 5-7lbs of muscle every 10 years and gain 15lbs of fat, which is why it is important to also do 25-40 minutes of strength training, such as lifting weights, in combination with cardio exercises."
Ali is a fitness fanatic who practices what he preaches. He takes regular training courses to update his knowledge and was a champion bodybuilder, winning Mr. Pakistan in 1997 and coming third in Mr. World, before turning his attention to fitness training.
"I believe in three things in sports: time – people don't have a lot of spare time so you want to achieve maximum results in the minimum time, results – everyone is seeking a result, but it is important to do it gradually and build it up step by step, the third thing is safety – there is no point in feeling fit and looking good if you injure yourself.
"If someone asks 'can I do that? Is it good for me?' - yes it is, but we have to make sure that person is safe. I like to interview people before they start at the health club about their medical history and their sports background so they don't overdo it.
"For any person, it is never too late to start exercising but don't expect immediate results, take it slowly and build it up, but also allow your muscles and body time to rest, and remember that exercise isn't something you should do for two months or six months - it is for the rest of your life."
Ali and his team of instructors run Hour of Power classes five times a week at Le Mirage Sports and Health Club at Le Meridien Airport Hotel. Classes cost Dh 20 for members and Dh 28 for non-members. For further information call (04) 2824040.