One of the first things you notice when you step from the plane at Sana'a airport is the fact that climbing steps is more difficult here than in Dubai. Sana'a lies at an altitude of some 2000 meters and it takes a few days before a person used to sea-level air is adapted to such a high altitude. The next thing you notice, when your transport takes you into town, is the unusual architecture of both old and new buildings.
The high tower-houses of Yemen are famous around the world. Long before high-rises and skyscrapers were built in the Western world, the ancient builders in this corner of Arabia were able to erect multi-storeyed buildings from mud-bricks. The outside decoration are beautiful: elaborate white plaster "lacework" around the windows and in several horizontal bands adorn each fašade. Many of the windows are half-moon shaped and made of a mosaic of coloured glass. Inside, these windows throw wonderful patterns on the simple floors and walls of the rooms. Narrow winding staircases with unequal steps lead from floor to floor until they reach the flat roof from where you can have great views across the city or the countryside.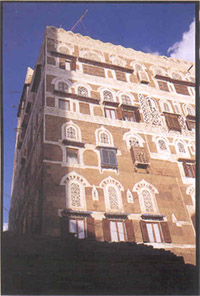 One of the best places in Sana'a to see this architecture, besides much more, is the central suq, the Bab-al-Yemen. It is by far the most authentic and interesting suq that I have seen anywhere in Arabia. You enter it via a large gate in the wall that once surrounded the ancient city. This brings you onto a large square that holds a milling crowd of sellers and buyers. Small stalls line the paths but most of the goods sold here are the cheap plastic wares from the Far East as well as some local produce. The actual market lies beyond, in the maze of narrow alleys that radiate from this central square. The square is lined with perfect examples of the famous architecture, rising up high into the blue sky. Somewhere along the alleys is a small museum that you can enter to have a look at the small rooms and winding staircases, well worth the effort.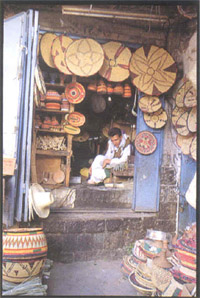 Immediately when you enter the streets of the suq, you smell the wonderful smells of Arabia: freshly roasted coffee, cardamom, fresh mint, dozens of other spices, sweet halawa and honey. Salesmen sit in the middle of their wares, shouting as you pass. Dark basements give a fleeting glimpse of coffee houses, where the shisha (waterpipe) is a permanent fixture. In one such a dark basement you can see a blind-folded camel turning the grindstone. This is where sesame oil is extracted from the tiny seeds. From time to time the camel is led out onto the street and tied to the support of a balcony, where it calmly chews its cud, observing the crowds.
Another shop spews thick clouds of steam - the local laundry is doing brisk business. Beautifully handcrafted baskets, mats and fans are sold in the next stall. The relaxed salesman is also chewing a cud - of qat. This is a local custom that you can see everywhere from the late morning till the evening. Qat is a plant that gives the same pleasure as tobacco. It is cultured on practically all arable land in Yemen, and everybody seems to be using it. Thick wads of leaves are stuffed into the cheek, causing everyone to sit and walk around with one half of their faces swollen to balloon size.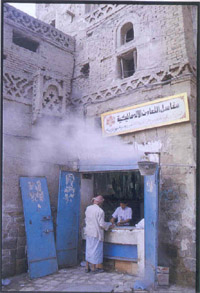 Many of the shops sell bedu jewellery and antiques. Much of it is authentic as yet, though that may change soon if tourism takes off here. You can spend a fortune here - on the Yemeni daggers (but only if the grip is made of cowbone, not of rhino horn!), on necklaces of silver and turquoise or malachite beads, on old artifacts, and newly made soapstone containers. These latter are copies of ancient items found in archaeological digs, with beautiful simple designs and decorations.
Wildlife also appears in the suq from time to time. The founder male of the breeding program for Arabian leopards here in the UAE came from a suq like this. He was caught as a youngster together with his mother, who was shot trying to defend him. After two years in miserable conditions, being shown from village to village in a tiny cage, he was acquired by a Sharjah-based conservation organisation and paired with a captive-bred female. He was named Nimrod Felix. The first name is a pun on the local word for leopard (nimr) - Nimrod was a hunter in Greek mythology. Felix (= happy, prosperous), indicates that he was lucky to be rescued, but also that he came from "Arabia felix", which is the old name for Yemen. Arabia felix is a wonderful place that is a tourist paradise. In spite of reports of tourists or foreign residents being kidnapped, it is not an unsafe place to travel, as long as you stick to the main cities and roads. With its riches in both historical and natural heritage, tourism could be developed here to bring in much-needed currency, in order to develop some infra-structure and give jobs to people who now cannot find employment.