CHAIRMAN'S MESSAGE
An Open Letter to the Prime Minister Tony Blair
How to strengthen peace and understanding through education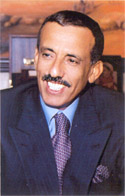 Dear Mr. Blair,
We all know that the negative stereotyping of Arabs and Muslims dates back to the Middle Ages in Europe, when the expansion of a dynamic successful Islam into Europe led European leaders to discredit culturally and politically the Arab Islamic culture, in an effort to check its advance in continental Europe. Over recent decades, this image of Islamic civilisation and Arab people, already tarnished by cultural stereotyping, has further deteriorated.
Today, almost every person in the West has a negative view of Arabs and their cultural heritage. This stems from a profound ignorance about the contribution Islamic Civilisation has made to the development of the West over the last 600 years, and the great contributions that Islamic thinkers, scholars and scientists have made to manís knowledge of himself and the universe. This also explains the failure on the part of the West to acknowledge these contributions, when it teaches history to its children.
This ignorance of the influence of Islam over the centuries on European civilisation and everyday life has meant that throughout the West, Islam has suffered and is still suffering from misrepresentation and hatred. Hostile or oriental stereotypes abound wherever there is little awareness by Europeans or Americans of Islamís past contributions, or of Islamís potentially positive role in Western society today. Historical errors, educational eclecticism and an over simplified approach by the media are responsible for this situation.
Stereotyping has existed in one form or another in almost all societies; yet, today it has become more pervasive, as information becomes global. We live in information driven world that is swamped by mass-produced images, nearly all of which are intended to serve a political or commercial purpose
One way to combat this stereotyping and vilification of an entire culture and people is to include in the curricula of the Westís education systems lessons, courses, and awareness programmes on the contributions of Arab/Islamic civilisation to human development and its relationship to the growth of western culture. May I suggest that Western educators, scholars, politicians, opinion formers and governments should actively promote a more multicultural view of Western history and development, and encourage a deeper understanding and sympathy for Arab culture. I believe that this is the only way to combat the current wave of vilification and hatred towards Arabs and Muslims.
Islam is often perceived by the West as being incompatible with the essentially secular and democratic principles that are the basis of Western society, and its ethics that uphold human rights and freedom of expression. This view has been reinforced lately by the devastating attacks on America by what are called ĎIslamic fundamentalistsí that abhor the West and all that it contains. They are not representative of Islam as a whole, or of its people. Within the teaching of Islam there is the same respect for human rights, equality, freedom of expression and peace that Western ethics are based on.
Perhaps if teaching modules on the contributions made by Islamic civilization, such as the introduction of algebra and zero to the West, were added to the school curricula, it would show the interactions between Arab Islamic culture and European culture, and their interactions particularly during the medieval period. Western children would learn just how much European Culture owes to Islamic scholars, scientist, writers, doctors, historians, explorers and mathematicians, such as Al Ghazzali, Al Kindi, Ibn Sina, Ibn Rushd, Ibn Khaldun and thousands of other Islamic intellectuals. They would also learn how the Abbasid and Umayyad Caliphates encouraged learning and knowledge. Had it not been for this quest for knowledge, much of what the West knows of Greek ideas, science and philosophy would have been lost. It was the translation of Greek texts into Arabic, and their entering into medieval Europe through the Arab caliphate in Spain, that gave rise to the renaissance in Europe.
As it can be seen, Arabs and their faith, Islam, produced eras of great learning and toleration; for many centuries they were the intellectual leaders of the world to whom all others looked for their ideas. This too, was at a time in European history, described as the ĎDark Agesí by historians, when ignorance and intolerance held sway over much of the European continent.
I would ask you as the Leader of your Nation to consider what is best for us all. I ask you to help us change the attitudes towards our people and faith, by allowing knowledge to bring peace and toleration to our troubled world. It is only by understanding others and their beliefs, that we will be able to administer justice fairly to all and abolish bigotry and hatred.
So, as we enter the New Year, may I request, that as part of your future plans for school curricula in England, consideration could be given to adding teaching units on Islamic civilisation and Arabic culture to those topics already taught in history, the sciences, and comparative religion. After all, there is now a sizable minority of British citizens who are Muslims. To add such lessons to the curricula may go a long way to easing some of the tensions that have seen fighting between the ethnic communities in Britain this year, by instilling a sense of pride in one, and a better understanding in the other.
Yours sincerely,
KHALAF AL HABTOOR
Chairman,Al Habtoor Group,
Dubai, United Arab Emirates