Rowing in traditional wooden boats has always been a strong part of the seafaring heritage of the United Arab Emirates, but now modern rowing boats are becoming a regular sight among the dhows and abras on Dubai's Creek as a new generation of oarsmen and women take to the sport.
Expatriate John Rees shipped four Celtic longboats to Dubai almost two years ago as a means of introducing modern rowing to the UAE, and to rekindle his passion for racing longboats - an activity traditionally held during summer regattas in the coastal villages of his native Wales.
The Arabian Gulf is a far cry from the Irish Sea, but the sport is catching on fast with around 100 people now regularly rowing longboats in Dubai. Schools are introducing it as part of their sporting curriculum and companies are recognising the value of the sport as a fun, team building exercise.
"I wanted to introduce people to rowing and to longboat rowing because it was my background," said John, a former sports teacher. "Prior to long boating, I was sailing and white water canoeing, and when I was 14 years-old I worked as a 'boat boy' hiring out boats on the river."
Racing rowing boats on the sea dates back hundreds of years. In the days when sailing schooners visited harbours, their crews would often race their wooden tenders to the shore. The sport evolved into sculling - the type of rowing seen in the Olympics - but traditional rowing continues around the world today.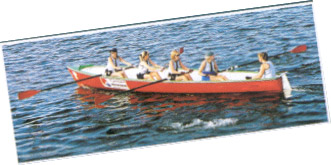 "Longboat started in west Wales when an Irish curragh - an ancient wooden framed, skinned and tarred boat - washed up on the shore in Pembrokeshire about 20 years ago," John explained. "A couple of lads refurbished it and raced it at the summer regattas. Then one of the lads, Des Harries, decided to build a glass fibre boat based on the traditional design and he won the race. The traditionalists decided it wasn't fair as a fibreglass boat is a lot lighter and quicker and there was a split between rowers of the traditional wooden boats and the new fibreglass boats, which I began helping Des to build."
John is a former national sailing champion but when he moved to the UAE in 1989 he chose to pursue rugby - his other sporting passion - as a hobby and began refereeing games in the Gulf league, as well as running the local refereeing society.
"When I retired from refereeing, I decided to bring a longboat out to Dubai but the traditional boats in Wales were old and had fallen into disrepair," he said. "What I didn't know was that a few die-hards of the rowing fraternity had applied for a National Lottery sports grant. They put out a tender for a new design and the contract was won by Dale Sailing Company based in Neyland in Wales who started making them again. I went to see the boat and thought it was ideal, exactly what I wanted."
Longboat rowing is now one of the fastest growing sports in Wales with nearly every coastal village in Pembrokeshire and Ceredigion having its own team competing in the Welsh longboat league - a phenomenon John was keen to introduce in Dubai.
"Initially I thought I would bring one boat out, and then I thought 'no, I'll bring two', and then I thought 'well if I am bringing two, I might as well bring four'."
With the backing of the UAE Marine Sports Federation, John based his four longboats - which are finished in the colours of Wales, England, Scotland and Ireland - at the Dubai Creek Golf and Yacht Club and began by getting schools interested in introducing rowing as a sporting activity for their pupils.
"What I really wanted was to get kids involved, to get students away from the television and the computer and get them out doing something active," he said. "There are a lot of kids here who are not looking after their health and are not involved in any activities."
The plan worked with some Dubai schools now having incorporated rowing into their sporting curriculum, while others offer it as an outside activity. Students as young as 13 years-old are now regularly rowing on the Creek and there are a number of Men's, Ladies' and Mixed crews who have also taken up the sport with each of the 25ft boats requiring four rowers and one person steering - known as the Cox.
"The boat is controlled by the Cox who steers and is in charge as the others can't see where they are going as they face the back of the boat," John explained. "They have to concentrate on how they are rowing and also on the person in front of them. The Cox then is the leader and you need someone with a bit of personality to run a crew.
"Rowing always seemed a great pleasure to me, and it is. Once you are out there it's very relaxing, even though you are working. You row as a crew and meet people with a common interest in the sport. It's a very sociable and accessible activity. Unlike canoeing or sailing where you acquire the skills over a longer period, with rowing you don't. You can learn to row in a matter of minutes. To row well is another matter, but you can get out there and enjoy yourself in a relatively short space of time.
"You are doing something that perhaps you have never done before or never thought you would do. Most of the people rowing in Dubai have never rowed before and have started from scratch. Some of the corporate crews have come down here and been a disaster for the first couple of sessions, but once they get into it they start to build. It's definitely a team-building activity which is not a pre-planned object, it just comes naturally."
The sport is also relatively inexpensive. John charges Dh 30 for 90 minute introductory sessions and people wishing to take up the sport then pay Dh 1,000 a year which allows them to use the boats as often as they like during the season, which runs from October to May.
"In an ideal world it would be nice if a group of five people come down and say we want to row, but it doesn't tend to work like that," he said. "People drift down individually and they find a friend and the friend finds a friend and so on - and before you know it you have a crew. There's a lot of word of mouth and we have had some articles in the local papers, which have helped.
"It's very much a niche sport, but it's starting to take off into something now. By and large we have a great cross section of nationalities. They are mainly Antipodean and European men and ladies, but there are some locals, Sri Lankans, Indians and Pakistanis that have come rowing and the appeal is broadening."
The various crews tend to practice once or twice a week and there are monthly competitions at different levels, as well as regattas during the Dubai Shopping Festival and also during the annual Great British Day at Le Meridien Mina Seyahi.
"Longboating is what you want to make it," John said. "Do you want it as a fitness thing? Do you want it as a competitive thing? Do you want it as a recreational thing? What do you want it to be? It's up to you."
The sport has grown to such an extent that John plans to start building his own longboats in Dubai in May to increase his fleet to 10.
"On a race day with 10 boats we will have 50 people rowing in a race and 10 races a day which is 500 people rowing at all levels - schools, men, women, mixed - and I think that's a great day out for people. These new boats will be built in Dubai. I am fashioning some alterations to the interior to make them a bit more comfortable but their length and weight will be the same.
"Later on I think what will happen is that some more competitive types will want their own boat and that will be the time when I will start selling longboats to individuals, but I will always keep a fleet of 10 boats for people who either can't afford their own boat or don't want to spend the money. Owning a boat can be a pain. You have to look after it and use it, where as here people can just turn up here, get in a boat, row, get out of the boat and go and have a cup of coffee."
John also plans to invite rowers from Wales, Ireland, Cornwall and Australia to compete in an annual regatta in Dubai alongside local rowers to put the United Arab Emirates well and truly on the international longboat-rowing map.