Business Bay
Hotel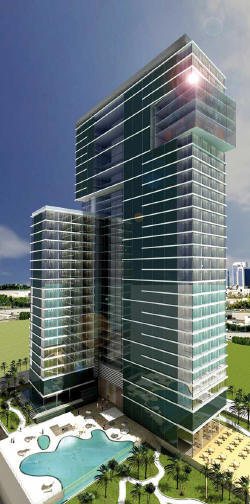 Putting Dubai firmly at the forefront of the business revolution, the Business Bay project is set to provide investors with a unique and comprehensive value-added platform that will make perfect business acumen to transact business in Dubai.

Al Habtoor Engineering Enterprises has been awarded this prestigious project also known as "The Executive Towers". The project, which has been successfully negotiated with the Emirates premier developer M/s Dubai Properties.

This project is the largest single project awarded directly to Al Habtoor Engineering Enterprises, as is the number of Towers placed under one contract by the client - a testament and credit to Al Habtoor Engineering Enterprises for its efforts over the years and of its working relationship with M/s Dubai Properties.

This unique project comprises 11 Towers ranging from 28 to 52 storeys in height and equates to a total construction area of 700,000 sq m including the Podium Structure. Also forming part of this is 25,000 sq m area of luxurious villas and 150,000 sq m of service areas and car parking among others.

The enormity of the task is set to further increase with the introduction of a 30-storey hotel structure. This will transform the project to 12 Towers. However the main challenge for Mr. Ziad ( Business Bay Project Director ) and his team is to complete this additional Tower six months ahead of the other 11 Towers completion dates.

The new hotel main consultant is AlDar Consultants. The hotel will be managed by Jumeirah Group, it will be a one of a kind hotel that will have between 5 to 7 stars. All the interior is designed by DiLeonardo, a world class hospitality design company. With its unique modern and chic design it will add a luxurious atmosphere to the new hotel.

The hotel will include several five stars restaurants and i huge entertainment area in the podium level. Also there will be a five star chic and magnificent restaurant on the 18 level of the hotel, all this will insure the luxurious and distinguish atmosphere for all the visitors of the unique hotel that is built by Al Habtoor Engineering Enterprises.

The Group is currently involved in many landmark projects reflecting the ambitious vision of Dubai and the role that the UAE envisages to play as a leading international commercial and business centre, making the emirate a business hub and firmly placing it on the international map.