It is a partnership that has endured more than 40 long years and looks destined to be inextricably linked for decades to come. And it is an association that few can fail to be mesmerized or inspired by.
Throughout the years, death-defying stunts, seductive spies, driving on two wheels, crashing barricades and top-secret documents have been but the norm in 007 movies and the connecting thread through all these explosive escapades has been the Bond car – more rightly identified as an Aston Martin, and one of the most popular, considering that it featured in no less than five movies.
Indeed, it appears that for Bond – the suave immaculate British gentleman and the consummate connoisseur - Aston Martin was and is the only choice. This legendary partnership that first began in 1964 with the movie, Goldfinger, continues to this day and is an integral part of the scheduled November 2006 release, Casino Royale.
So what is it about the Aston Martin that ceaselessly enthralls not just the world's most famous spy but also millions of car lovers across the world?
Perhaps it is the passion with which the car is made, a passion shared by its enthusiastic owners who believed that a sports car should have a distinctive and individual character. More than 90 years ago, the firm's co-founder Lionel Martin, a motor racing enthusiast, set the scene when he laid out his vision for "A quality car of good performance and appearance: a car for the discerning owner driver with fast touring in mind, designed, developed, engineered and built as an individual."
Over the years many different owners have shaped the company and many subtle or distinctive changes too have come about in its structure and framework. Yet, the passion for power and performance remains steadfast and the goals set by its founders as early as 1914 are still very relevant today.
With its penchant for producing fine, civilized, high performance sports cars, designed and produced by skilled craftsmen, Aston Martin makes cars that bring to life the freedom and enjoyment of the open road thereby creating a special place in the market and in the hearts of owners for classic sports cars which conform to this ideal. It is this enviable reputation and adherence for quality, performance, style and engineering that elevates an Aston Martin to the very pinnacle of the automotive world even nine decades on.
It was in 1913 that Lionel Martin turned his passion into a business when he joined forces with Robert Bamford in a small West London workshop. At the time, Martin regularly competed and won in climbs at Aston Hill and soon after Bamford's early retirement, the name Aston was added on, thus laying the beginnings of the Aston Martin legend.
In March 1915, the very first Aston Martin car was registered and very soon, the marque rapidly established its racing credentials. The high point came in 1922 when an Aston Martin known as 'Bunny' broke 10 world records at Brooklands, clocking an average speed of 76.04mph during a sixteen and a half hour run.
Lionel Martin left the company in 1925 after which ownership changed hands several times until in post-war 1947 when tractor tycoon David Brown bought over the firm and the DB era dawned. Brown had a passion for high performance cars and wanted his new marque to win worldwide recognition.
Meanwhile, he also bought luxury carmaker Lagonda and coachbuilder Tickford, the combined resources of which brought new dynamism and great achievement on and off the track. The DB series, all powered by a straight six-engine, was first introduced in 1950 and its reputation as the finest British car soared thanks to its fine balance between performance and luxury, and also because of its good craftsmanship and tasteful styling.
In 1957 came the DB Mk III, one of the first production cars to feature disc brakes - a direct development of the company's racing experience. During the late 1950s, four Works DBR1s won six World Championship races and set five lap records. The DB4, equipped with a 3.7 litre aluminium alloy engine and which represented a major leap forward in design, was introduced in 1958. However, the rapidly rising cost of racing began to take its toll and by the end of 1963 it was decided to withdraw from motorsport and concentrate on refining the production cars.
In retrospect, this turned out to be a bold but enlightened decision since it heralded a new era for Aston Martin as the company's production and reputation stepped up a gear. In October 1963, the legendary 4-litre DB5 was introduced. Production was also doubled to meet world demand and there was no doubt that the car owed some of its global esteem to a starring role in the James Bond films Goldfinger and Thunderball - where its 'factory- fitted options' included machine guns, a passenger ejector seat, hydraulic over-rider rams and equipment for projecting oil, nails and smoke.
A decade later, in 1972, Aston Martin Lagonda stepped into another new era where ownership was to change several times over the course of the next decade until in 1987 when Ford purchased 75 per cent of the company's shares. This was also the year that the company teamed up with James Bond in The Living Daylights. October 1988 saw the unveiling of the Virage, designed to take the firm into the 21st century. Its 155mph, two-door 2+2 replaced the V8, which had been in production for 20 years.
With Ford's involvement there was investment in design, production and the sourcing of components and materials. 1992 saw an extension of the Virage model range - with a 6.3 litre engine conversion, and the debut of the first production model of the Virage Volante Convertible. In 1993, Aston Martin announced the return of a DB model for the first time in more than 20 years. Unveiled at the Geneva Motor Show that year, the DB7 was named 'Car of the Show'.
Having invested £65 million in the company for the design, development and provision of manufacturing facilities for the DB7, Ford took complete ownership of Aston Martin Lagonda that same year and in 1995, a record of sorts was established when more than 700 new cars were produced and delivered in a single year for the first time in the company's history.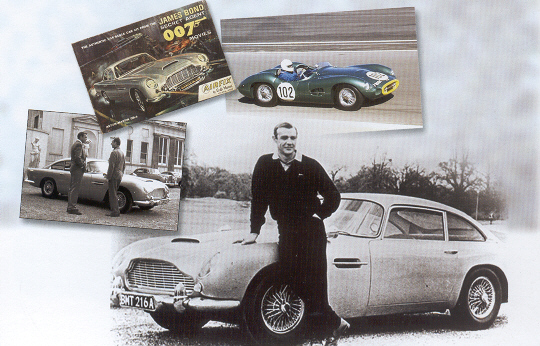 The world debut of the DB7 Volante at the Detroit and Los Angeles International Auto Shows in 1996 signalled the return of Aston Martin to North America. Meanwhile the DB7 rapidly developed into the most successful car ever built by Aston Martin Lagonda with the 1,000th DB7 being completed in October 1996 and the 2,000th in July 1998.
In February 2001 the V12 Vanquish, the most sophisticated and technologically advanced new model ever to be designed, developed and built by Aston Martin, was unveiled at the Geneva Motor Show, eventually evolving into the brand's new flagship model. The V12 Vanquish S has been dubbed the ultimate Aston Martin being the fastest road car in the history of the brand. It also effortlessly combines 21st century technology and 200 mph (321 km/h) performance, with understated elegance and craftsmanship.
It therefore comes as no surprise that to build such an extraordinary car, the company has used British expertise in aerospace and race car engineering as conventional automotive industry materials and manufacturing techniques were not good enough for the fastest road car in Aston Martin's history.
Its DB9, on the other hand, is a thoroughbred sports car that balances apparent opposites - undeniably beautiful yet efficient; power in proportion to weight; harmony of sound and performance and dynamic ability inherent through good design. Its side profile is typically Aston Martin: very clean, with a single sweep roofline. The uncluttered lines flow through to a distinctive tail, and the haunches on the rear wings are wide and curvaceous. Other key Aston Martin design characteristics include the distinctive grille, metal side strakes and signature rear window shape.
Its design philosophy is uncompromising and its beauty emanates from harmonious proportions, a ground-hugging stance, taut surfacing, and thorough attention to detail. There are no attention-seeking tactics here, instead, the DB9 appears as if milled from a solid piece of aluminium.
DB9 was conceived and designed, from the outset, as both a coupe and a convertible (Volante), which is why it is one of the most structurally rigid and best handling convertibles in the world. It is also one of the fastest and quietest and, it looks elegant and perfectly proportioned from every angle - with roof up or down.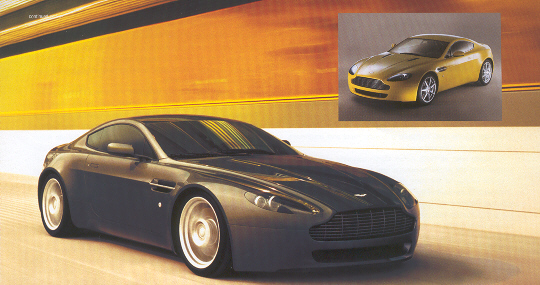 Safety is, of course, of paramount importance. Special tilt sensors detect the danger of a possible rollover and deploy two strengthened hoops from the rear seat headrests. Further safety protection is offered by the windscreen A-pillars that can withstand more than twice the total weight of the car.
Said to be the world's most desirable sports car, the V8 Vantage is also the most affordable of all Aston Martins, fusing traditional Aston Martin style and everyday usability. At the core of this handcrafted sports car lies a great engine - a powerful 4.3 litre 283 kW (380 bhp) engine, unique to Aston Martin. Equally important is its lightweight, all-alloy structure, which offers class-leading strength and rigidity.
The design team's brief for the V8 Vantage was to give it the look of a well-toned athlete wearing a skin-tight suit. And with its taut, almost stretched surfaces, the car achieves perfectly that muscular, close-cut look. Like all Aston Martin sports cars, it is simple, understated and beautiful - its beauty being more than skin deep.
Outside, the V8 Vantage displays beautiful sports car lines, while maintaining a unique identity. Inside, its traditional craftsmanship is matched to striking 21st century style. Hand-trimmed in the finest quality materials, the cabin is that of an authentic sports car. Driver and passenger sit low, close to the car's centre of gravity, where they can feel the car reacting to the input of the driver – a special sensation, usually only experienced in racing cars.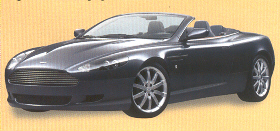 For the engineers at Aston Martin, the priority from the outset was to focus on lightweight, compact size, agility and power. At just 4.38 metres (172.5 in) long, not only is it the smallest model in the Aston Martin range and one of the leanest cars in its class, but it is light, too, and very nimble. Hand-finished body panels provide delectable shapes and perfect fit, while an all-alloy underbody structure – derived from aerospace technology – incorporates bonded aluminium extrusions and castings for superb rigidity and minimal weight. The bonnet and roof are also constructed from lightweight alloy, while the front wings, tailgate and sills are produced from advanced composites.
Aston Martin has earned a reputation for another speciality - building lifelong one-to-one relationships with each of its cars and with every owner. This is due to meticulous records and archives, plus personal attention from experts at the factory.
Despite its strong adherence to tradition, every Aston Martin is very much a product of today's technology. New resources and new investment in the latest computer aided design and engineering facilities, in statistical process control and many other leading edge disciplines ­are ensuring that for Aston Martin, the future is every bit as bright as its illustrious past.
In the UAE Aston Martin is distributed by the Prestige Motors Division of Al Habtoor Motors, part of the Al Habtoor Group LLC. This is one of the UAE's most successful locally owned companies and Aston Martin's range is complemented by both Bentley and Bugatti. Aston Martin and Al Habtoor Motors bring a sense of tradition to their business: Arabian and British together in a changing world.