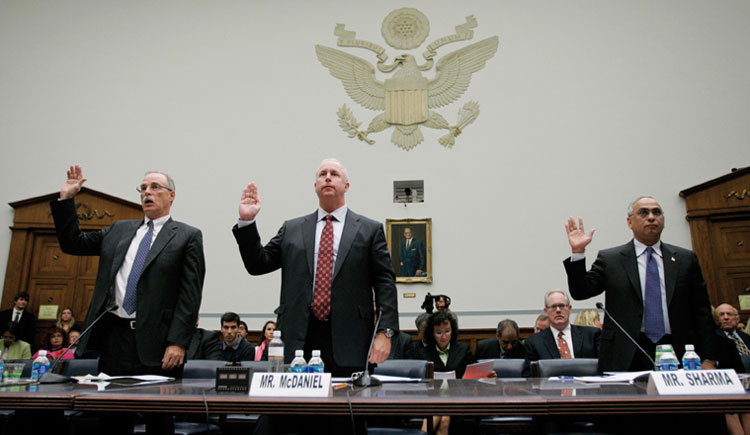 Fitch Ratings' Joynt, Moody's McDaniel and standard & poor's sharma are sworn in before testifying before the House Oversight and Government Reform Committee on Capitol Hill.
Rating agencies have far too much power. Almost every day we read that they've downgraded the sovereign risk of a particular country or the credit risk of a private company. And very often their negative reports that frequently have little basis in reality can infect investor sentiment. They must also accept their share of the blame for the subprime mortgage crisis that triggered the current global slowdown.

In truth, I used to avidly study reports published by rating agencies and would urge my management team to give them due consideration. Now, I believe this US$ 5 billion industry, dominated by three mega firms (Standard & Poor's, Moody's and Fitch) is seriously flawed.

Indeed, the former Managing Director for the credit policy at Moody's admitted as much to the House Committee on Oversight and Government Reform when grilled about his former company's poor assessment of mortgage-back securities. "The business model prevented analysts from putting investor interests first," he said.

A former head of mortgage ratings at Standard and Poor's was even more explicit, saying, "Profits were running the show". It certainly seems so when as much as 40 percent of one of the largest rating agency's revenue was derived from assessing such mortgage-related instruments.

The Committee's Chairman Henry Waxman summed up the testimony. "The story of the credit rating agencies is a story of colossal failure," he said. "The credit rating agencies occupy a special place in our financial markets. Millions of investors rely on them for independent, objective assessments. The rating agencies broke this bond of trust…"

Similarly culpable for hurtling economies and markets into unknown territory are irresponsible banks, opportunistic short-sellers, negligent auditors, feeder fund managers and financial analysts. It seems also that the US Securities and Exchange Commission responsible for oversight has been asleep at the wheel. These are all bodies and individuals we once trusted. No more.

If there is any silver-lining to this ongoing financial mess it is that lessons have been learned. European governments and the US have reacted decisively to this 'colossal failure' with strict new rules designed to hold rating agencies liable.

Nevertheless, I believe such moves are too little, too late. Rating agencies have proved to be unreliable, primarily profit-driven and far from impartial. They have been given free rein to affect the livelihoods of millions of ordinary people around the world. They have abused people's trust and caused untold hardship. In future, I will be taking their advice with a massive shovel of salt and especially in the light of the fact that some rating agencies continue to spout their uninformed judgments even while they are on the verge of bankruptcy themselves. How ironic is that!

Similarly, we should be highly skeptical of financial gurus and especially so during these unpredictable, volatile times when economies and markets have deviated from time-honoured patterns. In this climate, their predictions often turn out to be worthless at best while, at worst, they can erode the standing of viable companies and erode people's life-savings and retirement plans. Such misleading analyses have unfortunately led unknown numbers of gullible investors to their doom.

My question is: Is there no regulatory body that can govern this hit-and-miss profession; one that is authorised to bring analysts that cause harm to book? In my opinion, this breed of soothsayers masquerading as informed insiders is one of the foremost causes of damage to credible companies and countries. I'm amazed that the media lends them so much credibility and often offers a platform to slick-talking youngsters armed with impressive diplomas but little experience.

As we are all aware, newspapers love attention-grabbing headlines that compare the current situation to the Great Depression of 1929. Few editors care what effects such sensationalism will bring about because, after all, hype and drama attracts readers. I am certainly not advocating the concealing of factual news. On the contrary, I want more openness. My concern is that investors should not be exposed to information derived from questionable sources.

Now that so many have been burned by rating agencies and financial analysts, it's time we relied upon our own instincts after taking advice from knowledgeable people that we know for sure have our best interests at heart. We should also demand transparency and accountability from corporations so that market confidence can be restored.

There's no getting away from it. Economies are largely built on trust and sentiment. Ultimately, we will have to learn to trust again. But, hopefully, we will emerge from the turmoil wiser, more cautious and with heightened skepticism. In any event, rating agencies and financial pundits should never be given the opportunity to intentionally or unwittingly mislead us again.