From Russia with love
Al Shindagah continues its fascinating insight into the diverse range of cultures living in the United Arab Emirates, with David Williams talking to the Russian community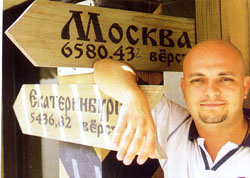 For many expatriates, the United Arab Emirates provides a temporary rung on the career ladder for ambitious people keen to go places in life. Its sun, sand and tax free salaries provide youngsters with a chance to pay off those college loans or save for a house while enjoying a luxurious lifestyle, and middle aged men have the opportunity to stock pile for an early retirement, which many in their homelands can only dream about. But for one group of people in this multi-cultural melting pot, the sun-baked shores of the UAE represent a sanctuary for a safe standard of living, and the ability to conduct business away from the clutches of the mob, a luxury many of them have not had the opportunity to enjoy before. The UAEs Russian community may only total 4,000, if official consulate figures are to be believed, but they have a presence that sometimes makes you feel like you are living in some far flung enclave of the old Soviet Union.
Ah, you are Russian, is a common introduction from taxi drivers when they see their next fare payer is white, and much of the hospitality industry s brochures and sign posts contain translations into Russian. Even Dubais most popular public beach opposite the striking Jumeirah Mosque is Russian friendly, with its welcome and warning signs both solely displaying the Russian language.
The official figure of 4,000 is dwarfed by the number of Russians staying in the UAE at any one time, said a spokesman from the Russian Embassy in Abu Dhabi. The UAE is one of Russias prime destinations for business activities and tourism, and the ties between the two countries are excellent and always improving. There is constant political dialogue between the two nations, and the UAE is one of the best countries in the world to actively encourage business links with Russia.
But times have been hard in Russia in recent years, and it has had a knock-on effect to the UAE economy. A deep recession and banking disaster ripped apart the countrys economic stability, and the average man on the street can no longer afford to leave the vast boundaries of the biggest country in the world, whether it be a holiday or business venture. A recent statistical report by the Dubai Department of Economic Development has revealed a sharp drop in the number of Russian visitors, which makes up almost 30 per cent of the in-bound European travel market to the country. The report shows that out of 468,775 European visitors to Dubai from January to September, 1998, 160,785 hailed from Russia, representing a 10 per cent decrease compared to the same period the previous year.
The consulate spokesman added: Times have been difficult for sure in the past couple of years due to the internal financial crisis, but it has been the same in many parts of Asia and South America. There are signs now that things are levelling off in Russia and Im sure we ll see a recovery in the early part of the new Millennium. That will be good news for the UAE because it is one of the most popular destinations for people from home. While the Kremlin calls the international and political shots, mob rule has a tight grip inside the country, and you only have to speak to those who have escaped the clutches of the mafia to find this out.
Vadim Shaposhnikoff is Senior Marketing Executive with International Shipping Line, and left his homeland with his family five years ago to make a fresh start in the Emirates. A resident of Sharjah, Vadim s life has transformed since quitting his business in Siberia for a job in the sun. No company in Russia is operating without the influence of the mafia, no matter what you may hear officially, he said. You have to pay taxes to the mafia otherwise you are in big trouble.
When I was in Siberia, I had a big deal going through that was to make a lot of money. The local mafia found out about it and kidnapped me until I agreed they would get their share. I dont know what they would have done to me if I had been difficult, but the easy way to put it is that I was left with no choice.
A chilling tale, but this is business Russian style. The tax Vadim referred to is, of course, protection money, and threats to family or property often accompany every tax bill throughout the country. The mafia is so established now in Russia that you can choose who to pay your taxes too. It is best to pay people you have known since being a youngster, explained Vadim, who claims that members of Russian mafia gangs have even tried to continue their protection rackets outside their homeland.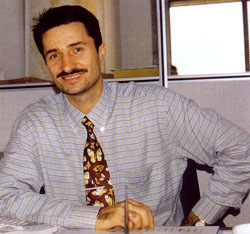 There is no way they can succeed in places like Dubai because the police force is completely free of mafia involvement. If anyone gets approached here they can contact the police who will deal with the offenders quickly. In Russia, it is common knowledge that many members of the police, including senior officials, are on the mafia s pay list. Vadim s knowledge of English is impeccable, which is actually quite rare for Russians in the UAE, another sign that many living here are employed to deal with travellers, both business and leisure, from their homeland. The influx of Russians in the early 1990s led to Vadim s current company requiring a Russian speaker and, after getting his foot in the door, his career blossomed to his current position. He says the boom days for Russians coming to work in the Emirates ended in 1997, and believes opportunities for his countrymen are now limited. It is not easy any more, he said. Tourism figures are down due to the situation at home, and I know a lot of Russians who have lost their jobs in the past couple of years.
Unlike many other expatriates, who are in the UAE to plan for their eventual return home, Vadim explains this is not the case for a vast majority of Russians who are planning their futures elsewhere. After Dubai, many will look towards Europe, America or Australia. Most come to Dubai first because it is easier for us to get work permits here and there were good opportunities a few years ago. I certainly dont plan to return to live in Russia and many of my friends feel the same. I do miss some things about home, particularly the countryside, but there is a lot here to make up for it. My family and close friends generally come here on holiday every year so I don t miss them too much either.
Vadim lives in Sharjah with his wife and two sons, aged seven and one, who will both receive their education in English. Socially, the Russians, particularly the young females, maintain a high profile amidst Dubai s plethora of night spots. Clubs like the Garage and Bordertown are popular with young Russian girls enjoying a night on the town, something that was forbidden in the communist days of the former Soviet Union.
Natalia Yatsenko hails from the north western Russian city of St Petersburg and has been in the UAE for two years, first in Abu Dhabi and now in Dubai. She spent her teenage days growing up in communist Russia and says her only insight into western life was gained through magazines and books purchased on the black market.
We were not allowed to know what was happening outside the communist block, said the 31 year-old. I went through school not being allowed to listen to pop music or watch television. We were taught that everything in Russia was good and the western world children were being brought up not to like us. We were not free.
Business opportunities drew Natalia to the UAE, and she has spent the past couple of years catching up with the luxuries she missed out on as a youngster. It was a real shock to see how life could be lived in the free world, she said. Parents, teachers, politicians all told us Russia was good, communism was good, and we should be glad with what we have, but it didn t take me long to realise I had been fooled for all those years. A sign that the expatriate Russians are an integral part to the success of a multi-cultural society in the UAE is a football team proving to be one of the more popular sides in the Dubai Social League. Fondly called Spartak Dubai, with the first half of the name borrowed from former European champions Spartak Moscow, the Russian side is never short of players and always on hand to play friendly matches against visiting navy teams from western ships docking for several days leave.
The teams shirt sponsor is the Siberia Restaurant, which is based on Al Wahda Street in Sharjah and owned by Vladimir Bourdoun, who doubles up as one of the side s star players. He arrived in the UAE four years ago from central Russia, and has seen his business thrive. He is currently planning to open a second restaurant in Sharjah. With a menu containing over 100 Russian dishes, Bourdoun has wiped the floor with the opposition and is currently the only Russian restaurant in the emirate.
I import all my fish from Russia and my staff are all very experienced in Russian cooking, he said. Most of my customers are Russian, of course, but we also get many other European customers and some Arab men who visit with their Russian girlfriends. We also get a lot of Arabs, mainly Lebanese, that have sampled our types of food while studying in places like Ukraine.
Aged 27, Vladimir spent his early teenage days growing up in communist Russia. He chuckles to himself now when he looks at the free upbringing his seven-year-old daughter is enjoying in Sharjah, compared to the harder times his generation grew up in.
It can be quite expensive bringing up a child here, he said. You have to pay for everything, and there is so much for the kids to do when they are not in school or studying, so it feels like I am always putting my hand in my pocket to give her money for one thing or another. But it is so much better for her to be brought up here.
After spending the past 12 months in a Russian School in Dubai, Vladimir is sending his daughter to an English speaking school in Sharjah, but will ensure she can always speak, read and write her mother tongue, adding that she will have to continue to send letters to her grandma in Russian. Vladimir says there is no comparison between modern day Russia and the Russia he grew up in, although one thing will always remain the same... the weather.
In my city, it got as cold as -40 so that is certainly one thing I don t miss, although the summers do get a bit much here, he said. But Russia is changing all the time. I think it is a much safer place to live these days and and life is so much more free now.
Vladimir believes the days of small business deals between Russia and UAE are over, but he says big companies are continuing to expand trade links, revealing that one company from his home city spent $4.5 million in a recent deal with the UAE. Speaking to the Russian community revealed a fascinating camaraderie that very few communities can boast. All are phenomenally proud of their roots and the sense of teamwork has rubbed off on the football pitch too. Spartak Moscow proudly hoisted the Sharjah Sixes trophy earlier in the summer, while they are also one of the leading teams in the exciting Summer Sevens League, which is played from June to October in Dubai Creek Football Club. The team is expanding its friendship with other communities by organising a joint soccer tour to a Russian city in the coming month, while they are also hoping to attract a top Russian side to play several matches here later in the year.