A Royalton welcome
In the fast changing world of hospitality, hotels in Dubai are engaging in a growing battle to fill their rooms. In our continuing series of interviews with prominent business figures, Al Shindagah speaks to Jaswinder Narang, general manager of the Royalton Plaza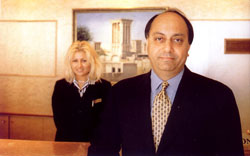 After dedicating an entire career to the hospitality industry, Jaswinder Narang recently took up the position of general manager of the Royalton Plaza, a four-star property situated close to the Clock Tower Roundabout in the heart of Deira. The married father-of-two left his home city of New Delhi as a young man to pursue his career in hotels, and has arrived in Dubai with a wealth of globe trotting experience under his belt.
What is your background in the hospitality industry?
I left Delhi to attend a hotel school in Austria, after deciding at an early age it was the career I wanted to pursue. From there, I spent 27 years in Canada working for Hilton, Four Seasons, and Westin Hotel Groups in Toronto and Calgary. I got my first taste of the Middle East in 1993 when I spent three years as general manager of a hotel in Hurghada, on Egyptās Red Sea coastline. I came to Dubai in 1997, before taking the post at the Royalton Plaza in July, this year. In total I have spent 26 years in the hotel business.
What are your impressions of Dubai?
Dubai is a vibrant city with an excellent blend of cultures and different nationalities. Dubai can be compared to any major city in the world. It is an international hub offering an extremely safe and healthy standard of living. The Government of Dubai has done a miraculous job in converting a piece of desert into a city with sky scrapers. It has everything you need from shopping to beaches, and probably the most extensive range of cuisine and specialist restaurants I have seen anywhere in the world. There are tremendous opportunities for business, and superb facilities to attract the tourists.
Tell us about the Royalton Plaza?
The Royalton Plaza is a small, cosy and comfortable hotel situated in an idyllic central location. It has its own identity with an exceptionally high level of personal service. I like to describe it as a hotel which has a lot of repeat customers, and a place where the staff get to know the guests who leave the hotel with the intention of returning on their next visit to Dubai. They will then hopefully recommend it to other people coming to the city. There is a good range of speciality restaurants and a lively Irish outlet called the Dublin Arms. In total, it has 136 rooms.
Why would people stay at the Royalton Plaza as oppose to other hotels in the city?
What sets the Royalton Plaza aside from other hotels is the personal touch. It has televisions, good food and business facilities just like other hotels, but you have to give the guest a good reason to come back. Warm, genuine staff who really want to assist make the difference and I believe that is what we have at the Royalton Plaza.
What sort of traveller stays at the hotel?
The hotel is perfect for both the business and leisure traveller. We are close to the airport, close to the main shopping and business districts, and beaches and golf courses are within easy reach. Since opening in October last year, we have received guests from the Far East, Europe and all over the GCC region. We welcome a good cross section of guests and expect to expand our corporate market base as the hotel grows in stature.
The hospitality industry is expanding at an incredible rate with hotels springing up all over Dubai, do you think there is a danger of hotel rooms outnumbering the visitors?
This is one of the biggest talking points in the industry here and one that is difficult to answer. Unless the influx of tourists match the number of rooms being built, we are going to be in trouble. In Singapore and Hong Kong, they addressed the problem a few years back by putting a five-year freeze on the issue of licences for new hotels. The Government though is confident that the tourists will continue to grow in numbers, and we back up the Government with the facilities being offered.
Where do you see the hospitality industry in Dubai being in 10 years time?
I think Dubai will be at the forefront of peopleās minds when they are booking a holiday in 10 years time. There are resorts and downtown hotels to please any tourist, and the conference and convention facilities ensure the business sector will continue to come here, along with the incentive market. Hotel prices are continually coming down to make it an even cheaper place to visit. In 10 years time, I believe Dubai will be one of worldās leading destinations to visit for both tourism and business.
Many residents of Dubai do their socialising south of the river, whereas the Royalton Plaza is situated in Deira in the north, what is the hotel doing to attract the locals to socialise there?
I disagree with people who say outlets in Deira can not attract people from Bur Dubai. If there is an outlet with excellent entertainment and reasonable prices then people are willing to travel across the water. It has been proved with other places away from Bur Dubai that people will travel for quality entertainment, and I see it being no different in Deira.
What is the most important ingredient to running a successful hotel?
Take care of your employees; this is one aspect that many general managers tend to ignore. But take good care of those working for you and that will rub off on their performance at work. If the employees are happy in their workplace, they will deliver the service you expect. Many hotel employees just smile for the sake of smiling, but I believe my employees are smiling because they are genuinely happy with their job, and it reflects well on the customer.
How does the standard of hotels in Dubai compare to the rest of the world?
Excellent! Dubai does not trail behind anywhere in the world in this field. It is a city that offers a truly world class service.
What is the best piece of advice you have been given?
Be yourself, and donāt be pretentious. We are all human beings and make mistakes but they can always be sorted out for the best.
Hotel general managers are perceived as people who work long hours and are rarely off-duty, how do you manage to switch off in your spare time?
I work 12-13 hours a day, six days a week because I love my job, but my wife and family play an important role in helping me unwind away from work. In the week, I do not get enough time to spend with my family, so Friday, my only day off, is an important day for me. I have been married now for nine years and I canāt stress enough how much of a rock of support my wife is.
Any interesting stories from your career?
I was working at a hotel in Calgary at the time of the Winter Olympics in 1988. It almost turned into a total disaster because a week before the event was supposed to start, there was very little snow. Hotels were packed and the whole world was watching, and officials almost made the decision to switch the games to Lake Placid, where it was scheduled to take place four years later. Luckily it snowed three days before the Games were due to start and saved a lot of embarrassment.