A tall order
The Plant Department of Al Habtoor Engineering Enterprises is making pioneering steps in the Middle East construction industry, Al Shindagah puts on its hard hat and working boots to tell you more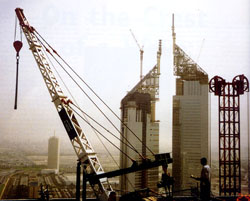 Isaac Newton once knocked the concept of motion and gravity on the head by famously announcing: what goes up must come down! A simple statement that will be remembered as one of the phrases of the past Millennium, earning him the reputation as a great scientific genius in the process.
Newtons Laws of Motion went well beyond apples falling off trees and it has led to some interesting confrontations between man and gravity, with the concept of bringing items down to earth without a bump throwing up some of the most intriguing engineering challenges of the 20th century. It is no different in the United Arab Emirates either. A trip down Sheikh Zayed Road will reveal a host of dazzling high-rises, but have you ever wondered how those giant cranes towering hundreds of feet above the ground are dismantled and lowered safely when a job is finished? It is a tall order growing taller by the year for engineers, as the UAE s new buildings reach up further to the skies. Getting the cranes up there in the first place is a challenge in itself, but is done gradually over a period of months, sometimes years. You could say that construction, in many ways, is no different to rock climbing; going up is the easy part, coming down is where the hard work starts!
That was until Nachaat Issa, Plant Manager for Al Habtoor Engineering Enterprises Plant Department, came up with an innovative, and cost-efficient, method of tower crane removal from high buildings. A derrick crane of portable construction was built and tested at the
company s plant workshop, and used successfully on the 40-storey Kendah House development on Sheikh Zayed Road this summer.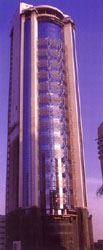 It made me very happy, and proud, to see that my idea worked so well on the Kendah House project, said Nachaat, a veteran of the construction industry with 28 years experience. From the time the derrick crane was erected on the roof, to the time it had returned back down with the job finished, was just 10 days, less than half the time it would have taken otherwise, and about Dhs200,000 cheaper. It was a very technical job, but it was done quickly; it was done safely and saved money, so I am happy. We made it look very easy.
At a height of 160 metres and standing in the shadows of the mighty Emirates Twin Towers, the Kendah House tower is taller than the World Trade Centre and represents one of the highest buildings in the Middle East. The task of dismantling the huge crane running parallel to the building was tough, but was handled admirably by the derrick crane, earning Nachaat widespread praise from across the construction profession. Consisting of a support frame, drive train and a nine-metre boom in four pieces with a maximum capacity of 15 tons, the derrick crane itself is dismantled and lowered after the job is finished by block and tackle, or in the hoist, if available.
The main drive is electric with slave controls for slewing and boom movement. The frame can be fixed to concrete members or steelwork by mechanical means. The derrick crane was load tested for operation at SWL five tons at 4.5m radius, and 2.6 tons at 7.4m radius.
In a nutshell, the derrick crane, designed, fabricated and completed by a team led by Nachaat is the most practical and inexpensive method of tower crane removal available in the Middle East today. Next on its busy agenda is the Tower No.1 building currently springing up at a fast rate close to Defence Roundabout.
Nachaat s innovations have saved Al Habtoor Engineering Enterprises considerable expense, with one of his previous concepts, an electric vibrator, now being used at every Habtoor construction site in the Emirates.
Previously we used diesel vibrators for concrete which were heavy, produced a lot of smoke and needed plenty of maintenance, he said. They were also expensive at Dhs9000 each. I developed the electric vibrator which cost just Dhs2000 each and worked much better. We tested it for six months without a problem and then made an order for 100 pieces. So far there have been no problems with it.
Even the plant s workshops at Rashadiya were redesigned by Nachaat to optimise the use of space, and release more room for vehicle parking and repair, and greater efficiency. It is now the most modern workshop in Dubai with new offices, 24 hour security, transport section offices, substantial workshop support, washing area, filling station and dining / rest room.
Nachaats sterling work has not gone unnoticed by the company s chairman, Khalaf Al Habtoor, who awarded him with an achievement certificate on recognition of his service to the group. The certificate takes pride of place in his office, which is adorned with photographs and artist impressions of projects he has been involved with.