Art dealers are tipping the work of a number of Arab artists as hot investments for the future. Al Shindagah took a look at the UAE's burgeoning art scene and found that a good buy could lead to big profits.
Asked to think of a great painter most people would choose someone such as Picasso, Van Gogh, Turner, or maybe El Greco, Rubens, Goya or even Hockney. The list is endless.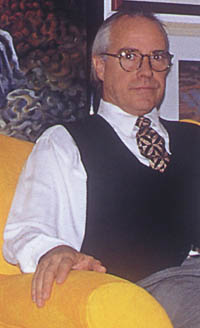 Any of the above and maybe a few hundred more could justify their greatness and every last one of them come from the west. And most of those buying art for investment purposes still turn to western artists. But the times are a-changing to quote another great artiste - at least if American sculptor Professor John Dishman is to be believed.
He is convinced that the age of Arab art is here, or if not quite here, it's lurking just around the corner. In the United Arab Emirates in general and in Dubai in particular there are a number of emerging artists who Dr Dishman says will be highly sought after in a few year's time.
His message is a simple one - buy now and watch your investment grow to perhaps ten times its original value in as many years. And what's even more relevant is that many of the up and coming Arab artists are selling their paintings for reasonable prices.
And Dr Dishman should know as he is a well respected figure in UAE art circles. Besides painting he also creates large impressive sculptures and teaches art and film studies at Dubai's Centre for American Education. He knows intimately all the major figures on the UAE art scene, has bought many of their works and keeps in contact with many other artists from the wider Arab world.
He has exhibited all over the world including the Museum of Art in Hawaii, in galleries in South America, the USA and throughout Europe. He has also lectured on contemporary art at the Museum of Modern Arts in New York, the Tate Gallery in London, the Musee d'Orsay in Paris, France and at the National Gallery in London.
When Dr Dishman received the coveted Fulbright Scholarship from the United States government he was received at St James' Palace by Princess Margaret as recognition of his accomplishments in the field of Art Education.
He holds a Doctor of Philosophy in Pyschotherapy, a Master of Fine Arts degree, Master of Art Education, and has taught in universities and colleges in the United States, England, Italy and the UAE.
Although based in Dubai Dr Dishman travels widely and he keeps track of art prices around the world: " In one major auction house last year they sold Dh 56 million worth of Arab art. If just one auction house can sell that much just think what the rest of the world is doing. And just think the business they will be doing in 10 years time.
" To me that shows that the outside world is investing in the best of Islamic art. Now is the time to start investing in Arabic art.
" Many of the new buyers are themselves Arabs and they are taking a great interest in their own history and culture. With their power they have the ability to change the course of the art scene."
Dr Dishman is passionate and articulate about his many and varied interests. One of those passions is working to bring east and west together - not in any political or religious sense - just in the world of the arts.
He believes ardently in the depth and strength of Arab art which he has been assiduously collecting during the five years he has lived in Dubai.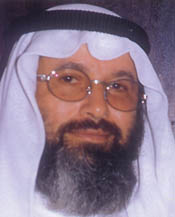 " I have several pieces by Abdul Qader Al Rais and he's now become a great friend of mine. I also have works by Abdul Raheem Salem and Moosa Al Halyan, plus many more pieces by Arab artists from all over the Middle East.
"The reason I began collecting Abdul Qader Al Rais's work is because I wanted something when I left this country that would increase in value. I have always owned my own home wherever I have lived but because of the laws here I can't. So I needed something that could grow and art is a great investment if you do your homework."
As a teaching professor and practising sculptor art is obviously a cause close to his heart and he has lobbied and lectured in favour of Arab artists in Dubai, the United States and Europe, and especially in the UK where there is a burgeoning market for good Arab art.
Dr Dishman wants to boost the image of Arabic art both here in Dubai and throughout the world. He is convinced that one of the ways of doing that is exposing UAE artists to many different cultures in order to broaden their horizons.
Each year he takes budding Arab artists and students to the summer school at the world famous Edinburgh College of Art in Scotland where they soak up the many and varied strands of western art and meet artists. Any courses the students take at the Edinburgh College can be credited to their American degrees.
Dr Dishman also teaches at the College during the summer and is hoping soon to arrange exchanges of both staff and students between Scotland and Dubai.
According to Dr Dishman the three top UAE artists are Abdul Qader Al Rais, Abdul Raheem Salem and Moosa Al Halyan and another artist to watch out for in the future is Abdul Qader Al Rais's daughter who seems to have inherited her father's stunning skill with watercolours.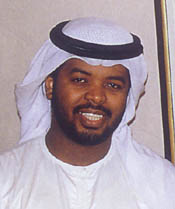 As Dr Dishman said: " These Arab artists are all UAE nationals and they are some of the best known painters in the Arab world. They are certainly the best in the UAE and I would advise anyone to invest in their work.
"Here in the Middle East and especially in the UAE artists are fortunate to have good support from the rulers. The Ruling families have bought many pieces from these artists and now the man in the street is beginning to buy as well, which means that their works will rise in value because they are desired by so many people. "When I first arrived in Dubai I kept hearing three names - Abdul Qader Al Rais, Abdul Raheem Salem and Moosa Al Halyan.
"Then I started to notice their works in public and government buildings and in galleries and shops. Sometimes I would be in a friend's villa and see a print by Abdul Qader. I realised Qader had quite a few editions of five hundred prints that had sold out. In a situation like that you can't go wrong.
"Any artist who has sold the number of prints he has can do nothing but go up in value. I remember buying an Andy Warhol print back in the sixties for less than five thousand dollars that is now worth over a quarter of a million dollars - unfortunately I don't own it any more! "But the reality is if you know one artist who sells a lot of prints of his original then his work will be a safe investment. It's possible to pick up an Abdul Qader print for around Dh 700. The painting from which the print is made will be worth maybe forty to a hundred times the value of the print.
"When I buy his paintings it is because I love his work but I also know I have one of the best investments I could buy anywhere in the world. I have 12 pieces by him that could buy me a house when I leave the country.
"Abdul Raheem Salem is another artist whose work gives me great joy. I have six pieces by him. He works in pastels which makes his prices less than those who work in paints. His prices are within reach of most of us. It is possible to pick up his work for between Dhs2,000 to Dhs4,000 although he can sell for up to Dhs20,000. His work will definitely grow as an investment
"Moosa Al Halyan is young at only 29, but he is already in the top three in my personal investment plan. His work over the last four years has grown to a very mature level. His works sell for Dhs5,000 upwards and it will always increase. I have only a couple of pieces by him as he so young but I plan to buy more as he is too good not to invest in."
The Artists
Abdul Qader Al Rais began painting as a small boy but even in his wildest dreams he never thought he would become an artist. But now, at the age of 46, he is successful enough to paint full-time and many of his larger works sell for thousands of dirhams.
Al Rais used to watch his uncle, who was a teacher, when he was drawing, but he remains a self-taught artist. He began by painting pictures of cartoon characters which were popular with children at the time before progressing to small landscapes and latterly abstracts.
While working as a legal advisor to the Labour Ministry 46 year-old Al Rais carried on developing his talent for painting and also exhibited in numerous small exhibitions.
Although he stopped painting for a while he took up the brushes again and never looked back. Now he simply says: " Art is in my blood." And thankfully many people, including the Ruling families in the UAE, and collectors in the Middle East and abroad appreciate his natural talent. He has exhibited his strikingly coloured realistic and abstract works in places as far afield as Casablanca, the Czech Republic, Beirut and Washington DC and last year he held a successful exhibition in Germany with German artist Fred Falk.
Highly rated artist Abdul Raheem Salem, 42, painted a remarkable series of paintings after he became obsessed with a story about a beautiful lady who lived in the neighbouring emirate of Sharjah: " She was very pretty. A man wanted to date her but she refused and black magic was used against her. " She became mad and was burned alive in a fire. This affected me deeply and I started to make a series of paintings revolving around this woman."
In his first exhibition he created a series of figurative drawings and put this tragic woman on a pedestal and later started to abstract the features of her face.
Married with five children, Salem began drawing as a child at school with his grandmother acting as his critic and his teachers, recognising his talent, pushed him towards art. He also taught art in schools for three years.
Salem obtained his BA in Fine Arts from Cairo University and has exhibited in the UAE, Qatar, Kuwait, Sharjah, Abu Dhabi, India, Syria and Spain.
At 29 Moosa Sultan Al Halyan is a giant of a man but, artisticly speaking, he's the baby of the group. He began to draw at an early age and was later tutored by Abdul Al Raheem Salem.
He started off with charcoal, pen and ink drawings, progressing later to painting and figurative interpretation once he felt he had mastered the basics.
Just 10 years ago he staged his first joint exhibition and later he designed a special commemorative stamp and coin to celebrate the Ascendancy of the Emirates.
He was pleased and proud that 250,000 stamps were printed and the same number of coins minted which have now become collector's pieces. He also designed the UAE's mascot for the World Cup held in Italy in 1990.
Al Halyan is single and works for the Dubai Land Department and paints whenever he has the time.