Doing it in Dubai cars
New Pajero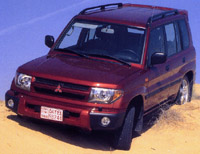 The Mitsubishi Pajero has long been one of the most popular 4x4 vehicles in the UAE. Consistently performing well on the rally circuit, Mitsubishi incorporates many of the features of the rally version of its car into production line. Launched in 1982 with its unique styling, the Pajero now has a reputation for reliability and has been selling well in the UAE since its introduction. But recently the 4x4 market has split into a clear distinction between full size and compact 4x4s. Popular models like Toyotašs RAV4 and Hondašs CRV give drivers the chance to own an economic 4x4 at a lower price. To compete with these vehicles Mitsubishi has launched a compact version of the Pajero, the Pajero iO (pronounced ee-oh). Designed as a road car with off-road abilities, the Pajerošs handling is tight and sporty. The two-door model has a 1.6 litre, 16 valve engine, with a 1.8 litre unit for the 4-door model. The iO was launched in Japan last June, and is already outselling its closest rivals. Mitsubishišs main aim with the iO was to provide drivers with a car that would be as at home on city streets with tight parking spaces as well as out in the desert. And Mitsubishi have chosen Al Habtoor Motors and the UAE as the first place in the Middle East to premier the new iO.
To find out more about the Mitsubishi IO, contact Al Habtoor Motors, Dubai, on +971-4-691110.
---
Doing it in Dubai eating out
Little Italy
Fans of Italian food are in for a treat at the Metropolitan Palace hotel. San Lorenzo, the hotelšs ever-popular Italian restaurant has had a bar constructed in its entrance area, meaning that diners can now enjoy a relaxing cocktail before eating. Or you can even just have a cocktail without dinner. The new bar area creates a relaxing atmosphere, with its plush red leather seats and gold fittings. If you only want a drink at the bar (although by doing so you would miss out on the fantastic food in the restaurant) there is an extensive selection of bar snacks to keep you going. And during March San Lorenzo is running its special Festival of 100 Sauces promotion, where executive chef Michael Reuter has created a menu featuring more than 100 different pasta recipes for you to choose from. We at Al Shindagah will be keen to speak to anyone claiming to have tried all 100!
For more information on San Lorenzo call the Metroplitan Palace Hotel on +971-4-270000.