Flying high
The UAE's national airline continues to win international awards for its services, and is planning major route expansions in the near future. Sheikh Ahmed bin Saeed Al Maktoum, Chairman of Emirates, told Barry Jordan that the delivery of new aircraft would turn those plans into reality.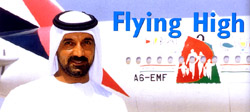 Where do you see the airline positioned in the next ten years - an efficient regional carrier or a major international airline?
I believe that Emirates is already a major international airline, not because it is a large one in terms of fleet size or route network, but because it has established itself as an innovative quality carrier, a market leader and an influence in commercial aviation. People now watch to see what Emirates does. The large number of awards that the airline has won - more than 160 to date - bear witness to the quality of our services.
What about expansion plans? Will Emirates eventually have routes to all five continents?
Eventually, we shall certainly fly to all five continents. We already fly to four of them but we do not, as yet, fly to destinations in North and South America, although we serve those areas through our interline agreements. However, once we start taking delivery of the new A340-500 aircraft in the year 2002, we shall have the capability to operate non-stop to destinations in North America, and intend to do so. We have a number of potential destinations in different parts of the world, which we hope in time to serve, as and when aero-political agreements are made and the growth of our fleet allows for route expansion.
As President of the Department of Civil Aviation, expansion of Dubai International Airport must be a major undertaking. What difference will it make for passengers and, of course, tourists?
Dubai International Airport, our home base, is currently undergoing major expansion of passenger and cargo facilities. This will provide state-of-the-art facilities catering to an expected through-put of over 20 million passengers by the year 2005. At the same time, cargo handling capacity will expand to handle a projected one million tonnes per year by 2005 and three million tonnes by 2018.
How will the opening of the new airport change the positioning of Dubai? Will it, for example, attract more tourists?
I don't think that having a new airport will automatically attract more tourists. People do not travel to a destination just because there's a new airport there! But I do know that the new airport will allow more passengers to be handled. When the new concourse is opened later this year we expect passenger numbers to be close to 11.5 million, rising to more than 20 million by 2010. This compares to 9 million in 1997.
Emirates, of course, has done much to promote tourism in Dubai along with the Department of Tourism and Commerce Marketing. Will tourism number continue to increase, and what sort of promotions are planned for the future?
Tourism to Dubai really started when Emirates began operations in 1985. From the start, whenever we opened a new destination, we promoted tourism between Dubai and that country. In doing so, we have played our part in the promotion of Dubai as a whole. The Department of Tourism and Commerce Marketing has worked tirelessly since its inception to promote Dubai around the world. Above all, the Government of Dubai has had a clear vision of the emirate as a commercial centre and leisure destination, has provided the required infrastructure and invested billions of dirhams to create a business and leisure centre in the Middle East, and to give the private sector the tools to operate and build profitable businesses. The Government has also provided initiatives such as the Dubai Shopping Festival, staged major sports events and supported all our endeavours. I am certain that more tourists will come to Dubai in the future as the Government, Emirates and the DTCM work together to highlight its attractions.
How do you see the tourism future in Dubai? What new markets do you think need to be targeted?
The future for tourism in Dubai is buoyant. You only have to look at the new hotels under construction. That's going to provide over 6,000 more beds in the next few years. The Magic World theme park will also be an added attraction for visiting families, along with the Aqua Park. As far as new markets are concerned, Emirates will soon have the aircraft capable of flying non-stop to New York and Sydney, probably by 2002. That opens up a whole new set of tourism markets for Dubai.
The hotel development you mention is continuing at a rapid pace, especially along Jumeirah Beach. Isn't there a danger of too many hotels and a saturation point being reached?
As long as tourist numbers continue to increase, more hotel rooms will be needed. There is no sign of any decline in tourism. In fact the World Trade Organisation forecasts that by 2020 the number of international tourists arriving in the Middle East will have increased five-fold since 1995 to 69 million, or 4.3% of all global arrivals.
Because of your various responsibilities, it must be difficult for you to find much spare time. What do you do for relaxation? Do you play sport and what is your favourite?
I enjoy what I do but, if there is time left after public duties I enjoy the traditional hunting with the falcon during the hunting season, and also more up to date sports such as tennis and sailing. I also enjoy fishing, so I suppose you can say that I relax by being active.
What are your personal ambitions?
To see Dubai and Emirates continue to develop and be successful and to play my part in that.
Which is your favourite city in the world and why?
I enjoy travelling to different places such as the USA, where I went to college, to cities such as London and Melbourne, but Dubai is my favourite city. Here we have the desert on the one hand, the sea on the other and between them a beautiful, modern city with every facility. Above all, it is my home and, like many people who travel, I love to come home.
Finally, what is the best piece of advice that anyone ever gave you?
For me, the most important thing I have learned is that, in any enterprise, people are the most important asset. Choose good people, look after them, and your enterprise will be successful. I have always tried to follow that.