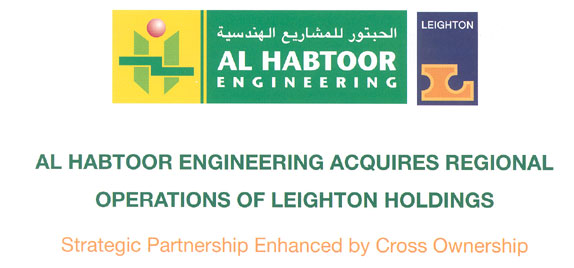 Dubai, United Arab Emirates – [24] September 2007: Leighton Holdings acquired 45% of Al Habtoor Engineering for US$ 860 million paid through cash and through the sale of 100% of Leighton Holdings regional assets ("Gulf Leighton") to Al Habtoor Engineering.

As part of the transaction, Al Habtoor Engineering has acquired 100% of Gulf Leighton, the regional entity of the Australian construction giant. The combined entity will form one of the biggest construction operators in the Region leveraging an extensive scope of technical expertise as well as significant execution capacity.

Gulf Leighton has been operating in the Region for around two years as the Middle East and North Africa arm of Leighton holdings, showing its long term commitment to expand in the Gulf. It established its presence by winning a number of high profile contracts such as Al Shaqab equestrian centre in Doha, Qatar, City of Arabia infrastructure works or, more recently, the Saadiyat Island Expressway in Abu Dhabi and is currently involved in an extensive bidding program on the largest infrastructure projects in the Region.

Commenting on the transaction, Mr. Khalaf Al Habtoor, Chairman of Al Habtoor Holding, said "We are very pleased to join forces with Gulf Leighton to tackle the tremendous growth in the construction industry in the Region and we strongly believe that the combined operations will offer an unmatched range of services in the industry".

Mr. Riad T Al Sadik, Managing Partner of Al Habtoor Engineering, added "Gulf Leighton showed impressive achievements in the Region and this key strategic move will only enhance the presence of the two parties as a leading construction player. Together, we will be able to successfully undertake the most challenging construction projects thanks to the joint set of skills and knowledge as well as large the amount of resources we both have available".

EFG-Hermes acted as sole financial advisor to Al Habtoor Engineering on the transaction.

About Al Habtoor Engineering

Al Habtoor Engineering, one of the biggest construction companies in the region, was founded in 1970 by Mr. Khalaf Al Habtoor and Mr. Riad T Al Sadik. With offices in Dubai (Head Office), Abu Dhabi, Qatar, Jordan, and the United Kingdom, Al Habtoor Engineering is growing rapidly thanks to a significant portfolio of projects in hand as well as an extensive tender program.

The Company's achievements include some of the biggest landmark developments in the region. The Company's areas of expertises include high rise commercial and residential buildings, hotels, airports, universities, infrastructure and shopping malls.

As part of Al Habtoor Engineering's continued efforts to widen its service offering through vertical integration, the Company has established three subsidiaries being Al Habtoor SPECON (mechanical, electrical and plumbing works), Al Habtoor STFA (piling works) and Al Habtoor Interior (interior fit-outs).

About Leighton

Leighton Holdings Limited is the parent company of Australia's largest project development and contracting group. Founded in 1949, the organisation has grown into a diversified group that includes Thiess, John Holland, Leighton Contractors, Leighton International, Leighton Asia, and Leighton Properties. With over 27,000 employees, the Group's operations are spread around Australia, New Zealand, Hong Kong, Indonesia, Malaysia, Singapore, the Philippines, Thailand, Vietnam, China, Taiwan, Sri Lanka, Macau, India and the Arabian Gulf.

Leighton Group companies offer a broad range of project development and contracting services and skills to public and private sector clients across a wide range of industries. Project development skills – infrastructure, property or resources based – and project management of construction and property developments complement the Group's contracting activities. These activities include construction, mining and services. Leighton Holdings (LEI) is listed on the Australian Stock Exchange and has its head office in Sydney. The Group's annual revenue exceeds US$10 billion, and work in hand exceeds US$21 billion.

Leighton International is the Leighton Group's operating company responsible for operations in Malaysia, Brunei, Singapore, Indonesia, Sri Lanka, India, the United Arab Emirates and Qatar. The company's work in hand stands at around US$2 billion. Gulf Leighton, Leighton International's division responsible for the Arabian Gulf region, has several prestigious contracts in hand in both the UAE and Qatar.